To daughter with love
Belu Jain Maheshwari
Two Alone, Two Together: Letters between Indira Gandhi and Jawaharlal Nehru 1922-64
edited by Sonia Gandhi.
Penguin Books.
Pages 608. Rs 595.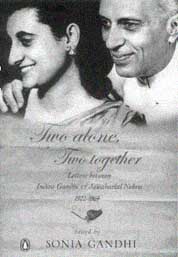 Letter writing is an art, which is not only about penning words on paper, but also about expression, spontaneity and creativity. Jawaharlal Nehru's letters to his only child, daughter Priyadarshini Indira Gandhi, had been published in a book form and became a classic glimpses of world history. The letters written from jail imparts knowledge on world civilisations and its history. Letters from A Father to his Daughter, which was published and used in school curriculum, has been translated into many languages and has gone into many reprints.
This volume is unique because these are personal letters from a father to his daughter. The relationship was close, and the depth of sharing, understanding and love is very well brought out in these letters written over five decades.
Edited by Sonia Gandhi, the daughter-in-law of the family, it has an introductory text by her, which details family history and the lives of both Jawaharlal Nehru and Indira. The book is divided into two parts. The first part covers the correspondence between 1922 and 1939. Even at the young age of nine or 10, Indira showed a maturity way beyond her years. She had to suffer long periods of loneliness as her father, mother and grandfather went to jail. She took solace in the written word. Nehru built a bond through letters with his child and never let his absence feel in her life.
He kept in constant touch with her development through letters that helped shape her personality. Nehru believed in both formal and informal education. Through these letters, he touched all subjects that show his emotional as well as personal side. These letters selected from the extensive correspondence between the two bring out a humane side of Indira Gandhi, who to today's generation was a cold, calculating and power hungry politician. The text is intimate, articulate and profound.
The second part of the book has letters written from 1940 to 1964, the year when Nehru passed away. Replete with vivid descriptions of major personalities and events, the letters chart Indira Gandhi's development from a shy, frail, schoolgirl to a charismatic political leader.
There are many small anecdotes about world leaders, their friendships, family events, relations, etc. While contemporary events are discussed, foreign affairs find ample mention. But what is touching is the inter-personal relationship both shared. The mutual respect, love and understanding tug at the heartstrings. The philosophical side to the letters is another aspect, which brings new light on their nature. In a letter on his 50th birthday, Nehru shows a vulnerable side. "My own enthusiasm for age is not so great and the figure 50 in connection with my age frightens me. Sometimes I feel very old and tired." He further writes on the prospect of a second 50 years: "What a horrible prospect to think of a second 50 years." To which, Indira admonishes her father and writes: "The essentials of youth belong to you for as long as you like. What do the years matter?"
Indira Gandhi's concern for money is addressed by Nehru in a forthright manner. "I suppose, I could have made a lot of money out of my books if I had been a businessman. But I have a knack of choosing impecunious publishers or even bankrupt ones."
The book should be read by any enlightened parents, as it showcases what an important and enlightening role parents can play in molding their children. Books are discussed, as are places, people and travels all find mention. But what should make this edited book readable is the unedited letters and the personal side of two great states persons. Today's generation that has grown up on SMS and MMS and on shortening and distorting the language after reading this book can understand the beauty and depth of words penned in a letter form.