Hindi review
Cry of the Santhals
Sharda Rana
Nagare Ki Tarah Bajte Hain Shabad
by Nirmala Putul. Bharatiya Gyanpeeth. Pages: 95. Price: Rs 40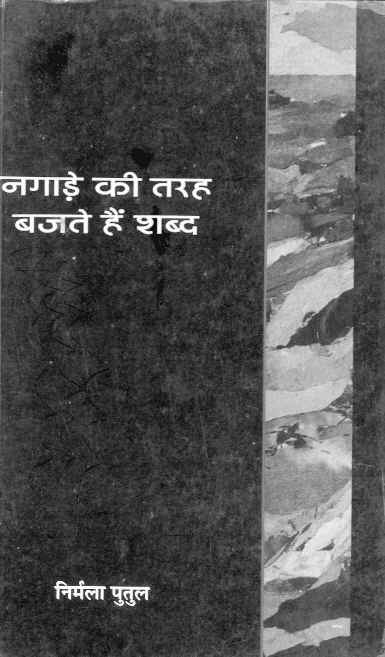 This is a collection of poems by Nirmala Putul dedicated to the culture of Santhals. A nomadic tribe, Santhals have for long been relegated to obscurity.
The poetess, who also belongs to a tribe from the Santhal area, has been working with the Badlao Foundation.
The poems are a cry of people wanting to be retrieved from wilderness. The agony of being belittled by an "educated" society and the feeling of helplessness poured forth in verse compels a reader to give a thought to this dying ethnic group. In the name of education, the girls from this tribe are being 'exploited'. Whether it is `Lalita Uranv, who ran from the Paris Embassy, or Deepa Murmu, who is exploited by rich "cultured people" when she seeks a job, most girls are mistreated.
In Santhal Pargana, the agony of a dying culture is portraited thus:
Santhal Pargana Ab
nahin reh gaya
bahut kum bache reh
gaye hain
apni bhasha aur vibhoosha
main yahan ke log
and
Yeh woh log hain jo
mujhe dekh ke
naak bhon sikorte hain'
Almost all her poems speak of the exploitation and her anger against the system.
She laments thus:
Kisne kahe hain
unke Parichay main
itne bade jhooth
Koi Naya Samachar
by Prem Ranjan Animesh. Bharatiya Gyanpeeth.
This is a collection of 95 poems by Prem Ranjan Animesh. Simply constructed but meaningful, Prem Ranjan's poems dwell on childhood. They carry the message that childhood is still safe and full of innocence in a world of so-called civilised values. For instance, he writes:
Kahin bhee jaaoon
chhoo leta hai
ek anjaana sa bachcha
Dunia sach-much
Ek bachche ke haath se
kitni chhoti hai...
With no regular meter, no rhyming pattern, most of his poems give us a great impression of compactness, organisation and force.
Tum keh do
woh mera naam hai
jo tum ne soch rakha hai
mere liye'
Muskrata sapne sa
Ek Bachcha
Kya to Samay
by Arun Dev. Bharatiya Gyanpeeth.
Kya to Samay has 56 poems by a young poet of blank verse. The poet curses the system that has snatched innocence and purity of a village.
The poet finds himself alone, helpless and destitute. He complains about commercialisation that has hit sensibilities. His poem Raian bhaiyee chahoon desh stresses on insecurities. He asks:Hum kis ghar jaien khusro?
Making a dig at the system, he makes use of satire to depict his feelings.