Food Talk
Carrot takes the cake
No other dessert can match the visual appeal and sinful taste of gajar ka halwa,
says Pushpesh Pant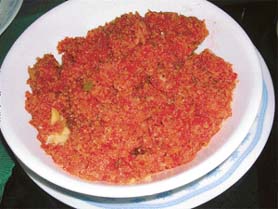 Who doesn't know that a halwai is a sweetmeat seller? But, you can safely bet that most do not associate the word with Arabia. And, even lesser number will ever dream that solving a tough problem — searching a solution, hal dhoondhana — has a relationship with the word. The original Arabic word literally translates 'to dissolve' and implies finding the correct answer/response to a problem. Sahal, of course, is easy. Enough of idle word play, our real objective — the drooling destination — is halwa, any ingredient you fancy dissolved in sugar.
When winter comes, can gajar ka halwa be far behind? Call it gajrela or what you like, can any other desert match its visual appeal and satisfying taste — hot or cold? Enriched with resins, cashew nuts, and topped with khoya shavings, it oozes nourishing milky goodness in each mouthful. Who cares if it incorporates sinful amounts of ghee every time it is re-heated.
In India, there is a halwa to suit any occasion. There is the evergreen suji ka halwa — or atte ka — served as consecrated karha parsad in the gurdwara quintessential blessed food. With a tinge of yellow, it becomes kesribhat in the South. Replace semolina or flour with ground lentils or grams and you can enjoy moong dal or besan ka halwa. For special occasions, one may prepare badam ka halwa. Small towns in Uttar Pradesh with a large Muslim population continue to make delightful ande ka halwa. Even those who routinely demolish large cakes made fluffy with eggs find this dish exotic.
Sohan Halwa may be a forgotten delight today but there was a time when it was synonymous with Delhi. It was in as great a demand as the petha from Agra and pedha from Mathura.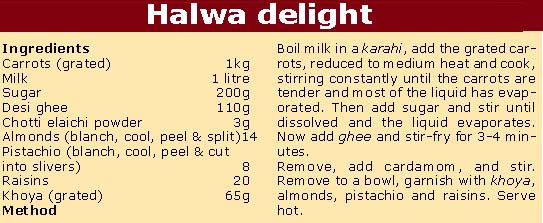 Legend has it that these large round tablets — each bite releasing the flavour of locked in desi ghee that bring back the memories of the best of butterscotch toffee, it is believed were invented by the Shahi Ghantewala halwai who had immigrated from Jaipur during the reign of Emperor Shah Jahan.
Some of the fondest memories of one's childhood are associated with the lock-jawing fudge like Karachi halwa a.k.a. Sindhi halwa. This is made with nishasta wheat germ, translucent and encountered in different hues — mostly green or yellow. Like the sohan halwa, this too is rich, has a long shelf life and makes a great gift to send to a lover of good things of life. If memory serves us right, it was Chanduram Halwai who first started marketing this seductive sweet in colourful tin presentation boxes.
We share with our readers, the recipe for jauzi halwa, an Awadhi specialty believed to acquire its sublime essence from the night dew that gently falls on the ingredient when it sleeps under a moonlit sky.