AGAINST THE TIDE
Orissa has been regularly battered by floods and killer cyclones. The last major cyclone in 1999 killed more than 10,000 people. Bibhuti Mishra in Bhubaneswar checks out the disaster management plans afoot in the state.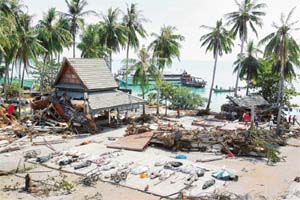 If a tidal wave were to hit Orissa coast today, at least 1,00,000 people would die. The damage would be more extensive than what happened in Andhra Pradesh and Tamil Nadu. The Orissa coast is dotted with a network of rivers and creeks, which would make it easy for the tidal surge to travel inland over greater distances. Thousands of thickly populated villages found on the banks of these rivers and streams in coastal districts of Jagatsinghpur, Kendrapara, Bhadrak and Balasore would be simply washed away. Similarly, about 100 villages which are found in the islands of Chilika lake on flat ground would get immediately submerged.
But this vulnerability apart, the state has learnt a number of lessons for the cyclones that have hit it. To have a systematic and planned approach to disaster mitigation management, the Orissa Government constituted the Orissa State Disaster Mitigation Authority (OSDMA) after the 1999 super cyclone, As an autonomous body, OSDMA strives to promote a culture of disaster prevention, planning, and preparedness.


CONTINGENCY PLAN

The Orissa Disaster Rapid Action Force (ODRAF) has been set up and is stationed at three strategic locations, Jharsuguda, Koraput and Cuttack; ODRAF being fully equipped to meet emergency situations.

VHF network has been installed to strengthen communication links between administrative headquarters at various levels, including the state, districts, blocks, tehsils, and other key locations; satellite phones are available for emergency communication.

District Emergency Control Rooms have been modernised and strengthened

Awareness programmes and public education activities are being undertaken; a newsletter — The Response — is being brought out in English and Oriya languages on a quarterly basis;

Ninety-eight vulnerable locations in coastal Orissa have been identified for constructing suitably designed Multi-purpose Cyclone Shelters. The construction of 66 such shelters has been completed. Local communities will be responsible for their maintenance and management.

Multi-purpose School Buildings: School buildings in the vulnerable areas are being constructed in a manner that these could be put to use as community shelters during emergencies. The school buildings have been designed taking into account various risk factors. As many as 9664 primary school buildings have been strengthened and 5683 new buildings have been constructed. The construction of 91 primary schools is in progress and 1075 high schools have been provided with concrete buildings.
The way 2001 and 2003 floods were managed shows the commitment of the present government to disaster management. Said the Chief Minister on the occasion of 5th state disaster preparedness day on October 29,2004, "Three major floods — one in 2001 and two in 2003 — and two droughts in 2000 and 2002, were managed fairly well. All this was possible due to higher levels of preparedness that we have sought to achieve through systematic efforts.
The state-of-the-art Emergency Operation Centres (EOC) are being set up in 16 districts to strengthen district control rooms. The EOCs shall be established in the remaining 14 districts very soon." Efforts have also been made to strengthen early warning and dissemination system in the state. Thirtysix cyclone warning dissemination centres are operated by the Indian Meteorological Department, which is also establishing two more earthquake observatory centres.
The State Disaster Management Plan, prepared by OSDMA, is under active consideration of the government. OSDMA regularly organises and facilitates workshops and training programmes for government officials, local self government (Panchayati Raj Institutions) and NGOs engaged in disaster management at state, district, and block levels. Safety tips are regularly disseminated at village level and emergency kits supplied.
Orissa is implementing projects through OSDMA in the selected districts in two phases during the programme period of 2002-07 in partnership with the UNDP and NGOs. The programme components includes development of disaster management plans from district to village/ward level, constitution of disaster management teams (DMTs) and committees at all levels, capacity building of DMTs and other stake holders, propagations and transfer of cost-effective disaster resistant alternate technology, and integration of disaster management plans with the development plans, developing vulnerability and risk index and analysis of vulnerability and risk reducation reports annually for creating bench mark to measure disaster risk management
The major focus is on response and preparedness planning for various disasters. Under the Block Disaster Preparedness Programme, plans at village levels have been completed for 10 blocks and are being prepared for 103 more blocks. Village level task forces to manage disasters have also been constituted and are being equipped to handle any emergency situation.
Quake apprehensions
In the wake of the Bhuj earthquake in 2001, the state government with the aid of OSDMA had organised an earthquake preparedness training plan but it has done precious little to address the most vulnerable area — housing in the major cities of Bhubaneswar and Cuttack, which fall in the seismic zone II- as that of Ahmedabad. Multi-rises have been approved by the Bhubaneswar Development Authority (BDA) and the Cuttack Development Authority (CDA) without due attention to structural designs. Builders have gone beyond the plan constructions by going for additional floors too. The apartment-dwellers felt the tremor of December 26 and are in a state of panic as there has been little assurance from the government. There is no mechanism to ensure that the builders adhere to original design and building regulations. So a virtual calamity stares the people in the face in the twin cities that are prone to earthquakes.
Dwindling mangroves
Destruction of natural protection system could spell disaster Mangrove is an efficient soil binder and has a dense root and branch structure which are able to combat the most violent cyclones and tidal waves. Tidal surges thrown up by tsunamis can easily be arrested and slowed down by thick mangrove vegetation. Due to rapid development of the coastline, this no-cost natural protection systems have been systematically destroyed. The state's coastline was once covered by luxuriant mangroves forests which flourished due to the large quantities of silt washed down by various rivers like the Rushikulya, Devi, Mahanadi, Brahmani-Baitarain, Subarnarekha and Budha Balanga.
It is estimated that at least 1,000 sq km of mangroves existed in the pre-Independence period, with the Bhittarkanika and Mahanadi delta being the most rich in this regard. Though the Orissa High Court had directed the state government to remove them, the state government has failed to do so due to the strong nexus between the district officials and the owners of such prawn farms.
An estimated 10,000 acres of such mangrove forests have been taken over by prawn farms in the Mahanadi delta and Bhittarkanika areas alone. Apart from this, 50,000 acres of prawn farms exist illegally on the Orissa coast in Jagatsinghpur, Ganjam, Bhadrak and Balasore districts.
Vanishing dunes
Similarly, the Orissa coast was once dotted with a large number of high sand dunes which acted as the first line of defence on the coastal beaches. Now these dunes are gone thanks to the ill-advised casuarinas plantations taken up by the Department of Forest.
Says Biswajit Mohanty of the Wildlife Society of Orissa, "Sand dunes are dynamic natural structures which come up on beaches with the help of sea winds. Artificial beach plantations destroy sand dunes and lead to flat beaches which cannot stop tidal surges. These casuarina trees are useless since they broke like matchsticks during the last super cyclone in 1999."
Says Mohanty, "Unless the government wakes up, the people on the coast would be sitting ducks when tsunami strikes and the multi-storeyed dwellers would fall to death like packs of cards."