Hollywood with shades of Bollywood
Ervell E. Menezes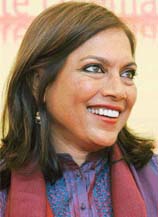 Mira Nair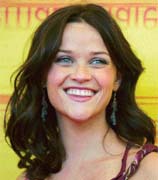 Reese Witherspoon played Becky Sharp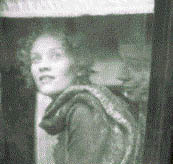 A scene from Vanity Fair
THE rise and fall of Rebecca (Becky) Sharp, an impoverished orphan of an alcoholic painter who transforms herself into an adornment of the upper reaches of British aristocracy, is the focal point of Mira Nairís Vanity Fair and though it is set in 18th century England it is a theme which is almost timeless and eternal.
Becky (Reese Witherspoon) is a spunky young lass with few friends in school, in fact only one Amelia Sedley (Ramola Garai) and when she leaves school she does not hesitate to tell the headmistress: "Every slave wishes to be free, you stupid cow." But she is ambitious and uses her assets to get what she wants. Towards this end, she doesnít mind being a governess in an aristocratic family so that she can climb the social ladder. That she soon marries Ameliaís brother Joseph (Tony Mardsley) doesnít go well with Ameliaís fiance George Osborne (Jonathan Rhys Meyers) who recognises in her a no-god social climber.
But it is an old aunt in the Crawley family Sash Matilde (Eileen Atkins) who takes her to her heart and is a benefactor, that is until she marries her son Rawley, who is then put out of his inheritance.
Lord Steyne (Gabriel Bryne) is the one who once bought a portrait of Beckyís mother and this resentment has grown over the years. Now the Lord wants to own the daughter of that painting and waits in the wings for the right moment.
Meanwhile, Becky waltzes her way in and out of hearts and this gives one a good picture of British society. The screenplay by Matthew Faulk and others is studded with some sparkling wit but the vastness of the novel is a handicap and it lacks cohesiveness and is rather sketchy and disjointed.
It is the picture of British aristocracy that comes across strongly. The scene in which Lord Steyne delivers his diatribe at the family dinner table is particularly impressive.
Director Mira Nair does a good job with the ambience but the story tends to drift in the middle because too much ground is covered. She could have been more selective. She has also made the women stronger and the men little better than crybabies.
William Dobbin (Rhys Ifans) is one of the few good guys because he persists with his love for Amelia in spite of all her misdemeanors.
Of course, we also get a slice of India with the Pasha and his nautch girls, Mira Nair cannot resist it and it could be construed as "when Hollywood comes to Bollywood" and the last quarter seems to be rushed. Though the ambience is British the mindset has more than traces of Americanism.
Reese Witherspoon does a good job and even as Elle Woods in Legally Blonde she has the role of a woman who strays from the beaten part. She seems good at it and she is ably supported by Ramola Garai and Jonathan Rhys Meyers. Gabriel Bryne is excellent in a cameo role and so is Eileen Atkins. Bob Hoskins has little to do but does it well. May be the character he plays seems to rub off in real life.
So Mira Nairís Vanity Fair is certainly a more modern take on William Makepeace Thackerayís Victorian masterpiece which merits viewing.