Zeba's new role
Nirupama Dutt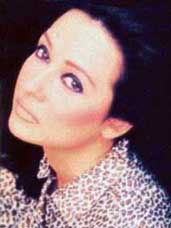 Zeba Bhaktiar
Indian audiences remember as a cherubic beauty singing Main hoon khushrang hina and Anardana-asan roomi topi wale naal jaana in the RK film directed by Randhir Kapoor after the death of his famous father, Ra jKapoor. Randhir's first directorial venture in 1991 had the theme of a cross-border love story. The unique selling point of the film was that the Pakistani gypsy girl was played by a young and comely actress Zeba Bakhtiar. As Hina, she dies trying to help her Indian lover get across the border safely to his country.
Zeba had received the Filmfare award as the Best Newcomer Female. Back home in Pakistan she went onto direct a film called Babu for which she was nominated for the prestigious Nigar award of her country. Belonging to a well-known political family, Zeba was not so lucky in life for she had to go through two broken marriages. Today she is a single parent bringing up her son named Azaan.
Having said goodbye to acting, Zeba found satisfaction as a voluntary activist setting up education projects in Balochistan and now she wishes to do some work in Afghanistan. But what has her admirers excited is that she is now working on a tele-film. She is hush-hush about it but it is a love story that is to be shot in Pakistan and abroad. It is an ambitious project and she says, "It is a love story but has some historical and very moving literary references." With her talent for perfection it could be a tele-play to remember. Zeba means to spring a surprise and spring it well. After Sabiha Samar having received many international awards for Khamosh Pani on the big screen, it is Zeba's turn to call the shots on the small screen. The Pakistani lasses are a determined lot for Zeba is still lovely and could decide to stick to acting but no she would like to take a challenge.