Wish upon a rising star
Tipped to be in the limelight this year, Priyanka Chopra speaks of her forthcoming films. Vickey Lalwani in conversation with the former Miss World.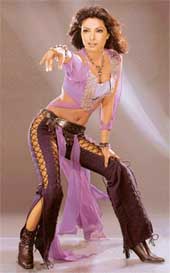 Priyanka Chopra set to make waves
With Aitraaz, you have really arrived. How did you agree to play a negative role?
(Laughs) Thanks for saying that. But to tell you the truth, I was very apprehensive about accepting this role or not. But Abbas-Mastan and Subhash Ghai were adamant that I should do it. They were convinced that I could carry it off very well.
Itsí being said that you made it as the heroine in Rakesh Roshanís forthcoming film because the role is not long enough?
(Interrupts) Rubbish. I have a full-fledged role opposite Hrithik Roshan. Itís a very interesting role. We begin shooting in March. Thatís a film I am looking forward to. Itís a great film with a fabulous story. Itís a sequel to ĎKoi Mil Gayaí. Sunaina (Rakesh Roshanís daughter) who is a very good friend of mine, called to say that her Dad wanted to meet me. We did a couple of shoots with different looks and the shoots worked.
Your forthcoming projects?
Barsaat (Bobby Deol, Bipasha Basu), Karm (John Abraham), Waqt (Amitabh Bachchan, Akshay Kumar), Blackmail (Ajay Devgan, Suniel Shetty) and Yaakein (Arjun Rampal). In Blackmail, I play Sunielís wife where I get involved in kidnapping and the family goes apart. In Yaakein, I have a very non-glamorous look in most of the scenes. In Barsaat, I play a small-town apprehensive girl whose life changes when she meets somebody. In Waqt, I am married to Akshay; the role sees the growth of a girl into a woman as she stands by her husband at all times. In Karm, I play a bar dancer and John plays an assassin who falls in love with me. And yes, post Aitraaz, I am also doing Subhash Ghaiís forthcoming film which will be directed by Satish Kaushik. I am not confident about how I played this bold role. I was very nervous and insecure. It was a character very unlike me in real life. I put in a lot of sweat into this role.
Right from the looks of a young Sonia to a more mature Sonia, her voice culture, mannerisms. I quite worked on all of it. I am very happy that the hard work pays off at the box-office!
Abbas-Mustan offered you Humraaz too, but you didnít take it up.
Not really. I was under the Miss World contract that doesnít let you take up any new ventures. The film had to go on floors immediately and I couldnít commit dates.
Do you see 2005 as the year belonging to you?
I think everybody is working hard. It could be anybodyís year. I am purely a directorís actress. I just follow the instructions and that perhaps is the secret of my success. ó TWF