Fair directions
Women directors such as Revathy, Farah Khan and Gurinder Chadha are setting the tone with movies that are off the beaten path.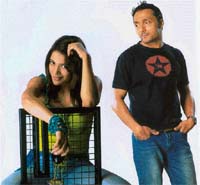 Koel Puri and Rahul Bose in White Noise

Farah Khan began with a box office bang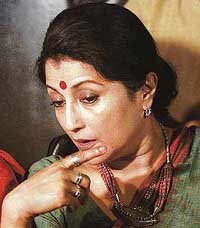 Aparna Sen was one of the pioneers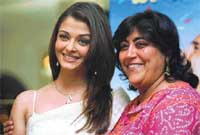 Aiswarya Rai with Gurinder Chaddha
If there's one clear indication about cinema this year, it's the emergence of an array of interesting woman directors. The last year saw at least two formidable woman filmmakers - Farah Khan and Revathy - making a lasting impact with Main Hoon Na and Phir Milenge. And the next year has lined up a series of interesting filmmakers with potentially path-breaking projects. First out are Vinta Nanda and Leena Bajaj with their heroine-centric White Noise and Shabd respectively. Nanda's White Noise features Koel Puri (seen earlier in Rahul Bose's Everybody Says I'm Fine) as a burnt-out TV writer grappling with rejection and heartbreak. In Shabd, Aishwarya Rai takes centre-stage as a writer's wife seducing another man. Strange and seductive, White Noise and Shabd promise to give the industry two of the most promising female directors of the year.
These will be followed in quick succession by actress-turned-director Soni Razdan who's shooting a supernatural thriller Nazar with Pakistani actress Meera. Farhan Akhtar's sibling Zoya Akhtar will soon start shooting for Luck By Chance, her insider's look at Bollywood. With brother Farhan and father Javed Akhtar to guide her through her debut, Zoya would romp home happily. Earlier, Tabu had collaborated closely with another promising female director, Meghna Gulzar, in Filhaal. So the big question: do female directors need to work in close contact with female actors, and must they move only in a feminine territory in order to blossom as filmmakers? Not so!
Farah Khan was very clear that she didn't want to make a "girlie-girlie" film. Her Main Hoon Na was pitched straight at the mainstream box office. While Revathy's Phir Milenge and Pamela Rooks' Dance Like A Man were to a large extent female-centric, Zoya Akhtar's Luck By Chance promises to be a film free of a gender bias. Woman filmmakers like Tanuja Chandra and Kalpana Lajmi also promise to bring their new films to the screen in 2005. But can they give their formidable male counterparts a run for their money? — IANS