Television
Double trouble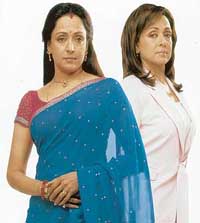 Hema Malini does a Seeta Aur Geeta in Kamini Damini
A battered saas running for cover? The viewer may snort in disbelief but this is the subject of Ravi Chopra's new TV venture.
Kamini Damini on Mondays to Thursdays on Sahara One at 10 p.m. is a saas bahu saga with a twist. The victim is none other than Hema.
Married to a rich industrialist, Hema aka Kamini's troubles begin when her daughter-in-law starts tormenting her. She turns to her twin Damini for help. The sisters exchange places and it's action time as the tables turn in the household.
"The idea of doing a double role was very exciting," says Malini who played a similar double role in Seeta Aur Geeta in 1972 which in turn was a copy of the Dilip Kumar-starrer Ram Aur Shyam.
At an age when many of her contemporaries have retired, life seems to be going at warp speed for the original prima donna of Hindi films. Besides becoming a Member of Parliament, Hema has done two hit cameos opposite Amitabh Bachchan in Baghbaan and Veer Zaara and is now all set to resurrect daughter Esha Deol's sinking career with a new film Babul.
Arun is frank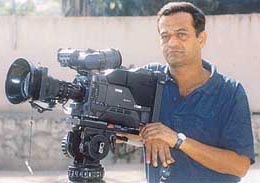 Arun Frank…Crossover director
Despite being one of the redemptive people on television, hardly any viewer knows his name, let alone his face. But when you say Arun Frank to those in the know, it instantly evokes respect and admiration.
That's because Arun Frank has been one of the most prolific directors on television having directed serials like Andaaz, Amar Prem, Ahsa, Jaan, Anupama and more recently Zindagi Teri Meri Kahani on Sahara. Now the director says he's had enough. "I have been working on television for years and nothing excites me any more. I think I now deserve a break," he says candidly.
Frank is now directing a film not in Hindi or Hinglish but in English. Called Hold My Hand the film is being shot in London and Mumbai. It's a cross over film revolving around the emotional conflict between a father and son.
Frank says he's got two more films up his sleeve including a big banner. But that's all he is willing to reveal. And he has good reason for being reticent. "I have always let my work speak" he smiles. No argument on that.
Cashing in on war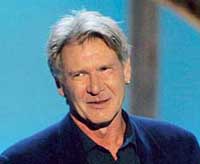 Harrison Ford…Invading Iraq
Michael Moore's Fahrenheit 9/11 is spawning a plethora of films and TV programming on the Iraq war. The makers of NYPD Blue are producing a TV series titled Over There. Universal Studios are planning a true war series on Iraq on the scale of Band of Brothers. Based on the new bestseller No True Glory the series is likely to have a star cast to rival a mega movie. The studio has already approached Harrison Ford for the lead role. The planned TV series has the authorities squirming as the book is an unflattering account of the battle for Fallujah.
Hollywood studios love real wars involving America armies. They hit pay dirt with movies like The Longest Day, Guns of Navarone and The Dirty Dozen all revolving around World War ll. Then came films on the Vietnam War—-The Deer Hunter, Apocalypse Now and Platoon. Robert Altman's super successful TV series MASH broke all popularity records with its humour-in-uniform appeal. Of course, after the Iraq invasion humour seems to have suddenly abandoned the U.S. army.
Director's special
BBC World has rung in the New Year with a bang. The channel's new show titled Bollywood's Bosses, delves into the lives and work techniques of some of the industry's most renowned contemporary filmmakers. The first episode was an exclusive profile on Farhan Akhtar, analysing his triumphant debut with Dil Chahta Hai and the not so hot Lakshya. In his interview, Farhan talked about his breakneck membership into the A-list of the Indian film industry's upper crust.
The programme will be featuring the likes of David Dhawan, Mahesh Bhatt, Subhash Ghai, Raj Kumar Santoshi, Vidhu Vinod Chopra, Ashutosh Gowariker and more and will go beyond headlines and gossip to understand the elements that fashion a top director.
It provides an insight into the working style and by talking to stars and musicians, cameramen and other colleagues who the director has worked with. So here's your chance to get up close and personal with the Badshahs of Bollywood.
Fat to fit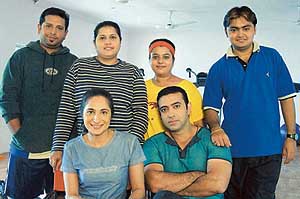 Sakuja and Kuchroo with their four challenges
Most of us know with clinical precision how much we should weigh—the magical number that makes the difference between being overweight and fit. But do obese people know how to go about losing weight?
If not, they should pick up the remote and tune into Star One. In Figure It Out every morning at 7.30 a.m. the fitness duo of Simmi Sakuja and Rajiv Kuchroo take up the challenge slimming down a set of obese people in 100 days.
Set on the lines of the Discovery's National Body Challenge that invites people to participate in a 12-week regimen to lose weight and get fit, Figure It Out guides participants through a simple yet disciplined weight loss and stay fit programme. The show also tells you about the correct food choices and new workout techniques. So if you are constantly in a sea-saw battle with weight here's your chance to lose weight and get in shape without stepping out of home. — NF