ulta pulta
Car mela
Jaspal Bhatti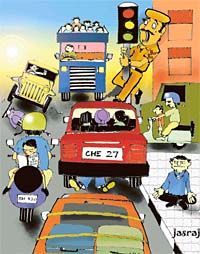 The surmounting traffic on the roads has turned out to be a boon for the excuse makers. Habitual latecomers to the offices are happy because now for they have a wonderfully believable excuse. "Sir, traffic itna tha mein kya karta. I was struck for half-an-hour in the rush". The Chandigarh Administration might be secretly planning or drawing up a plan to meet the impending traffic congestion but the general public is not aware of it.
Last week, I was at a party where the discussion steered round to the growing numbers of cars on the roads and the traffic problems. Although this is more avidly discussed at the Traffic Headquarters over a cup of tea, people also chat over these traffic problems during their first round of drinks before they move on to something more serious like Kareena Kapoorís kissing shots on television.
I believe that the general public has more valuable suggestions and solutions than traffic experts sitting in the SP Trafficís office. Bittu Sandhu, who runs an event management company, suggested there should be a complete ban on parents leaving their children to school on cars. But I wonder what will happen then to the prestige of schools like Carmel Convent, St. Johnís or Sacred Heart which are known for the morning beelines of official cars with red light atop dropping VIP children at the school. Someone suggested that underground or multi-level parking lots will have to be made near the city centres.
Le Corbusier had not foreseen the migration from Bihar and Uttar Pradesh and the resulting population explosion otherwise he would have kept the provision of separate rickshaw lanes, monorail or underground metro rail.
Easy loans are one of the major reasons for the increasing number of automobiles on the road. Today everyone can afford a car. Raminder Jhaku, a senior Haryana cadre IAS officer asked his driver whose car was parked next to his official car. The driver said humbly, "Sir, that is my private car. I have just bought a new car."