PUNJAB

HARYANA

JAMMU & KASHMIR

HIMACHAL

REGIONAL BRIEFS

NATION

OPINIONS

MAILBAG

BUSINESS

SPORTS

WORLD

Wednesday, January 12, 2005, Chandigarh, India
Updated at 3:00 am (IST)
BREAKING NEWS


Amrish Puri dies of brain haemorrhage

---
India proposes fresh talks on Baglihar
Pakistan to move World Bank
New Delhi, January 11
India today proposed fresh technical talks to Pakistan on Baglihar hydel power project even as reports published in the Pakistani media said that Islamabad had decided to approach the World Bank for appointment of neutral experts to resolve the dispute.


In video (28k, 56k)



World page: Indian solution on Kashmir unacceptable, says Musharraf

CAST YOUR VOTE
Should there be fast track courts for NRIs?


FORUM

EDUCATION

JOBS & CAREERS

HEALTH & FITNESS

SCIENCE & TECHNOLOGY

SPORTS

SOCIETY

TRIBUNE CLASSIFIEDS

BRIDES WANTED

GROOMS WANTED

OTHERS

HOW TO PLACE ADVTS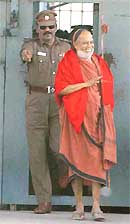 Seer released from prison
Chennai, January 11
After spending two months in jail the Kanchi Shankaracharya today afternoon walked out of the Vellore Central Prison with a smiling face. He had been in jail since November 11 last year in connection with the Sankararaman murder case.


In video (28k, 56k)
Kanchi Shankaracharya Jayendra Saraswati walks out of the Vellore jail, after the Supreme Court granted him bail in a murder case, in Tamil Nadu on Tuesday. — PTI photo

Notice to Chandigarh builders for colonies in 'green belt'
New Delhi, January 11
The Supreme Court today issued notices to three colonisers who were allegedly granted licences by Punjab, Haryana and Union Territory of Chandigarh for building colonies around the city on protected green belt areas in violation of law.
Beur Jail to have jammers soon, Bihar govt tells SC
New Delhi, January 11
The Bihar Government today told the Supreme Court that it had decided to install jammers in Patna's Beur Jail to prevent use of mobile phones by prisoners.

In Jobs & Careers today
In Health & Fitness today
THE TRIBUNE MAGAZINES
On Sundays

On Saturdays

EC team finds Haryana Govt violating code
New Delhi, January 11
The INLD, which faces the threat of de-recognition, today found itself in a precarious situation as the two-member inquiry team from the Election Commission found the Haryana Government of violating the model code of conduct in police and teacher recruitment.



A.S. Bhatotia to be new Haryana DGP


Editorial: EC asserts


More stories on Haryana page

Cong to implement CMP: PM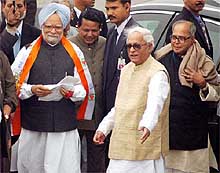 Kolkata, January 11
Prime Minister Manmohan Singh today claimed that the UPA's common minimum programme (CMP) had been Congress' main agenda, which the CPM and other Left parties were supporting from outside.

Prime Minister Manmohan Singh being welcomed by Chief Minister of West Bengal Buddhadeb Bhattacharya after his arrival at the Kolkata airport on Tuesday, while Defence Minister Pranab Mukherjee looks on. — PTI photo


Pre-Budget consultations begin
Farm, industry experts meet FM, alternative to MSP sought
New Delhi, January 11
Finance Minister P. Chidambaram today set in motion the customary pre-Budget consultations with agriculture experts suggesting the government to replace the Minimum Support Price by remunerative prices and Participatory Price Insurance Scheme.
In video (28k, 56k)

Union Finance Minister P. Chidambaram with leading industrialists at the pre-Budget meeting for 2005-2006 in New Delhi on Tuesday. — Tribune photo by Mukesh Aggarwal

Supreme Court grants bail to Shankaracharya
January 11, 2005
Govt to set up tsunami warning system
January 10, 2005
PM promises healing touch to victims
January 9, 2005

Indo-Pak talks on Baglihar break down
January 8, 2005
ADC cut to trigger fall in call rates
January 7, 2005
100 aftershocks in Andamans
January 6, 2005
Central team leaves for tsunami-hit areas
January 5, 2005
14 girls die as buses collide on Khamano road
January 4, 2005
Moderate quake in West Nicobar
January 3, 2005
Beaches vanish in Campbell Bay
January 2, 2005