CAREERCATURE
by Sandeep Joshi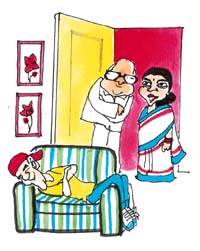 He is lazy, dull-headed and good for nothing. Won't politics be the best career for him?

Serving the needy a rewarding job
A natural disaster, like the recent tsunami, fires the people's desire to do social service. For a few weeks or, may be, months. But not many take up social work for a lifetime, or for a living. The presence of flush-with-funds NGOs is, however, making social work not only a rewarding career option but also a paying one, writes Inderdeep Thapar
THIS is one field which is a blind spot as far as career consciousness is concerned. Social work is generally perceived either as a voluntary service area or a low remuneration field. The proliferation of study programmes in social work in recent years, however, belies the above notion.


BITS AND BYTES
IIM-B tie-up for management courses
IIM Bangalore has entered into a formal partnership with Hughes to offer long-term programmes for working professionals, according to a Press release. Students can benefit from this tie-up and the availability of these programmes at the DiRECWAY Global Education classrooms, as they can now take advantage of these two programmes without traveling to other cities.



INTERVIEW INTELLIGENCE
"Be confident, not cocky"
A student of the Class of 2003-05 in the University Business School, Panjab University, Anuj Puri has an engineering background. He was recently selected as a management trainee by HDFC Bank. He offers tips on preparing for and taking an interview:



SMART SKILLS
Head for healthy growth in paramedical services
Usha Albuquerque
TANYA was extremely disappointed when after a 92 per cent in Class XII she was unable to clear the Pre-Medical Test for a seat in a medical college. While preparing for yet another attempt at the PMT, Tanya enrolled for a B. Sc in Physiotherapy too. A year later, she is finding her course in Physiotherapy so interesting that she has given up trying for the PMT.