The woman in BLACK
The role of a blind, deaf and mute girl in Black is a challenge for Rani Mukherjee, writes Aditi Tandon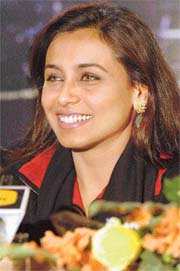 Rani Mukherjee awaits the response to Black
"Black" is arriving shortly, and with it is arriving a brand new idiom that will offer a fresh insight into Sanjay Leela Bhansali's enigmatic world of imagination and creation. The project is far removed from Bhansali's earlier indulgences in more ways than one. To begin with, it is a daring departure from the flamboyance of Devdas and the melodrama of Hum Dil de Chuke… To wrap up, it has no familiar Bhansali ingredient— neither a "Khan" nor an overwhelming musical line up.
All it has is Rani Mukherjee in an all-Black mould, striving to add purpose to her traumatic existence — a deaf, mute and bind girl that she plays in the film. The actress is jittery, more jittery than she has ever been in her decade long presence in the industry. But she has managed to draw from her past experiences all the cinematic dexterity she would need to put the toughest act of her life together. Her heart has long been into the script and her mind has responded incredibly fast to the suffering of the disabled, their innocent mannerisms and their language of expression.
As the actress tells, "I knew I would require all the strength in the world to help Sanjay Leela realise his finest dream. So I began my spadework well in time. Long interactions with the deaf, dumb and visually challenged children helped me gain sensitivity towards their reactions, aspirations and hopes. I worked hard and assimilated all that I could from my association with them. Picking up the sign language was the most daunting of all lessons I had to learn for this film. The project has brought me immense satisfaction not just in terms of the performance scope it offers but also in terms of the realities it encompasses. After Black, I have come closer to life and to myself. I have emerged a better person."
While that remains to be tested, what's true is that Rani Mukherjee has conquered the hurdles of stereotypes with admirable ease. Refusing to be typecast, the actress has donned remarkably disparate roles right from her first film Raja ki Aayegi Baraat to her subsequent successes including Ghulam, Hey Ram, Kuchh Kuchh Hota Hai and Chalte Chalte. What's striking about Rani's choices is her ability to respond to all characters, despite their placement and significance in the script. Very often she has made guest appearances simply to honour her relationship with the director. Twice she accepted rather "insignificant" slots in Karan Johar's films – first in his mega hit Kabhie Khushi Kabhie Gham and then in his blockbuster Kal Ho Na Ho… Even in Yash Chopra's Veer-Zaara, she charmed the audiences despite being the "second lead".
Much respected in the industry for her meaningful associations with filmmakers, it is small wonder that Rani Mukherjee bagged the challenging role in Black. The very fact that Bhansali trusted her enough with his treasured project speaks volumes about her finesse as an actress, yearning to learn and experiment. Rani reciprocates with equal respect as she says, "Anyone would like to be associated with Sanjay Leela, who is so well regarded for his cinematic flourish. Opulence apart, his films always have a purpose to serve. With Black he has charted a new course, the one that is dotted with impediments. It takes courage to do what Bhansali is doing."
Rani's reading of Bhansali makes sense, especially so in the age of multiplexes when cinema can't but pander to populism to survive. In a scenario where capitalist concerns are overwhelming filmmakers into altering their lines of thought, Bhansali's foray into the world of darkness might well sound ill timed. But the support of actors like Amitabh Bachchan and Rani Mukherjee lends hope to his faith in realism, as projected through Rani Mukhjerjee in Black. Interestingly, the film draws much from Krzystztof Kieslowski's three-colour trilogy – Blue, White, Red.
Even while Rani awaits responses to Black releasing this February, she is already geared up for other classic acts tucked under her belt – as Kashibai in Bhansali's next Bajirao Mastani and as Rani in Ketan Mehta`s The Rising.
After long, The Rising will bring the Rani-Aamir pair back into focus. The history of Ghulam may well be repeated then!