Television
Mumbai woos Kasauli girl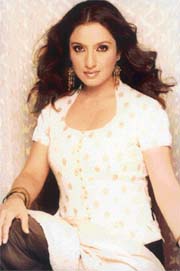 The glam world has opened its arms for Tisca Chopra
Ever since she played a Charlie's Angel with a past-kind of a role in Saakshi, she's been deluged with TV offers. Remember Tisca Chopra the smooth seductress in Hyderabad Blues-2 or the wily undercover agent in Sony's Entertainment Television's Saakshi?
The glam world has opened its arms for the model-turned-star and offers have been pouring in with such speed that they have left her breathless. She is now playing the spiteful Mallika in Kahaani Ghar Ghar Ki and Rhea in Astitiva — Ek Prem Kahani on Zee.
But there is more to Tisca than just TV. She recently played Prabhavati, wife of JP, in Prakash Jha's Loknayak Jayaprakash Narayan. Besides, she has starring roles in films like Cape Karma, Sau Jhoot Ek Sach and a new Ram Gopal Varma flick.
"I'll never accept bimbo-kind of offers. Just strong, meaningful roles that empower me as an actress. When I stop getting such offers, I'll quit and take up a career in writing." And why not, considering the Kasauli-born lass is Khushwant Singh's distant niece.
One at a time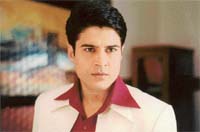 Rajiv Khandelwal sets his own pace
The rumour mills are rotating faster than the episodes of Ekta Kapoor's Kahiin to Hoga on Star Plus. First came the news that lead star Rajiv Khandelwal was quitting Kahiin To Hoga. Now the gossip has it that he's having a roaring affair with co-star Amna Sharif.
"Neither am I leaving the serial nor am I seeing anyone," says Rajiv, who after making a successful debut with Kya Hadsaa Kya Haqeeqat, went into a self-imposed exile till Ekta Kapoor approached him for Kahiin To Hoga.
Ever since he started doing Kahiin To Hoga, he is once again back to his favourite response when he's offered serials — "I am not interested."
This explains why he declined a meaty lead role in mystery drama, Kaalchakra.
"I am enjoying playing Sujal in Kahiin To Hoga. I don't want to divide my attention by accepting another serial. Once it is over, then I'll look for a new serial, maybe a new film. Right now, it's one project at a time."
Another Aamir Khan in the making.
Stars on kids' call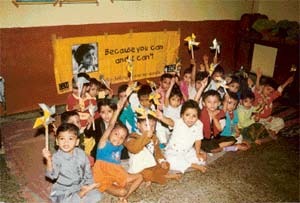 CRY's telethons will give new impetus to childcare.
Even after 57 years of Independence, children continue to be the most neglected segment in India. That the promises made to them at the time of Independence remain unfulfilled and their basic rights are violated everyday.
It is amid this environment of little or no education, malnourishment and child labour that an NGO, Child Relief and You (CRY), is organising the first-ever fund-raising telethon starting at 12 noon on January 26 on Sony Entertainment Television.
Celebrities like Shah Rukh Khan, Jagjit Singh, Shaan, Bipasha Basu, Farooque Sheikh, Diana Hayden, Rahul Bose, John Abraham, Jackie Shroff and Harsha Bhogle will appeal to viewers to contribute time and money towards changing children's lives.
With this show, CRY hopes to give a new impetus to the tired cliché that "children are our nation's assets" even as lakh of them go to bed hungry and miss out on education.
Killer waves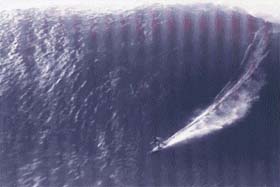 Devastation: riding the killer wave
Though it may have nothing to do with the Tsunami waves, the series is chillingly close to the havoc that nature can wreak.
The ongoing Violent Earth series on the National Geographic Channel at 9 p.m. is all about nature's fury. The true stories of people trapped at sea — a few who survived and many who perished.
The episode Condition Black on Januray 15 was chillingly close to the killer Tsunami waves that killed over 1.5 lakh people. It was all about the big wave phenomenon that occurred in Hawaii in 1998 when waves up to 80 feet high were reported.
An Al-Nino storm in the Western Pacific and constant extreme winds carried huge swells onto the Hawaiian shores. The ocean was declared Condition Black by the Hawaiian authorities and no one was allowed miles near the stunning mountains of water.
The show explained how waves, the size of apartment buildings, are formed. Hear from scientists and meet the survivors who braved some of the largest waves ever. — NF