CAREERCATURE
by Sandeep Joshi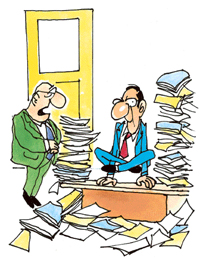 I donít think this exercise will help you reduce work stress.

Train for a role in
DISASTER CONTROL
For a calamity-prone country like India, training personnel in disaster management is the need of the hour, writes Usha Albuquerque
Numbers of the dead in the recent tsunami tragedy: 1,50,000 and still counting.
A short span of time on December 26, 2004, changed the lives of millions of people in Asia. The mind boggles to even think that one natural disaster could play such havoc with human lives. But each year, natural disasters take a heavy toll of human life and property.



Sunny days ahead in weather watching
Trilochan Singh Trewn
Meteorology is basically the science of forecasting weather. Initially, it was the art of providing advance information regarding local rains and storms. But in the course of time, it became a major department dealing scientifically with phenomenon like winds, storms, rains, variations in temperatures, earthquakes of local as well as global origin, etc.


NOTE THE QUOTE
Every job is a
self-portrait of the person who does it. Autograph your work with excellence.

ó Unknown



WORK WISE
"Plan, focus and devise strategy before you hit the road"
Punctuality, honesty and sincerity towards work are qualities I value. I like workers who are progressive in their outlook, stick to deadlines, possess networking skills and the ability to build upon relationships, are self-motivated and are self-starters, says K.P.S. Channi, Deputy Vice-President, Lord Krishna Bank, Chandigarh.



CAREER HOTLINE
Pursuing personnel management
Pervin Malhotra
Q I am working as an aircraft technician with the Indian Air Force. I have completed graduation in Economics. Now I am interested in doing postgraduation in Personnel Management. What is the scope?
Cyber law

Technical track

Physiotherapy courses

BITS AND BYTES
Courses in plastics