Illegal colony poses threat to national security
Varinder Walia
Tribune News Service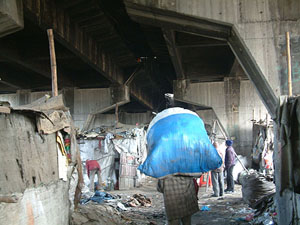 A colony of illegal Bangladeshi migrants has come up under the railway overbridge, adjacent to the BSF's Intelligence Office, Amritsar. — Tribune photo by Rajiv Sharma
Amritsar, January 18
For slums no area seems to be prohibited. This is true in case of a huge slum dwelling that is located right in front of the gate of the BSF's Intelligence Office here.
Sources say at least 200 Bangladesh nationals, who have illegally crossed over to India, and anti-social elements have made this slum their permanent abode.
The mushrooming of slums adjacent to the BSF building poses a grave security threat as the branch deals with sensitive information relating to Pakistan.
Shockingly, some of the dwellers have constructed permanent structures, exposing indifference of authorities concerned to the looming danger.
A walk through the slum, which is under the railway overbridge, reveals how the mushrooming has gone unchecked over the years.
Though senior officers of the BSF are perturbed over the ever-burgeoning slums, they do not enjoy any power to check them.
"The slums are growing by the day and the condition of people living is appalling," says a senior official of the BSF on the condition of anonymity.
Though the Civil Surgeon's office and some other government departments are located closeby, they never point out the existence of squalor to their higher authorities.
The unabated growth of slums in the city, especially adjoining the BSF office, is attributed to government's apathy and lack of political will.
Since slums have sprung up near railway tracks, they have posed a risk to the lives of children living there. Anti-social activities have also been associated with slum dwellers.
Slum dwellers have encroached upon every available area in the city, including the green belt outside the railway station and opposite the Guru Nanak Dev University.
These have mushroomed under other railway bridges as well due to the callous attitude of the railway authority.
Amritsar Vikas Manch's writ petition to remove encroachments from roadsides and pavements is pending in the High Court since 2002. The High Court had ordered that it would be in the larger interest of public to direct the MC authority to undertake comprehensive survey of the encroachments made on public land within the MC limits and submit its report for removing these.
The court had also directed action against officers who might have abetted unauthorised encroachment on public land.
Instead of action against perpetrators, footpaths/roadsides are being encroached upon right under the nose of the MC. So much so that the encroachments have been made in Katra Jaimal Singh and other adjoins areas, which are a few yards away from the MC office.