A tale crafted by four women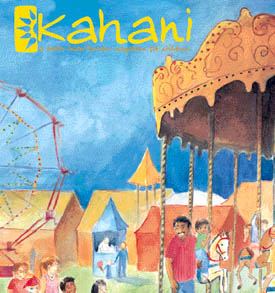 Kahani seeks to develop a sense of pride in NRI kids
"WE are just four of us and we do everything," says Leena Chawla, Business director, Kahani, a South Asian literary magazine for children who call America home. The first of its kind, Kahani is a place where the stories of these children would be told.
In an exclusive interview, Leena says, "We started the magazine because we wanted our kids to read stories in which the main protagoaists had familiar names, who looked like them and had the same experiences they had - grandma who visits from India and wears a sari, dosas for snack, bharatnatyam classes along with ballet classes, long trips to India during the summer vacation. Its empowering for our kids who are a racial minority here to read a story and think, "Wow! There are 10,000 other kids just like me!"
The magazine is a joint venture of four enterprising Indian women in the United States.
Monika Jain, the Editor, is an award-winning journalist who grew up in Japan. She relocated to New York where she produced a documentary series for Japan's NHK television and even won the Best Director award for the same. Leena Chawla, the Business Director, is a management consultant who worked for companies like CSC Index and Waite & Company. Rameeta Khurana, the Technology/ Operations Director, an IT professional, specialising in software applications development. She has worked with companies like HCL India and Sybase.
Radhika Ramdev, the Creative Director, is a graphic designer who has worked with diverse group of clients like Harvard University, the Scotts Company and the US Marine Corps.
The magazine happened when Monika, Leena and Radhika got together to start a playgroup for their children. As the talk turned to professions, Monika discussed her idea about the magazine. Her inspiration, in turn, came from her nine-year-old daughter Sejal and the child's attempt to seek a parellel between her and Francine and DW of Arthur.
The idea clicked. With Rameeta also joining in, the group found that much of the expertise was available in-house. So while cradling babies in one hand, as they put it, the women jostled with numbers on the spreadsheet.
They made a business plan, surveyed the market, and roped in support from various quarters. Billionaire Gururaj 'Desh' Deshpande is on the Kahani business advisory board. Editorial advice came from Nancy Gruver, founder of New Moon, novel-writer Uma Krishnaswami, and graphic designer Lisa Diercks, a professor at Emerson College, Boston. After one year of research, the magazine was launched in Boston, New York and Fremont on August 15, 2004, where friends and family of the Kahani team sold it for $1 each, primarily to introduce it to readers. The regular cost of subscription is $29 for one year and $50 for two years.
Besides the printed magazine, they also have a website www.kahani.com. Leena says, "The website just supports the print magazine right now, but we are soon going to add a lot of interactive content for our young readers."
Four of them jointly put it, "The goal of our magazine is to reflect the experience of our children as they grow up here, and to develop in them a sense of pride in their rich cultural heritage and values. We want to present literature for our children that reflects their multicultural experience growing up here. Another goal is to provide a platform to showcase the tremendous talent of South Asian writers and illustrators for children's literature."
On being asked what sets apart their magazine amongst a host of others, Leena says, "I think the reason our magazine stands out is because unlike a lot of other publications, it has no ads, is written in excellent English, beautifully illustrated in four colours and printed on excellent quality paper. Kahani will adhere to a strict secular and nonpartisan editorial policy. There will be no ads in the body of the magazine, but we may sell limited space in the back."
A magazine that would take no ads! Strange, but true. Then how do they thrive with the business? Well, Leena fondly says, "The four of us earn no salaries. This is a labour of love."
"I'm sure Tribune readers have many family members in the US who would like to know about a children's magazine especially created for their kids," she concludes.