Wednesday, January 26, 2005
Feed your ambition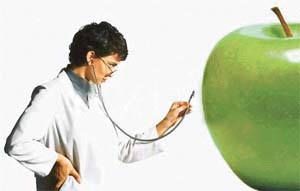 The work opportunities for dieticians and nutritionists have gone truly global. The time is ripe to figure out a role for yourself in calorie counting, writes Gauri V. Singh
IN an age when staying fit has become a fad among the young, middle-aged and old alike, dietetics holds out bright career prospects. Whether one wants to be a full-time or part-time practitioner, there are different offshoots of dietetics to suit individual preferences and aspirations. Flexibility is the buzzword in this field, which is so full of challenges.
The following are some of the institutes providing training in dietetics:
Govt. College for Girls, Punjabi University, Patiala

Govt. Home Science College, Panjab University, Chandigarh

PAU, Ludhiana College of Home Science, Ludhiana

Govt. College for Girls, Ludhiana

Lady Irvin College, Ludhiana

University College, Kurukshetra, Haryana

Guru Nanak Girls College, Yamuna Nagar, Haryana
Almost all institutes start admissions in June for degree and diploma courses.
The list is not exhaustive
Clinic course
First and formost, comes the role of giving care to the sick and healthy alike. An M.Sc or a postgraduate diploma in food and nutrition coupled with a formal training from a reputed hospital and institute like the PGIMER, Chandigarh, AIIMS, New Delhi, or CMC, Ludhiana, etc. is a must, if one is serious about adopting dietetics as a full-time career.
On completing the mandatory training of six months after M.Sc and nine months after a P.G diploma in food and nutrition, one can practice as a full-time, part-time or visiting dietician in any hospital. Though the trend to employ regular dieticians is slowly catching up in several hospitals of the region, yet most big private as well as government hospitals use the services of consultant dieticians according to the bed strength, mostly those having 150 beds or above. In private hospitals or nursing homes, a dietician is given salary according to the bed strength and experience, but the start is usually around Rs 4500 per month. In government hospitals, the salary is equivalent to that of a Class-I officer i.e a doctor.
Packed food
All leading nutrition divisions supplying various types of ready-to-use tube feed formulae and various kinds of food supplements for different diseases need the services of dieticians. All these are calculated, balanced and managed by the dietician in-charge.
The food industry also holds ample scope for a dietician or nutritionist (someone who does not have formal training from a hospital and cannot work in a hospital). The dietician calculates the nutrient content of the food product to be mentioned on the carton for consumers. Prestigious hotels also use the services of a dietician or a nutritionist as their customers and people in general are becoming more and more aware about their health and its direct relation to food.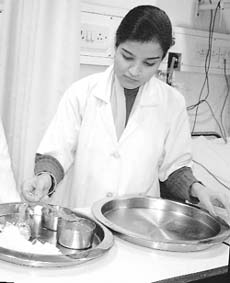 A dietician at work in a healthcare centre. — Photo by S.S. Chopra
Teaching track
Teaching has a lot of scope for those armed with a dietetics-related qualification.
In schools, the B.Ed degree is a must along with an M.Sc or P.G. Diploma in Food and Nutrition. On the other hand, it is mandatory to clear the UGC test for the post of a lecturer in a college or a university.
Canteen call
Schools, colleges, universities and industries that run in-house cafetarias for their students and employees need the services of a dietician to help serve healthy and wholesome food.
Community hubs
Various community centers like "Baalwadis", "Aanganwaadis" and Old Age Homes have a basic requirement of a dietician, who helps co-ordinate healthy, wholesome meals and impart vital information regarding any meal or food-related health programme. A Jalandhar-based paediatrcian, Dr Puja Kapoor, makes it a point to put all her patients, from birth onwards, under the expert care of a dietician as she opines that an unhealthy child will turn into an unhealthy adult, leading to a sick nation. Similarly, Dr Anil Sud, a senior paediatrician and consultant, Pushpa Gujral Nari Niketan, feels that a balanced diet is a must for one and all.
Slimming centres
The fitness clubs and slimming centers mushrooming all over offer new job opportunities as these cannot run without a dietician.
Overseas options
There are opportunities galore for dieticians in countries like the United Kingdom, Canada, the USA and Australia, etc. Says a London-based immigration consultant Harjap Singh Bhangal, "In England, there is a huge demand for dieticians.
Sports & space
With the increasing awareness about the role that food and nutrition play in increasing the stamina of sportspersons and curing their injuries, the role of dieticians in sports nutrition is increasing at a tremendous pace.
Also, to counter the unsettling effects of space travel astronauts too need the guidance of a nutritionist.
Eligibility
The minimum eligibility for becoming a dietician or a nutrition expert is a plus two degree in the science stream, followed by a three-year degree course — B.Sc in Home Science and finally a M. Sc or a PG diploma in Food and Nutrition.
— The writer is Consultant Dietician and Head, Department of Dietetics,
Shri Devi Talaab Charitable Hospital, Jalandhar


COURSE CHAT
"Date with dietician now a way of life"


Dr Sudha Khurana
THE heightened awareness about the role of balanced diet in preventing or curing lifestyle-related and other diseases coupled with the mushrooming of fitness centres has given a thrust to the role of dieticians. Dr Sudha Khurana, Consultant Dietician, Dietetics Department, PGI, highlights the fat money and prospects in this field. Excerpts from an interview:
How has the role of dieticians changed in the past decade?
With the increasing incidence of lifestyle-related diseases — like obesity, hypertension, etc — people have become more diet-conscious. Even at kitty parties, fat-free meals and calorie counts are topics that are discussed with concern among women. Hence, there is a greater need to consult dieticians. This has enhanced the scope of work in the field of food and nutrition.
With the mushrooming of health clubs and fitness centers in big cities like Mumbai, Delhi or Bangalore, people have become more particular about keeping their "date with the dietician". Even in a city like Chandigarh, the demand for dieticians has increased manifold with the opening of more and more private hospitals, fitness clubs and slimming clinics.
What are the main areas in which dieticians can work?
There are job opportunities for dieticians in hospitals, hostels, hotel and catering firms and also in the field of sports nutrition. Nutrition consultants are required even by schools which have day boarding facilities.
But dieticians need to play a more active role at the village level too. Even the field of preventive medicine requires more involvement of experts in food and nutrition.
Apart from academic qualifications, what are the qualities that a dietician needs to possess?
It is important for dieticians to be friendly and understanding while dealing with patients. They should be able to give a sympathetic hearing to people suffering from nutritional deficiencies or problems of overweight. Rather than sounding judgemental, like medical practitioners, dieticians too need to have a humane approach.
Why do more women than men enter this field?
It may have something to do with temperamental suitability. Women tend to be more sympathetic about weight problems. Also, since they manage the kitchen, they can also identify more easily with food-related issues.
Any advice for youngsters aspiring to become dieticians?
My sincere advice, especially to girls, would be that this work should not treated as a time pass till they get married. Enter this job with the aim to make a difference to the nutritional habits of people, to bring about positive change. It is a job that requires serious involvement.
— Chetna Keer Banerjee