Wednesday, January 26, 2005
EVENT BUZZ
Risk management among new options
Geetanjali Gayatri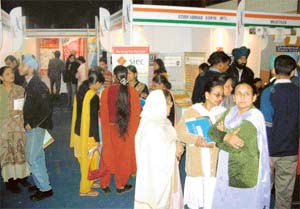 Visitors shop for job-oriented courses
WITH career opportunities growing beyond the narrow precincts of medicine and engineering, a host of job-oriented courses were on offer at an education fair held in Chandigarh recently.
From the usual crop of popular courses like business management and hotel management to the upcoming fields of hospital management and risk management, myriad professional and vocational courses were showcased at the event. Since the study packages are marketed to match the pulse of the job market, here's a checklist of what's old, what's new and what's going steady on the course front:
More on management
Management, hospitality and tourism courses stole the day with almost every institute having something related to these fields on its platter. The Ansal Institute of Technology from Gurgaon and the Durgapur Society of Management Science all the way from West Bengal were among those offering a Bachelor's and Master's degrees in Business Administration.
The AICAR Business School from Raigad in Maharashtra offered a two-year post-graduate diploma in Business Administration, allowing students to have their pick from four specialisations of Marketing Management, Communication Management, etc.
Hospitality and tourism was the other big attraction at the fair. "I AM GOA", a hotel management institute from Goa, had a graduate degree in hotel and hospitality management. The ITFT, Chandigarh, too marked its presence in this segment with a B.Sc degree in airlines, tourism and hospitality management.
Straight after school
The Eikon Academy from New Delhi, in academic collaboration with Merit International, Ooty, was the only institute offering three-year courses for Class X and XII passouts. These included diplomas in hotel management and hotel and lodging as also a bachelor's degree in hospitality and tourism administration.
It's about taking risk
With management of corporate risks becoming a necessity for governance and operations which require strategic planning and audit, the Institute of Insurance and Risk Management, Hyderabad, is offering a one-year international postgraduate diploma in risk management. It also has a PG diploma in insurance for those keen on joining the finance sector.
Hospital mgmt is hot
Keeping in mind the growing demand for hospital managers, the Durgapur Society of Management Science, West Bengal, has started a three-year course in hospital management which promises to churn out junior managers adept in managing hospital resources and administration. The Institute of Philosophy and Science, Dehra Dun, is also offering certificate, diploma and advanced diploma courses in the subject.
Bio brigade
The Alpine Institute of Paramedical Sciences, Institute of Philosophy and Science and SBS Post-Graduate Institute of Biomedical Sciences and Research, Dehra Dun, came to market a bagful of bio-related courses. The courses on offer included physiotherapy, biotechnology, biochemistry, medical microbiology and medical lab technology, among others.
Sky is the limit
An attraction for most girls visiting the fair, the IAF stall provided information on eligibility conditions for its various branches. While one can become a pilot after clearing the National Defence Academy or the Combined Defence Services Exams, the Technical Branch is open to all electronics and mechanical engineers with 55 per cent marks in BE/B.Tech in various streams.