Wednesday, January 26, 2005

SMART SKILLS
Tutoring time
Usha Albuquerque
EDUCATION has always been considered a noble profession. The contribution that education makes towards the development of human capabilities and in creating social opportunities for the disadvantaged makes it one of the most significant factors of sustained human progress. But today education has become big business too!
Investments in education are arguably the best investments in the future. At present, a fairly extensive formal education system is in place. But over and above that, over the last decade, a new whole parallel economy has grown alongside the fringes of our formal education system —that of tutorials and coaching classes, distance education, consultancies for various courses and study programmes in India and abroad, career counselling and so on. Moreover, setting up schools — both nursery schools as well as secondary schools as an entrepreneurial venture has also become big business today.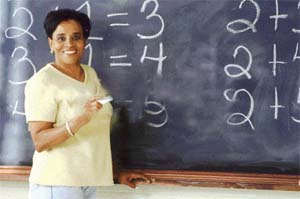 Cash in on coaching
Tutorials and coaching classes for school students for board exams has seen the maximum growth. On reaching the secondary and senior secondary levels, competition among the students becomes so intense that students have to take recourse to either personalised tutorials or group teaching/coaching classes. Coaching classes are popular today because they are cheaper and more affordable than private tuitions.
Limited seats in good colleges and professional institutes has further stretched competition to levels where entry without preparation through a coaching system is practically impossible. Several coaching centers cater purely to the demand for the highly competitive entrance exams for medical, engineering and management courses. There are specialized coaching classes for the civil services exam too. Here also, the competition is so intense that most students have to take recourse to coaching classes, where you are taught how to answer all the questions on various topics and subjects. You are also trained to appear for the interviews, group discussions and other aspects of the competitive exams.
Grooming for global studies
Similarly, there are several institutions and coaching centers that prepare students for taking the SAT, GRE, and other examinations for studying abroad. Many of the institutions are able to attract and recruit retired academicians or professionals weary of the commercial rat-race and willing to take up the challenge of education. With huge investments in terms of infrastructure, salaries of staff and faculty and use self-learning instructional material such as CD-ROMS., these institutions are making the education options a highly attractive one for young people.
Educational management consultancies have also come up in a big way. Today there are various types of consultancies and agencies, which provide information, guidance and counselling on various aspects. These could range from career counselling, to preparing for scholarships or studying abroad.
More and more students are now opting to go abroad for higher studies, not only in the United States of America and England, but also in countries such as Australia, New Zealand, Germany, Switzerland, France, Canada, Singapore and so on. Several organisations exist today that are dedicated to guiding students and parents on applying for education abroad. Many consultancies also help in applying for visas and arranging for housing and other facilities once you have the visa in hand.
Case for counselling
And with the number of careers available having increased so greatly, most students today are confused and require guidance. Therefore, career counselling has come up in a big way. A large number of schools and colleges still do not have qualified career counsellors. Therefore several career counselling agencies and organisations have been set up, which conduct aptitude tests and other psychological tests, apart from providing personalised guidance and counselling services to students.
The concept of distance education is a relatively new one in India. It arose as a result of the development of modern communication technologies such as satellite, and radio. Now the growth of the Internet has added to its popularity. Multimedia and Internet is now, in fact, the cornerstone of distance education.
Today, distance education in India is imparted through three major systems of instruction-external studentship, correspondence education, and open learning or distance education. These are imparted by either departments of correspondence courses and continuing education of regular universities or through open universities or even through private/ professional institutions.
These systems have helped all those who want to attain higher education but are unable to adjust to the inflexibility of formal classroom education. This includes working people, people who have missed the opportunities of attaining higher education due to social or economic constraints, late entrants, people who do not have access to higher education in their place of stay, as well as those who wish to supplement their educational qualifications.
Business sense
Hence, a Distance Education Council (DEC) was established by the government in order to co-ordinate and maintain the standards of distance education in the country, with the Indira Gandhi National Open University (IGNOU) as the apex body under this scheme.
Several individuals and organisations are opening up schools these days. In fact, several private schools offering a variety of services are mushrooming all across the country these days. Corporate sponsorship of education has become common today, with industrial families such as the Tatas, the Birlas, the Apeejay group, the Rai Foundation and the Amity Foundation having opened up several educational institutions across the country. Corporates have also entered into the area of professional training for specialised and vocational subjects such as management, hotel management, IT, journalism and others.
A number of individuals too have opened up small nursery and primary schools all over the country. These are an excellent business proposition for trained teachers and entrepreneurs.
So, the constantly changing demands of our modern society have seen the growth of education, not only as a catalyst for development but as a very viable career option. A diploma or degree in education, or a professional qualification with some years of experience can provide the launching platform for a career in this dynamic arena.
If you are interested not only in training yourself, but in entering a field where you can also open opportunities for others, then enrol yourself in a teaching programme.
The writer is a noted career expert