Before the Australian Open, she was just an extremely talented player. Now she is a role model, a beacon of hope.
M.S. Unnikrishnan charts the meteoric rise of Sania Mirza

Sania Mirza has broken away from the restrictive mould of Indian tennis to enter the big league.
In a country starved of sporting icons, Sania's show on her Grand Slam debut in the Australian Open Tennis Championship has spread the sweet fragrance of success.


I am happy that I could match Serena. I had my chances.
It had been her long-cherished desire to play against or alongside the Williams sisters — Serena and Venus. That desire was fulfilled when Sania had a third-round face-off with former world number one Serena.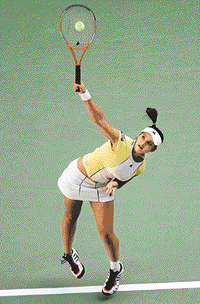 The 6-1, 6-4 defeat of Sania in 54 minutes was on expected lines. But what wasn't expected was the supremely confident manner in which Sania fended off the Serena thunderbolts, her serves measuring 197 km. Sania almost pushed the American into a spot, forcing Serena to predict that Sania had a "great future".
Serena, known for her power game, was not exactly delighted to meet an opponent of equal power and persistence, albeit for a fleeting moment. Serena sure knows her tennis, and has seen spark of a champion in Sania.
"I am going to go out there and play my natural game", Sania had said before her duel with Serena. And that's what she did, though she was disturbed that her parents were not around to cheer her up.
They were on a Haj pilgrimage to Mecca when Sania wrote a new chapter in Indian tennis history, becoming the first woman ever to enter the third round of a Grand Slam event. The best till then was the second round appearance by Nirupama Vaidyanathan at the Australian Open in 1998, the same year when Leander Paes enacted a similar feat in the US Open.
Sania displayed confidence, poise and maturity to win the support of the fans and respect of the opponent.
"I am happy that I could match her. I had my chances", she added. Sania was nervous to begin with, as she had not slept for two days. This was the biggest day of her tennis career, but did not display her deep feelings on court. She played her natural game to surprise Serena, and the American responded, saying: "it was not an easy match".
New Indian idol
Sania is now considered the great hope of Indian tennis, as she learnt many lessons from the Australian Open that would stand her in good stead.
She understands the need to add a lot more pace and power to her game, and sharpen her serve, to make a big mark on the big stage. She hits the ball hard, and plays the game with a positive attitude.
Born 18 years ago on November 15, Sania has the unwavering persistence and skills of a typical Scorpio.
The Hyderabad girl has no more to answer the condescending query "Sania Mirza, who?". The Australian Open has made her an icon worthy of emulation and adulation. Sania's second-round decimation of world no. 84 Petra Mandula of Hungary 6-2, 6-1 in 50 minutes flat brought her instant recognition.
She had made it into the main draw through a wild card, and did not disappoint her backers. She had to make many sacrifices, even keeping away from her favourite 'biryani', for the sake of her game.
But the sacrifices were worthwhile as she earned 65 WTA points and a cash prize of Rs 15.26 lakh from her Australian odyssey. The points gained from the Open will move her inside of 130 in world ranking, though her target in 2005 is to break into the first 50 elite group.
Indian fans are famous for their penchant to root only for the winning horse, never really fully fathoming the impact of the shifting sands of fortune in the hard-boiled world of professional sport, more so in the pro tennis circuit. That the connoisseur and the commoner alike have come to appreciate Sania's game and sees her as the 'great new hope' augurs well for the much-maligned Indian sports.
She's not quite the poster girl yet, but the world will see her in a different light in the coming months, such is the confidence she has gained from the outing Down Under.
She was well-known to tennis fans before this tournament but now she has become a household name.
Such popularity has been the sole preserve of cricketers, take away one Viswanathan Anand, a Leander Paes or a Rajyavardhan Rathore. No wonder even Sania idolises Sachin Tendulkar, though she may not put him in the same league as tennis legend Steffi Graf.
Ever since she started wielding a racquet from the tender age of six years, Graf has been her idol and inspiration.
In fact, there is a Graf story behind Sania's initiation into tennis.
The legend goes that while watching a Wimbledon match between Graf and Conchita Martinez, Sania's father Imran Mirza was so captivated by Graf's play that he took the consent of his wife Nazima to put their six-year-old daughter into tennis lessons. The rest, as they say, is history.
In the family
Sania boasts of an impressive sporting background. Her father, Imran Mirza, played cricket for Bombay and Hyderabad, and the grandfather was a former state (Hyderabad) tennis champion.
Former Indian cricket captain Ghulam Ahmed is Imran's uncle, and former Pakistan cricket captain Asif Iqbal is a close relative of the Mirzas. With such a lineage, Sania was bound to make her mark, but there is a story of sweat and tears behind her success.
Gain of pain
Sania puts in 8 to 10 hours of practice every day. When in Hyderabad, former Davis Cupper Vasudev Reddy and national champion Narendra Nath coach her at the Fateh Maidan tennis stadium. She works hard to iron out her deficiencies, and is not afraid of admitting her mistakes.
"I am not naturally fast, and cannot keep the same pace and momentum in the third set", she had said after winning four gold medals in the inaugural Afro-Asian Games in Hyderabad. She has apparently sorted out these flaws to take on the likes of Petra Mandula and Serena Williams on equal terms.
"Tennis is my No. 1 profession and that's how it will be", she asserted during the Australian Open, as her pretty persona has many takers from the film, television and fashion industries.
However, there was a time when Sania and her parents had to run from pillar to post for help and support to further her tennis career. All- India Tennis Association secretary Anil Khanna has been very responsive to her needs and demands.
Rapid strides
Sania was taken under its fold by Globesport, the sports promotion company of the Bhupathis—Mahesh and his father Krishna—after she won the junior Wimbledon girls doubles title, parterning Russia's Alisa Cliyanova, in 2003, to be ranked No. 1 in girls doubles.
Sania paired up with Sana Bhambri to enter the French Open junior doubles semis and the quarter of the US Open girls event in the company of Isha Lakhani the same year.
She had partnered Leander Paes to lift the mixed doubles bronze in the 2002 Asian Games at Busan, and in the last two years has added 12 ITF singles and five doubles titles. She was also the first Indian girl to lift the Asian junior title, and the youngest Indian to play in a Grand Slam!
"She is capable of big things. She can perform on the big stage", observed Mahesh Bhupathi, who has played a decisive role in shaping her career.
"Sania hits the ball quite hard, and she's way ahead in the department from other Indian girls", pointed out Mahesh. Sania is self-confident and self-assured, and sports a smile while tackling the toughest of opponents.
Off-court affairs
With her nose ring and ear tops, Sania has the right mix of talent, looks and attitude to make her the "dream girl" of Indian sport.
She is being named the "Steffi Graf" and "Anna Kournikova" of India. But Sania would be happy charting out her own course, instead of being a clone of someone else.
She has a compassionate heart as well, as she is not only the "Ambassador of the girl child", but has also been in the forefront to collect aid for the tsunami victims.
A devout Muslim, Sania never misses her daily prayer when not playing, and she also observes fasts during the holy months.
Road ahead
So high are the expectations that Sania has raised among countrymen and in tennis circles that she will now be under a lot of pressure to repeat or better her performance. Her progress will depend much on how well she can handle this pressure. Her fans as well as sponsors would have to stand by her through thick and thin.
With "nothing is impossible" being her mantra,, Sania is willing to go the whole hog to excel on the big stage. She works hard, plays hard and is bound to reach the top one day, in the not-too-distant future.

Brand wagon
Abhijit Chatterjee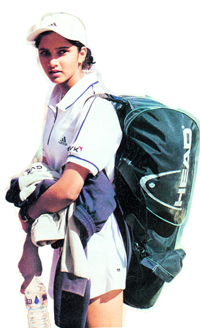 Shortly after Sania Mirza won the Wimbledon junior girls doubles title in 2003, the then Union Health Minister Sushma Swaraj presented a cheque for Rs 5 lakh to her and named her the brand ambassador for the Family Welfare Department in celebration of the girl child. Many had then predicted that this Hyderabad girl was destined to go places. Their prediction has not been off the mark. In a nation starved of sporting stars, the 18-year-old youngster made her presence felt with a sterling performance in the Australian Open.
Due to lack of stars in any high-profile discipline, barring the likes of badminton champion Prakash Padukone (who appeared in a few advertisements in his later years), it has been cricketing stars who have hogged the limelight on television screens. They have gone about making more money from endorsements than from the game.
The performance of the cricketers has not been exemplary all the time, but they have recorded victories once in a while, be it the World Cup or the ICC Cup, to make a place in people's hearts. And the advertisers have made the most of them.
But now they might have competition in Sania Mirza. For a player whose career earnings have barely crossed the $ 50,000 mark, a number of advertisers have already signed her up to endorse their products. The Tata Tea advertisement was the first in which the bubbly youngster was seen on the small screen. Hyderabad-based GVK Industries and Sahara India (which not only endorses the Indian cricket team but also the hockey team) have signed the Hyderabad youngster as well. Leander Paes and Mahesh Bhupathi used to pick up anything between Rs 20 lakh to Rs 25 lakh per ad when they played together since they could be branded as an Indian duo. But now that they have gone their separate ways, they are seen rarely on the small screen. But for the companies which used to use the Indian duo to advertise their products, Sania might just prove to be a godsent opportunity. There are reports that many companies, including cellphone service providers, women's wear and personal care companies, are examining the potential of using Sania for endorsements. Given the looks of the Hyderabad girl, she could well turn out to be a money-spinner for many a company.
Indian tennis has just started finding sponsors for various tournaments in the country. Now that Sania has started making a name for herself, and with a few more youngsters waiting in the wings, there is every likelihood that the game will get a financial boost. However, if Sania prefers to focus on her game, she may not prove to be an easy bait for advertisers.