Harry meets Bollywood on his terms
Aditi Tandon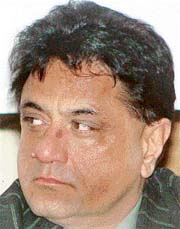 Harry Baweja does not believe in action films
Harry Baweja promises a blast this year. Identified with resurgent cinema, the filmmaker has ensured that his creations don't repeat themselves. Though it has taken him a while to generate responses to experimental cinema, he just doesn't mind the effort.
"That's what cinema is all about – identifying, exploring, dressing and presenting ideas that float around us all the time," reasons the acclaimed director whose oeuvre features films on diverse themes. He brilliantly handled the issue of terrorism in Diljale, successfully explored the nuances of love in Deewane, created mind-blowing action in Qayamat, before daring to bare lesbian love in his very recent film Girlfriend
The producer-director's intriguing journey does not end here. He has many new trails to blaze, at least so it seems on the surface. The storyboard of Harry Baweja's latest love film Love Story 2005-2050 is nothing less than absorbing. In a climate already surcharged with romance, Baweja claims a "never-before novelty" with his new film that has been essayed to succeed.
The claims are too tall to be digested, but Baweja's confidence blunts apprehensions to some extent. "I have always been interested in creating cinema with a niche. Love, as a script for films, might seem moth- eaten, but it is not really so. It still has strains of purpose, only if the filmmakers are willing to explore. My new film evolves with the city of Mumbai, through 2005 and 2050. Highly futuristic, it offers new perceptions on routine issues like love, loyalty and living. It stars my son Harman and Kareena Kapoor."
The fact that Baweja is using the film as a launch-pad for his Hollywood-trained son is an indication enough that he is taking the project more than seriously. Given the director's earlier successful detours like Qayamat, it would not be surprising if the new film also works wonders at the box office. Strangely, the filmmaker most famous for his splendid packaging of action now dismisses the genre very vehemently.
"Action is no longer a subject for cinematic exploration, at least not in India. Hollywood rules the roost here, and we can hardly offer much except "run-of-the-mill stuff." I tried adding new dimensions to action in Qayamat and it worked. But now is the time to explore themes that can impact the mindscape of audiences. Multiplexes have created their own demand for simple, sensitive, sensible cinema that is overwhelming in every sense. The challenge now is to hold the fleeting attention of an average cine-goer, who wants something to hold back to," says the director.
Girlfriend was one such film that dared to expose a hitherto gray area. Produced by Baweja and directed by Karan Razdan, the film was an aberration when seen against the backdrop of mundane cinema. But it generated its own audience, and explored a contemporary issue.
Yet another Harry Baweja film which seems most relevant to the times, especially to the multiplex culture is the Ajay Devgan-Sushmita Sen-Esha Deol starrer Main Aisa Hi Hoon. Subtitled 'A normal man in an abnormal world', the film weaves wondrous patterns with human relationships and values. Through a mentally challenged character, it tells tales of normal people, of their unachievable targets and the consequent insanities. The message is clear – you need not be termed "medically retarded" to be insane. Each one of us is pursuing a mad ambition, at the cost of his/her health.
Due for a release very soon, the film will add more spice to Baweja's already strong profile, and would mark his "nth" project with the favourite Ajay Devgan. The director does not mind the observation as he admits, "Ajay is a family friend and hugely talented actor. My films are safe in his hands." For now, Baweja is concentrating on his next Love Story in which the acting abilities of his son Harman will be put to test. Also under the scanner will be Baweja's genius, which has invariably yielded fascinating screen products.