ULTAPULTA
Caught napping
Jaspal Bhatti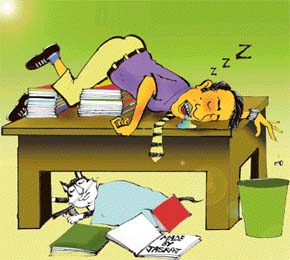 A ruling of the Supreme Court has said that sleeping on your job can get you sacked. I wonder if this ruling is also applicable to government jobs, then what will be the charm left in 'sarkari naukri'?
Uttam Nakate, a helper in Bharat Forge, was found fast asleep at his workplace and was dismissed.
Private companies cannot afford to have their employees sleeping but in the government sector, sleeping in the offices has been a major attraction for job seekers.
If a peon is snoring outside, it is an indication that the big boss is also taking a cat nap inside. If a clerk or head clerk is amid his sleep, it is never advisable to wake him up and ask "Janab, meri file aapke paas aaee hogi". Wait until he is fully fresh and is in a good mood to move your file in a positive direction.
Most of the senior officers have a retiring room attached to their work rooms. Once the peon declares "Sahib, andar daak clear kar rahein hein", the chances are that the boss must be clearing up his backlog of sleep. In fact, every government office should have a retiring room for the public also. Those who get tired waiting for the officers to clear their cases should have the facility of using beds to lie down and stretch. Like the bedding system in a hospital. The peon can come out and say, "Chaar number bed walon ki file clear ho gaaee hai".
A government employee, who was quite erratic in attendance, suddenly became very regular. His boss asked "I am surprised; you are in the office all the time from nine to five". The employee said "Sir, I had some heart problem. The doctor has advised me to take complete rest."