PUNJAB

HARYANA

JAMMU & KASHMIR

HIMACHAL

REGIONAL BRIEFS

NATION

OPINIONS

MAILBAG

BUSINESS

SPORTS

WORLD

Monday, January 31, 2005, Chandigarh, India
Updated at 3:00 am (IST)
Bomb attacks kill 31 in Iraq
Brisk turnout of voters
Baghdad, January 30
Iraqis turned out to vote today in their country's first free election in a half century, defying insurgents who launched deadly suicide bombings and mortar strikes at polling stations. By mid-day, at least 31 persons were dead but the violence had slowed and voting picked up.


A US Marine gestures to an Iraqi woman outside a voting centre in Al Anbar province, 23 km west of Baghdad, on Sunday.
— Reuters photo
CAST YOUR VOTE
Does the law and order situation in UP warrant Central intervention?


FORUM

EDUCATION

JOBS & CAREERS

HEALTH & FITNESS

SCIENCE & TECHNOLOGY

SPORTS

HORIZON

TRIBUNE CLASSIFIEDS

BRIDES WANTED

GROOMS WANTED

OTHERS

HOW TO PLACE ADVTS
In Forum today
Congress not keen on toppling Goa Government
Mumbai, January 30
With elections in Bihar looming large, the Congress party high command is not keen on dismissing the Manohar Parrikar-led Bharatiya Janata Party government in Goa lest it be made into an election issue, according to sources from Panaji.
Mufti urges separatists to join talks
Srinagar, January 30
Hailing the results of the civic poll held in Baramula and Kupwara yesterday, Jammu and Kashmir Chief Minister Mufti Mohammad Sayeed has said that people of the Valley have finally voted for peace and development.



CM on Baglihar


World page: Pakistan not to discuss Baglihar with WB team


J&K page: Kupwara, Baramula civic poll rigged, says Omar


Oped: Mufti to step aside in Nov, says Mehbooba
News analysis
NC loses ground, Hurriyat sidelined
Srinagar, January 30
The electorate for civic elections to municipal councils and committees in Baramula and Kupwara has reaffirmed support to the ruling coalition partners in Jammu and Kashmir.



Ex-NC leader's son among 3 killed
QUOTE OF THE DAY
"If Bihar does not get rid of Laloo Yadav, then it will be bad for the nation."
— L.K. Advani


Assembly Elections 2005

THE TRIBUNE MAGAZINES
On Sundays

On Saturdays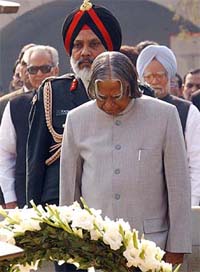 President APJ Abdul Kalam pays homage to the Father of the Nation Mahatma Gandhi on the occasion of Martyrs' Day at Rajghat in New Delhi on Sunday. Vice-President Bhairon Singh Sekhawat and Prime Minister Manmohan Singh are also seen in the picture. — PTI


In video (28k, 56k)
Five Haryana constituencies sensitive
Chandigarh, January 30
The Election Commission has declared Narwana as a sensitive constituency, along with Meham, Kalka, Ferozepur Jhirka and Nuh. These constituencies have been declared sensitive after a meeting of the state election authorities and representatives of various political parties with the team of Election Commission of India was held earlier on January 25.

Special coverage: Assembly Elections 2005



More election stories on Haryana page



2 held for MLA's killing
Lucknow, January 30
In a major breakthrough, the Allahabad police this evening arrested two youths from Kareli in Allahabad who confessed to have killed BSP MLA Raju Pal on the eve of Republic Day allegedly on the instructions of the prime accused Ashraf who is lodged in Naini jail.

Sunni cleric, bodyguard shot
Karachi, January 30
Assailants riding on three motor cycles opened fire outside a Sunni Muslim mosque in Karachi today, killing a cleric and his bodyguard, officials said. The shooting near the mosque in Karachi's busy shopping area of Tariq Road occurred after the midday prayers, said Farooq Awan, a senior Karachi police official.


Clint Eastwood awarded


Los Angeles, January 30
Movie tough guy and "Million Dollar Baby" maker Clint Eastwood was crowned best director of 2004 by his fellow Hollywood filmmakers on Saturday giving him a major boost ahead of next month's Oscars.


Kashmiris vote like never before
January 30, 2005
Govt ups maritime security
January 29, 2005
SP leader held for MLA's murder
January 28, 2005
Kalam focuses on 5 critical sectors
January 26, 2005
India, China take step forward
January 25, 2005
Pushed out of train, 5 crushed to death
January 24, 2005
Cold tightens grip on north
January 23, 2005
Murder charges framed against Shankaracharya and junior seer
January 22, 2005
Laloo flaunts Godhra report
January 21, 2005