PUNJAB

HARYANA

JAMMU & KASHMIR

HIMACHAL

REGIONAL BRIEFS

NATION

OPINIONS

MAILBAG

BUSINESS

SPORTS

WORLD



The Tribune enters 125th year of publication.
Wednesday, February 2, 2005, Chandigarh, India
Updated at 3:00 am (IST)

Nepal King sacks Deuba govt
Assumes executive powers, declares emergency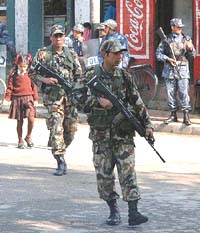 Kathmandu, February 1
Nepal plunged into a political crisis today after King Gyanendra sacked the eight-month-old Sher Bahadur Deuba government, assumed all executive powers for the next three years and declared a state of emergency in the country battling Maoist insurgency.
Nepalese soldiers patrol a street near the King's Palace complex in Kathmandu on Tuesday.
— AP/PTI photo


Editorial: Fresh crisis in Nepal

CAST YOUR VOTE
Do you approve of the concessions given for the Bathinda oil refinery project?


FORUM

EDUCATION

JOBS & CAREERS

HEALTH & FITNESS

SCIENCE & TECHNOLOGY

SPORTS

HORIZON

TRIBUNE CLASSIFIEDS

BRIDES WANTED

GROOMS WANTED

OTHERS

HOW TO PLACE ADVTS
In Health & Fitness today
India expresses grave concern; flights to Nepal cancelled
New Delhi, February 1
India today expressed "grave concern" over the developments in Nepal and diplomatically warned King Gyanendra that his sacking of the Sher Bahadur Deuba government and forming a government under his own chairmanship will only help the Maoists.
Army chief for humane touch to anti-terror drive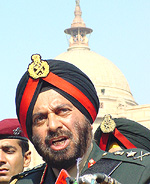 New Delhi, February 1
The new Chief of Army Staff General Joginder Jaswant Singh today said that bringing "humane touch" to the anti-terrorist operations in Jammu and Kashmir and the North-East will be among his top priorities.

The new Chief of Army Staff, Gen Joginder Singh, speaks to newspersons at Army Headquarters in New Delhi on Tuesday. — Tribune photo by Mukesh Aggarwal



Graphic: Chiefs of Army Staff
Srinagar wears true colours of democracy
Voter turnout goes up by 13 pc
Srinagar, February 1
It's rare to see Srinagar's urban voters fighting for a chance to cast their ballot. But this day brought several unusual instances in its fold with the electorate shaking off its inertia and annoyance to vote for polls to 68 wards of Srinagar Municipal Corporation. Of these, 23 were reserved for women, with 50 candidates in the fray.
QUOTE OF THE DAY
The decisive and fascist forces wanted to destroy the secular fabric of the country but the electorate realised it and voted them out of power.
— Sonia Gandhi

Assembly Elections 2005

THE TRIBUNE MAGAZINES
On Sundays

On Saturdays


Byelection in JK on February 24
Campaign din ends in Haryana
Chandigarh, February 1
The proverbial din, if there was any, courtesy stringent restrictions imposed by the Election Commission, for the Haryana Assembly elections ended at 5 p.m. today. The state will go to the polls on February 3.
Cong strategy in UP to depend on Assembly poll
New Delhi, February 1
The ongoing Assembly elections are being keenly fought and watched as its results will determine the Congress strategy in Uttar Pradesh and impact relations between the UPA partners at the Centre.
Posters issue: 2 bodies caught in EC net
Asha Kumari resigns on moral grounds
Shimla, February 1
Uncertainty over continuation of Mrs Asha Kumari in the Cabinet following the framing of charges against her by a Chamba court in the alleged land-grab case has ended with the Education Minister finally tendering resignation on "moral grounds". (Details on Himachal page)

Punjab Annual Plan fixed at Rs 3,550 cr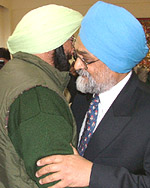 Major emphasis on energy sector, transport another priority area
New Delhi, February 1
The Annual Plan of Punjab for 2005-06 has been fixed at Rs 3,550 crore. This was a decided at a meeting here between Chief Minister Capt Amarinder Singh and Deputy Chairperson of Planning Commission Montek Singh Ahluwalia.

Punjab Chief Minister Amarinder Singh is welcomed by the Deputy Chairman of the Planning Commission, Dr Montek Singh Ahluwalia, during a meeting to finalise the Annual Plan 2005-06 for Punjab, at Yojna Bhavan in New Delhi on Tuesday. — Tribune photo by Rajeev Tyagi

In Job & Careers today

PM promises reforms in education, healthcare
February 1, 2005

Bomb attacks kill 31 in Iraq
January 31, 2005
Kashmiris vote like never before
January 30, 2005
Govt ups maritime security
January 29, 2005
SP leader held for MLA's murder
January 28, 2005
Kalam focuses on 5 critical sectors
January 26, 2005
India, China take step forward
January 25, 2005
Pushed out of train, 5 crushed to death
January 24, 2005
Cold tightens grip on north
January 23, 2005