PUNJAB

HARYANA

JAMMU & KASHMIR

HIMACHAL

REGIONAL BRIEFS

NATION

OPINIONS

MAILBAG

BUSINESS

SPORTS

WORLD
Thursday, February 3, 2005, Chandigarh, India
Updated at 3:00 am (IST)
Rane sworn in as Goa CM
Parrikar government dismissed
A two-member Congress-led government headed by Pratapsinh Rane was sworn in as Goa Chief Minister tonight hours after the BJP-led Parrikar ministry was dismissed by the Governor. Apart from Rane, Phillipe Neri Roadriguez, an Independent MLA whose controversial eviction from the state Assembly ahead of the motion of confidence sought by Manohar Parrikar sparked pandemonium in the House, was sworn in as the Deputy Chief Minister.
CAST YOUR VOTE
Should victims of terrorism and riots be given reservation in colleges?


FORUM

EDUCATION

JOBS & CAREERS

HEALTH & FITNESS

SCIENCE & TECHNOLOGY

SPORTS

HORIZON

TRIBUNE CLASSIFIEDS

BRIDES WANTED

GROOMS WANTED

OTHERS

HOW TO PLACE ADVTS
In Amritsar Plus today
PM cancels Dhaka visit; Saarc summit faces postponement
New Delhi, February 2


India today formally communicated to Bangladesh its decision that Prime Minister Manmohan Singh would not be able to attend the February 6 to 7 SAARC summit in Dhaka in view of the security situation in the host country and "recent developments in our neighbourhood".


In video (28k, 56k)
King picks his men, gags Press, arrests Koirala
Kathmandu, February 2
King Gyanendra formed a 10-member Cabinet, a day after the dismissal of the government and taking Executive powers of the Himalayan kingdom.
News analysis
Royal coup and its implications
FOR all those following the developments in Nepal, the King's coup, has not come as a surprise. Notable, however, is the sweep and sting of the King's action.
Haryana goes to polls today
Chandigarh, February 2
Over 1.27 crore voters will decide the fate of 983 candidates, including 60 women, in 90 constituencies of the Haryana Assembly tomorrow.



Nation: Internal bickering in Haryana worries Cong


Cong seeks more forces for Haryana


Haryana page: Leadership issue wide open: Hooda


Chautala's men purchasing votes: Surjewala
Assembly Elections 2005

FORUM
Our feature, Forum, provides our readers with an opportunity to express their views on some of the vital issues facing the country. The new question being posed is: What kind of a Budget would you like the Union Finance Minister to present? Readers are invited to send their letters, not more than 150 words, to: The Editor-in-Chief, The Tribune, Sector 29-C, Chandigarh, with 'Forum' superscribed on the envelope. The answers can also be e-mailed to: [email protected]
H.K. Dua
Editor-in-Chief

THE TRIBUNE MAGAZINES
On Sundays

On Saturdays

MC poll: NC sweeps Srinagar, BJP gets 26 seats in Jammu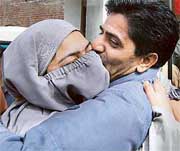 Srinagar, February 2
After biting dust in Baramula and Kuprawa civic polls, the National Conference resurfaced today by making a clean sweep of elections to the Srinagar Municipal Corporation. Held after a gap of nearly three decades, the elections were being closely watched.
Ms Nuzhat Dar, a candidate of the National Conference, is hugged by a senior supporter on her victory from Nawab Bazar in the Srinagar Municipal Corporation elections in Srinagar on Wednesday. — Tribune photo by Amin War

Kidnappers release Kislay, Dipak
Patna, February 2
Kislay Komal, a school student whose abduction a fortnight ago here had become a major election issue in Bihar, and another kidnapped student in Bhagalpur, Dipak Bharti, were freed and united with their families today, a day before the first phase of state Assembly poll.


In video (28k, 56k)

DPS student Kislay Kaushik (centre) is greeted by his mother and sister after he was rescued from the kidnappers, in Patna on Wednesday.
— PTI photo
EPF interest rate hiked to 9.5 pc
New Delhi, February 2
On the eve of Assembly elections in the three states of Haryana, Bihar and Jharkhand, the Congress-led UPA Government tonight decided to hike the interest rate of Employees Provident Fund to 9.5 per cent for 2004-05.


Chandigarh, February 2
Employees of The Tribune paid rich tributes to the founder of The Tribune Trust, Sardar Dyal Singh Majithia, on the occasion of the 125th Foundation Day today. The function was organised by The Tribune Employees Union.
Tribune employees pay homage to Sardar Dyal Singh Majithia on the occasion of the Foundation Day of The Tribune in Chandigarh on Wednesday. — A Tribune photograph
QUOTE OF THE DAY
Where was Vajpayee when innocent children were being butchered and burnt alive during riots in Gujarat?
— Laloo Prasad Yadav

Nepal King sacks Deuba govt
February 2, 2005

PM promises reforms in education, healthcare
February 1, 2005

Bomb attacks kill 31 in Iraq
January 31, 2005
Kashmiris vote like never before
January 30, 2005
Govt ups maritime security
January 29, 2005
SP leader held for MLA's murder
January 28, 2005
Kalam focuses on 5 critical sectors
January 26, 2005
India, China take step forward
January 25, 2005
Pushed out of train, 5 crushed to death
January 24, 2005