A power station on your roof
Dr Steven Cutts assesses the prospects of using the colossal power of the sun to heat our homes and run our household appliances.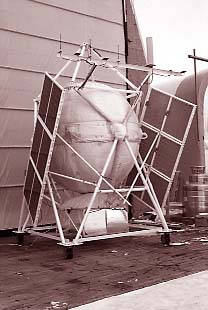 Not since the oil crisis of the 1970s has energy generation been such a hot political issue. Since the US-led invasion of Iraq the price of oil has soared, and fears that the world's fossil fuels may be exhausted within decades have accelerated serious discussion about the prospects of harnessing the natural energy of wind and tides. Amid the excitement a few sober realists insist that nothing pumps out electricity so abundantly and cleanly as nuclear power plants.
But what about solar power? However bleak and windswept, just about every place on earth manages to catch a bit of sun, and it has long been known that solar power can be converted directly into electricity using what are called photovoltaic cells. When I was a kid there was a passing craze for water-heating solar panels strapped to the side of roofs. It didn't last long because the amount of energy saved was negligible and the reduction in electric bills peanuts. But science and technology have come quite a way since that time.
Photovoltaic cells were invented in the 1950s. Made from two sheets of silicon they produce electricity whenever sunlight falls on them. Early models were hopelessly inefficient but today's solar cells convert about 15% of the sun's power to electricity and it may not be long before solar panels covering your roof will power the refrigerator and TV as well as heat your home and water.
Present-day power stations transmit their output through very long cables —and about a quarter of the power is lost in the form of heat by the time it reaches homes and factories.
By contrast, a solar power station on your roof would deliver all its energy directly into your home.
Scientists have calculated that the sun could produce around 10,000 times more energy than the earth presently consumes.
By laying photovoltaic cells across just one small part of the sun-drenched Sahara desert, we could make enough electricity to satisfy the entire world. So why don't we?
Since the dawn of the nuclear age, fantastic new ideas for tapping energy sources have been two a penny. Few of them have produced more than hot air. Supporters of so-called "clean" energy tend to talk in terms of how many houses their power schemes could supply. But only about half of our electricity is consumed by homes and the figures quoted are usually for power output in optimum conditions. When the sun is obscured and the air is comparatively still, solar panels and wind farms contribute next to nothing in the way of usable energy. And that is most of the time.
Plummeting costs
That's not to say they haven't a future. In the 1970s photovoltaic cells were confined to spacecraft and other fabulously expensive technology. But the cost of their manufacture has plummeted by more than 90% since then and now the technology is on the cutting edge of viability. Within another 10 years it could be genuinely competitive.
Part of the impediment to the widespread adoption of photovoltaic cells is the low cost of electrical power in the Western world. No matter how passionately green their philosophy, few people can afford to double their electricity bills for the good of the planet. Some proponents of alternative energy openly bemoan the present cheapness of mainstream power and even hope for a crisis that causes others to rush to their support.
Admittedly a few of the people stridently promoting green doctrines do go 'over the top', but that doesn't mean nobody takes them seriously.
Global warming and West Asian conflict have encouraged some far-seeing governments and institutions to try introducing alternative sources of power.
The Japanese, for example, have built over 500,000 new homes with photovoltaic cells on their roofs. If they can maintain the current rate of production over several decades, solar power may begin to reduce their dependency on imported fossil fuels. Because Japan has virtually no indigenous sources of power, its government is spending the equivalent of $500 million a year on photovoltaic technology.
Coating your roof with solar cells might once have cost a small fortune and made your house look like a space station. Not any more.
The latest solar-panelled roofs are easier on both eye and pocket. Presently they will set you back about seven times the annual cost of your mains electricity. In that time your investment will have paid for itself anyway, but since photovoltaic cells actually produce more power than you are likely to consume, you might even sell the excess to a local business and show an annual profit as the owner of a miniature power station.
The photovoltaic roof could give you strategic and economic independence.
Unaffected by energy industry disputes, the owner of a privately powered home would be a disinterested observer of any military adventures contrived to safeguard energy supplies.
It's an agreeable prospect, so why aren't we already making it a reality? Because photovoltaic cells can't produce power at night they're not going to cause the closure of conventional power stations although they could reduce the fuel needed for consumption during daylight hours and thus the amount of air pollution emitted. And why invest huge sums of money buying photovoltaic cells now when perhaps 10 years on we shall be able to buy them much more cheaply?
What science needs to give us is a photovoltaic cell virtually indistinguishable from a conventional roof tile, having the same rainproof and heat-insulating properties and capable of producing sufficient power for more than one home.
When that is achieved surely no one will want any other form of roofing material, especially if enlightened governments offer the incentive of lower tax on homes equipped with it.
The ultimate progression will be the appearance of batteries charged by sunlight during the day to power household equipment through the night. And scientists are already working on that. — AF