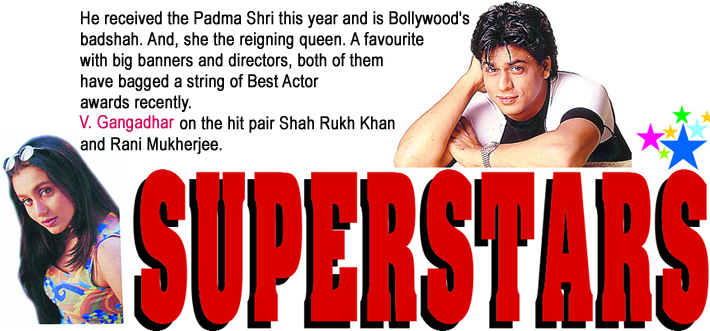 It is the award season in showbiz at home and abroad. The Foreign Press, the Golden Globe and the Oscars in Hollywood, the Screen, Filmfare Zee awards in Bollywood. Throw in the 'Padma' awards on the eve of the Indian Republic Day and you know what I mean. There are stars and stars, awards and awards. Shah Rukh Khan bagged the Padma Shri. And both he and Rani Mukherjee received the Golden Globe and Screen awards. The Khan, over the years, has collected quite a few awards for films like Kuch Kuch Hota Hain, Main Hoon Na and Kal Ho Naa Ho.
The Queen (Rani) and the Shah or the King Khan. Today, they are dominating Bollywood, sought after by all major banners and quoting their price. Their films get four or five star ratings. They endorse commercials on TV and are the most recognisable faces in show business.
Are Shah Rukh and Rani the number one male and female stars in business today? It will be difficult to contradict such a ranking. Among the three famous Khans, Aamir is not playing the number game, focusing on one film at a time. After Lagaan, it has been The Rising and we do not know what will follow. Salman Khan, caught in the web of court cases, was hardly seen on screen during the past two years. Shah Rukh, with two or three releases per year, was clearly in the lead.
Among the women, the race was closer, particularly between Preity Zinta and Rani Mukherjee. But these days, Rani is getting plum roles and surging ahead. She is the current favourite of all major banners and directors. Since her debut in 1997, she has made nearly 35 films and the success percentage is pretty high. Her radiant smile and professionalism are being talked about and she has bagged quite a few exciting roles in films like Babul, Black, Bajirao Mastani and The Rising
What makes these two stars twinkle?
Rani Mukherjee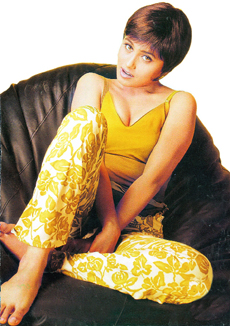 Acting runs in her genes. Her dad was in show business and cousin Kajol was one of the top stars. She does not have the traditional good looks but has a screen presence which is as good as that of Madhuri Dixit.
"On the sets, you can spot Rani wherever you find people laughing and joking," says director Karan Johar, who has extracted the best performances from the star. Coming to Mumbai after a couple of Bengali films, Rani's debut Raja ki Aayagee Baarat in 1997 did not make an impact, but she remained unfazed. "I was too young and inexperienced to worry about flops and hits," she recollects. "But one thing was clear, I was determined to stay on."
Having Kajol as a cousin had its advantages: she was not shunned after one flop. Success was on its way and how. In 1998, Ghulam with Aamir Khan was a runaway hit. Despite the film's gory violence, everyone was humming the famous number Aati kya Khandala. "The picturisation of the song was perfect," Rani recalls. "Aamir sang it, he was very helpful and did not mind passing tips to a new heroine." Her costume, a mini skirt, also helped. The song was so popular that it could have triggered off a tourist exodus to Khandala, near Mumbai.
Better was to follow. Karan Johar cast her in the role of a side heroine who was not seen after intermission in Kuch Kuch Hota Hai. So what? During the first half of the film, Rani was stunning and stole scenes from Kajol. Her radiant beauty registered well with the audiences. "I did not mind doing the smaller role," explains Rani. "I knew it was an important role, for it set the mood for the film." The critics and the public couldn't have agreed more as that role fetched her the Filmfare award for the Best Supporting Actress.
As her career developed, Rani came to be known as an actress with the fewest ego hassles. She was prepared to play the roles of the parallel heroine and did it to perfection in films like Chori Chori Chupke Chupke' and Kabhie Khushi Kabhie Gham
"I don't mind sharing the honours with Preity, Kareena or Kajol," explains the star. "But I want my role to be well defined and the director should be fair to all his stars."
The new millennium has been good for Rani. She acted with Kamal Haasan in Hey Ram and was lucky to have bagged strong heroine-oriented roles in Saathiya, Chalte Chalte and, more recently, Hum Tum which put her in the superstar league. "It was a clearly defined role and the film proved that Saif Ali Khan could carry a film on his own as the hero," she observed.
Rani is reported to have given a stunning performance in Black, again starring Amitabh Bachchan. The Big B has been singing her praises. In a recent media interview, he said, "It is not any bias that makes me regard Rani in a certain manner. Rani is a tremendously gifted and spontaneous actor who brings her naturalness alive on the screen." He also agreed that Rani and Abhishek had a special chemistry on the screen.
Spontaneity, is the key word for Rani. Watch her among the jawans guarding the border in a TV programme. She sang the Khandala song and danced too. She cooked some kheer for them. Despite her Bollywood triumphs, there is something typically Bengali about her, her reverence for elders, love for the fish dish rui macher jhol. But she has had to watch her diet because she has a tendency to put on weight.
Rani has starred with every eligible hero in filmdom but has not been linked with any one of them. Recently, there was a rumour she had moved in with Govinda. But those who knew our Rani dismissed this as typical Bollywood gossip. Rani's close contacts say that she has her hands full with work and is likely to go through an arranged marriage sometime in the future.
Shah Rukh Khan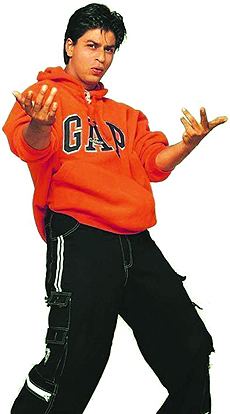 "I do monkey tricks," admitted Shah Rukh Khan in a media interview. That is something, Monkey Tricks Man ban gaya Padma Shri and the industry is cheering.
Going by the sheer number of films as hero, Shah Rukh stands at the top, about 55 in 17 years. This Delhi University graduate, who had an active stage career in the Capital, began with two TV serials, Fauji and Circus, in the late 1980s and has not looked back since.
Shah Rukh had the guts to experiment by appearing in negative roles in films like Darr and Anjaam, the latter bringing him the Filmfare award for the Best Villain in 1994. Then came the big banners – Yash Chopra, Sanjay Leela Bansali, Karan Johar and good roles and awards followed one after the other.
In a way Shah Rukh has been lucky, for his career was not affected by the so-so category films he acted in. Idiot, Ram Jaane, Chhahat, English Babu Desi Mem, Duplicate and Badshah did nothing to enhance his reputation, but the good roles continued to come. There were times when Shah Rukh did not take criticism kindly when the media lambasted such roles. For instance, he argued that the critics did not understand the significance of his performance in O Darling, yeh hai India. But all that was forgotten as one hit followed another from 1995 onwards. One such film, Dilwale Dulhaniya Le Jayenge, is now running for its ninth year as morning show in one of Mumbai's most prestigious theatres, Maratha Mandir. And its collections are often higher than those from the normal shows.
Shah Rukh admits that he is no great shakes as an actor. He has an appealing presence, and is the typical boy next door. Highly emotional roles are not his cup of tea. He can breeze through light, lively parts. His Devdas cannot be compared with Bimal Roy's classic starring Dilip Kumar. The story and the interpretation of both films are very different. Shah Rukh clicks best as the young romantic hero (Dilwale Dulhaniya Le Jayenge, Dil To Pagal Hai) and tends to shine in comic sequences. He takes time to find his feet in serious roles he essayed in Mohabbatein and Veer-Zaara.
Shah Rukh's fan-following is enormous, both male and female. This is a bit surprising because romantic heroes of the past like Rajesh Khanna had mainly female fans. But Shah Rukh's outgoing attitude and sense of humour is liked by men too.
Shah Rukh enjoys people, but he closely guards his private life. His bungalow in Bandra, Mumbai, is reportedly worth more than Rs 10 crore. This superstar, who charges a fat fee to dance at high society weddings, says he finds nothing derogatory in this. He explains that he is first and foremost an entertainer.
Shah Rukh also makes a lot of money doing shows abroad. He is among the best dancers in show business, making him a must for the parties. He talks lightly of his success and histrionic skills. He is very respectful towards seniors like Dilip Kumar and Amitabh Bachchan at public functions. It is this combination of sound education, good manners, breeding and sophistication that makes Shah Rukh what he is.
The 2004 release Swades was a challenge for Shah Rukh. The film was slow moving but it had a message and relevance in today's world. It spoke of a rich and qualified NRI returning to his roots. There was a new maturity in his acting. A back injury may prevent him from doing his usual quota of four or five films per year but today Shah Rukh can afford to be more selective.
His own production unit, Dreamz Unlimited, which he started along with Juhi Chawla, has not been very successful and is a touchy issue with him. He knows he is capable of making better films. His method of working is different from that of Aamir Khan. We cannot imagine Shah Rukh obsessed with the idea of a single film.
The happy-go-lucky Shah Rukh appeals more to the younger generation. For them, he and his wife Gauri are the ideal Page 3 material. But it is the serious side of Shah Rukh which took him to the jawans guarding our borders and has made him participate in other national causes. Perhaps, the Padma Shri was in recognition of all that.