Star who sang her way into hearts
The last singer star of Hindi films lit up the screen with her acting prowess and bowled over the viewers with her sweet voice. Pran Nevile remembers Suraiya on her first death anniversary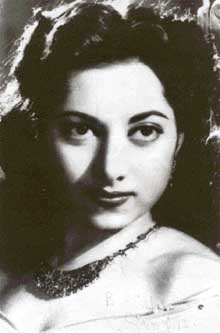 Suraiya was the last one to play the dual role of a singing-star in cinema before the advent of playback singers in the late 1940s. She co-starred with K.L. Saigal, the legendary singer and superstar of those days, not once but in three successive films viz. Tadbir, Omar Khayam and Parwana, all produced during the last phase of Saigal's life in 1945 and 1946. It is a pity that after her demise, the media carried so many stories of her wealth and estate, her controversial heirs, her remarkable film career and her lonely life but there was hardly any mention of her historic roles as K.L. Saigal's heroine. For Suraiya, a staunch Saigal fan, the dream of acting with him was fulfilled when she got the leading role in Tadbir.
During the middle of 1940s, the two faces which dominated the film world with their music were Suraiya and Noor Jehan. Khurshid, the leading singing star earlier, lost her position to them. In fact, Suraiya was ranked after Noor Jehan who had created a sensation with her lively acting, tuneful singing and glamorous personality. Both appeared in Mehboob's musical Anmol Ghadi, and enraptured the audiences. Though overshadowed by Noor Jehan, it goes to Suraiya's credit that though in a supportive role, she was able to hold her own and make her presence felt with her evergreen melodies like Socha tha kya, kya ho gaya and Man leta hai angrahi.
Suraiya was the only singing star who decided to stay back in India after Partition, while Noor Jehan and Khurshid left for Pakistan. No wonder, her rise to fame between 1947-50 was indeed meteoric. Though the playback system had entered the scene, Suraiya with her distinct individual style, her sweet seasoned voice and direct simple diction succeeded in captivating the listeners and her popularity knew no bounds. Her biggest box office hits in quick succession were Pyar kee jeet (1948), Badi Behan (1949) and Dillagi (1949).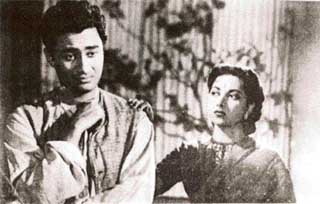 Suraiya with Dev Anand in Sanam
We can still hear old music fans humming those eternal melodies from these films like Oh door janewale, Woh pas rahen, ya door rahen, Tere nainon ne chori kiya, and Tu mera chand main teri chandani. It was this hat-trick during 1948-49 that launched Suraiya to the top. A refined person with a unique personality, professionally there was dignity and grace in her performance. She sang with her heart and soul and became the highest-paid star.
Suraiya did make a short-lived comeback in Mirza Ghalib produced by Sohrab Modi in 1954. Its stunning success brought fresh laurels to Suraiya especially since she had bagged this role when other top beautiful stars of those days like Madhubala and Nargis could not make it. It was not only her superb acting in the role of a professional singing girl as Ghalib's lover but her lively and enchanting rendering of the poet's famous verses that won her fame. It was the first feature film to be awarded the President's Medal and the then Prime Minister, Jawaharlal Nehru had graced the function. Nehru is said to have told Suraiya that Tumne Mirza Ghalib ki rooh ko zinda kar diya (you have brought Mirza Ghalib to life). No doubt, Suraiya showed her mastery over marrying music to poetry and immortalised Ghalib's ghazals viz. Ye na thi hamari kismat, A ah ko chahiye and Dil-e-nadaan tujhe hua kya hai.
In the early 1960s, while still in her prime, Suraiya called it a day and retired from the film world. Unlike Noor Jehan who turned a play-back singer in Pakistan around the same time, Suraiya gave up singing altogether and ignored many tempting offers. So much so that she declined to sing even at private functions. The most-publicised episode of Suraiya's life was her romance with the upcoming young actor Dev Anand in the 1950s. It was then the 'talk of the town', the stuff legends are made of. She was Dev's heroine in six films which brought accolades to both of them. Under the pressure of her family, Suraiya had to turn down Dev's marriage proposal and chose to remain single. She preferred solitude and died a lonely woman on January 31, 2004.
Suraiya's career spanned a period of 20 years and she acted and sang with almost every famous star of her time—from K.L. Saigal to Ashok Kumar to Motilal to Bharat Bhushan and from Mohammad Raft to Talat Mahmud and Mukesh.