'Social approval means little to me'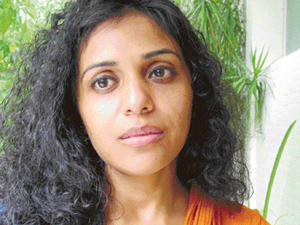 Her engagement with herself and the little world that she has created in The Sari Shop is startlingly real. The innocence is compelling even as it makes for persuasive storytelling. The book gives a fair indication of what author Rupa Bajwa is all about. The honesty of purpose shines through both the person and the story. Ashwini Bhatnagar draws out the winner of the Commonwealth Writers' Prize for Best First Book, Eurasia region, 2005, on her life and art. Excerpts from an exclusive interview:
"I was born and brought up in Amritsar and stayed in the city till I was 18.
I have never spoken about my family in print – it seems irrelevant. But since you insist, and have been insisting for a long time, my father's name is Swarn Singh Bajwa and he is a retired S.E from the Punjab State Electricity Board. My mother, Rajwant Bajwa, taught in Sacred Heart High School for over a decade. However, these are mere tags and designations—only labels that the world sees them by.
They are real people behind these labels. They have nothing to do with the literary world and my writing has nothing to do with them. When I began to write, I distanced myself from home and family. I had to. I needed solitude. I needed to have identity and independence. So my writing was, and remains, completely solitary work that I can share with nobody.
Childhood
Yet, when I look back at my childhood and teens, I realise that my parents set an example for me with their integrity, empathy and total lack of hypocrisy. All these characteristics are invaluable to a writer.
My father has always respected the value of time and hard work. As a government official, he has served in a way I have seen few people serving—with dedication, enthusiasm and complete honesty. My mother is a compassionate woman, extremely sensitive, with beautiful hidden sides to her that a different social environment might have brought out. I would like to think that some of their traits have filtered down to my writing.
I am grateful to them, for even during the times they did not understand what I was doing, they accepted me with unconditional love. They are extremely decent, dignified people. Despite the intrusive queries and pressure from their social circle (when are your daughters getting married?), they have managed to hold their own and I am extremely proud of them for doing that.
Why I write
I feel completely nonplussed if anyone asks me why I write, or why I wrote this particular novel. I have no intelligent answer to this. It is as good as asking me why I live. How can I compress into a few words every thought, every breath, every idea, the moments of satisfaction, those of frustration and then the apprehensive feeling in your stomach when you look at the finished manuscript?
The circumstances weren't easy. In the section of society I come from, it is very irregular to be a young woman who isn't married. It is worse when you are one who doesn't have a stable, regular job. And if you also don't live with your family, you are just unacceptable. I was, and still am, all three. It didn't make writing any easier.
My novel
My novel is about a 26-year-old man, Ramchand, who works as an assistant in a sari shop in the old city of Amritsar. And while I was writing this novel, he almost lived with me, peering over my shoulder while I boiled eggs, standing at windows looking out towards the sunshine on cold winter mornings and walking silently by me whenever I went out. His pain was mine, his headaches became mine, I was happy and hopeful when he was. Imagination merged with reality. Time and space shrank in a way I still do not understand. It was a strange state. And somewhere down the line, it became sheer hard work, 15 hours a day (I am a little immodest about this, my teachers always called me lazy, dreamy and careless). When the final draft was over, I felt strangely bereft, as if I had lost someone. I miss Ramchand. I can't be more coherent than this.
When I was writing The Sari Shop, I was trying to learn and explain—it was a desperate attempt to make sense of the complete chaos around me, to recognise the complex structure of life as I saw it. I experienced anger at the society I live in, as well as the undying hope that keeps us all going. At the same time, I was simply trying to tell a story as truly and as humbly as I could and to be true to my characters.
My novel will only seem real to me, I think, if any reader, anywhere in the world, reads it, pauses at any point, and thinks, 'this could be my story' or 'I just know how he is feeling'.
I think I was very fortunate regarding this. I sent the rough draft of the manuscript to a friend who further showed it to a friend who sent it to an agent without my knowledge. And before I knew it, an offer had been made.
Joy and sorrow
It was difficult, to write my first book, yet I did enjoy it. It was exhausting and beautiful at the same time. Writing the novel took all of my being. A lot goes into writing, the craft, the core of your soul, your eyes and ears, your time, your every waking moment. It was just something I had to do. I wouldn't, at the end of the day, think of it as either easy or difficult. I did it because I had no other choice, it was my only way of negotiating through the complex world I lived in. It did drain me emotionally.
Next book
It is again a work of fiction, a novel. I find it difficult to talk about. Somehow talking about something you are writing seems to take away some of the urgency of writing it down
Amritsar and I
I still haven't figured out how I relate to Amritsar. I love it and dislike it at the same time. When I was growing up, I found this place very claustrophobic and moved out as soon as I could. However, at the present stage, I like to come back and stay here for a couple of months.
It is intellectually stimulating in the reverse way now. There is an immense intellectual vacuum here, a vacuum so huge that it startles you, even shocks you into writing on days when you feel lazy.
Anyway, I live life completely on my terms, no matter where I am, and I have worked hard for that. Social approval or acknowledgement mean very little to me.
Who am I?
I am fairly decent as both writer and person, I would say.