SIGHT & SOUND
Down and neglected
Amita Malik
Indian TV channels, apart from exposing crime and wrong-doing, also do stories with compassion which help out victims of disasters or circumstances. Zee has done some thorough, in-depth investigations into evils such as chemists selling dangerous or banned medicines under the counter. During and after the Tsunami disaster, every channel took pains to show the problems of victims and tried to find help and solutions.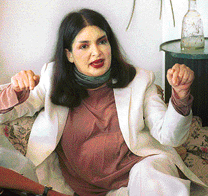 Alone in life and death: Parveen Babi

A series called India Matters on NDTV probes off-beat social problems which crop up from time to time. It is done alternately by two of TVís dedicated investigators who shun publicity and go about their work with devotion. Both Shikha Trivedi (who loves to go to small unknown areas for stories) and Sutapa Deb (who covers everything from film festivals to caste wars) have kept up a steady flow of such stories.
Last week, Shikha Trivedi did a moving and heartfelt story on how once famous stars die neglected and even forgotten. It started with Parveen Babi, but went on to Nadira, the hunter-wielding spirited heroine of Aan.
I was in London when it was released in Leicester Square and British papers, not used to long Indian films, found it so amusing that one headline said: "It goes Aan and Aan." It was sad to see the once-lively Nadira lying bed-ridden and speaking with emotion of her past.
Next Shikha went on to that once-wonderful singer, the one and only Shamshad Begum. Still on her feet, she said bravely that she had decided to give up singing for the public once she found her voice was fading. Not many have the courage to do that and one can only admire her ability to face hard facts. Then there was Bhagwan, once adored by millions for his comic turns. He had come to films from a Bombay slum and now, towards the end of his life, he was eking it out in penury, with no one to visit or comfort him in the same slum from which he
had come.
In contrast, Shikha introduced us to some die-hard young aspirants to filmdom and even stardom, who come from far and live in hope. Some end up as extras or models, at the most, but keep believing in their star qualities. Strange is the compelling lure of the cinema. And so many fall by the wayside, both at the beginning and end of their careers.
Abduction cases
What a dramatic week it has been of kidnappings and rescues. Of most human interest was the abduction of Baby Arpit by his ayah, who could have given tips in evading the police to the most hardened criminals.
Even more mysterious was the kidnapping of the Kolkata college girl. There seemed to be more wheels within wheels than in the baby abduction case and at the time of writing, people were revealing some startling facts. As for the disappearance of schoolboys, now described as a cottage industry in Bihar, reporting has become almost routine, with politicians adding their bit of masala.
Capturing chaos
Take the case of the Goa political mess, it was as bizarre as it is dismaying for us citizens. Luckily, commentators did not take sides and squarely blamed both the Speaker and the Governor. We can only be thankful for this show of maturity, which is more than one can say of some of the party politicians from both sides, who blandly said only their man was innocent.
It is amazing how much reporting has come out of Nepal overcoming the stringent clamp-down on freedom of information and the Press. But it is only reporters from outside who have operated with some success. The local papers have had resort to blank pages in protest. As for radio and TV, they just vanished in Nepal and that was that.
It is sad but true, but up to the time of going to press not one Indian channel had announced its intention to cover the tennis championships in Hyderabad. So we might miss watching Martina Navratilova in full steam. Surely this is one event where DD, which calls itself the national channel, should have done its duty by the nation, ads or no ads.