Celebrity marriages
Partying on
Arifa Akbar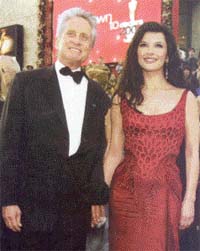 Catherine Zeta-Jones and Michael Douglas
THE SON of the Hollywood icon Kirk Douglas, and a multiple Oscar-winning actor in his own right, Douglas met Catherine Zeta-Jones, the Swansea actress who rose to fame in the British TV drama, The Darling Buds of May, at the Deauville Film Festival in France in August 1998. He was 54, she was 29.
At dinner, they found they had a lot in common in spite of the age gap, including the same birthday. They began dating in March 1999 and got engaged on New Year's Eve 1999, marrying in November 2000, four months after their son was born. On their first date, Douglas reportedly told Zeta-Jones he wanted to father her children. Some sceptics saw the union as a canny career move for Zeta-Jones, while others were critical of the age gap. But four years after their wedding and two children later, they are proving the doubters wrong.
Michael and Shakira Caine
The film star tracked down his wife Shakira after seeing her in a TV advert for Maxwell House coffee in 1971 shot in Brazil. Caine, divorced from actress Patricia Haines, was so struck by her he was prepared to go to Brazil to meet her. Luckily, she was living on Fulham Road in west London. Then, Caine was - and still is - among Britain's most celebrated actors, starring in classics such as Zulu, Get Carter and The Italian Job, and Shakira Baksh was relatively unknown. She had become Miss Guyana at 19 and started modelling. When they married in 1973, she was 25 and he was 40, and some questioned how much they had in common. But the marriage is said to be one of the strongest in showbusiness. She gave up modelling and they have a grown daughter, Natasha. The actor Roger Moore said: "Shakira understands Michael more than anybody. They're completely compatible."
Paul Newman and Joanne Woodward
The actors Paul Newman and Joanne Woodward met in the 1953 Broadway production of Picnic, but it took five years and a divorce for him (from his nine-year marriage to Jackie Witte) before they became man and wife.
Over the next few decades, Newman became an international sex symbol, starring in Hollywood classics Butch Cassidy and the Sundance Kid and Cat on a Hot Tin Roof. Woodward's career remained successful, though less stellar. Contrary to some predictions, differences in their professional standing did not cause friction, although Woodward did once confess that the uneven status left her feeling uneasy. "I was always uncomfortable that Paul was so much bigger than I was," she said. The couple ce\ lebrated their 47th wedding anniversary this year. Their relationship is renowned in Hollywood circles as "unshakeable".
Pete Doherty and Kate Moss
She is a millionaire model who shot to fame after being discovered at JFK airport at the age of 14. He is a singer formerly of the band, The Libertines, with an expensive heroin and crack cocaine addiction and a prison record, after he broke into a fellow band member's house to steal electrical equipment to sell for drugs.
Their social scene may be worlds apart but they bridged the gap when they met at Moss's 31st birthday party in the Cotswolds, and their relationship has become one of the most talked about in the media. Doherty, 25, lives in an East End flat and his addiction is believed to cost (pounds sterling)1,000 a day. Moss has homes in the Cotswolds and in Primrose Hill, North London, where she lives with her two-year-old daughter, Lily Grace, from her former partner, the publisher Jefferson Hack.
Moss is obviously aware of Doherty's drug-taking but is too infatuated to care.
She reportedly told a friend: "I know people are saying he's no good for me, but I can't help myself. There's just something about him. He's really good-looking and really dangerous." But sceptics have been quick to sound moral judgement over the budding relationship. Ulrika Jonsson yesterday reminded the model of her maternal duties in her column in the News of the World, saying: "Kate may delight in her combustion of emotion for grubby Pete Doherty, but it's quite another thing to burden your child with such a man's scary baggage. I understand the lure of 'dangerous'. And I also understand that 'dangerous' doesn't mix with kids." Moss has always been known to enjoy 'partying hard' but even close friends are said to be worried by her latest choice of partner.
Sadie Frost is understood to be perturbed by the relationship. "Pete's not the sort of guy you wish for your best friend. Kate has a history of partying hard and the idea of the two together would be a terrible idea," she reportedly said. Hack is said to have told her "You're insane", and warned her he would fight for sole custody of their daughter if Doherty goes near her. But the pair have managed to weather the negative media and harsh judgements from their circle of friends. Early last week, Moss sent Doherty a text to say she would not be seeing him again but the couple quickly patched things up last Wednesday...