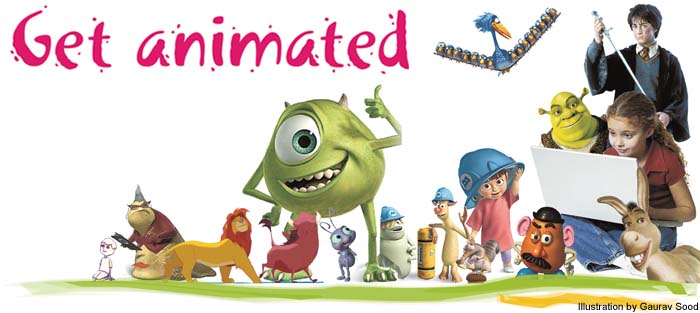 There is a lot of buzz about animation, which is increasingly being seen as a sunshine industry with enormous employment potential. Kireet Khurana, a pioneer in the field in India, cuts through the hype to analyse the growth in animation and how we can cash in on it.
THE global animation business is valued at more than $50 billion. India's share in that is a paltry $25 million. Which accounts for merely 0.5 per cent of the entire market share. Although the road is long and the current scenario not so happy for the animation industry in India, there are plenty of opportunities.
The industry is also experiencing a robust growth of 30 per cent annually. Therefore, while there are about 10,000 to 12,000 estimated professionals in the animation segment, there is a huge gap of trained, experienced animators and professionals serving the industry. Whereas, abroad animation is considered to be an all-encompassing-all-audience affair, in India it is still widely perceived as "cartoon films for children." With the advent of 24-hour cartoon channels this perception is changing rapidly. Now that Disney is here too and others like Nick, Hungama, Pogo and CN are already in the fray, it's an overwhelming opportunity for Indian animation producers to develop indigenous animation products that generate high TRPs and revenues for the channels and sustain the medium's growth.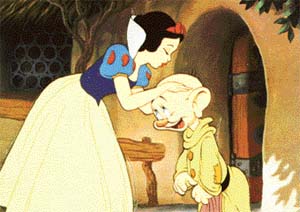 IT was Walt who ran Disney, a passionate film-maker at heart who wanted his vision to be translated. Of course, he was ably supported by his brother, Roy, who managed the finances. In 1934 Disney said 'I want to make Snow White…!" The thought of making the first feature was foolhardy for most because it was a "known fact" that it's not going to succeed financially. Roy instead provided Disney the means to fulfill his vision. The rest is history. These are the leaders who need to run the industry. The people who are in it for the opportunity should support these passionate visionaries, because even Disney needed a Roy and not the other way round.
India lags behind
If India is still catching up with the West in terms of quality of animation, it is largely due to the lack of animation culture in this country. For example, in 1935 Disney was ready to release his first feature film Snow White and the seven Dwarfs, when Dadasaheb Phalke was still dabbling to make India's first experimental animated short film using matchsticks. The fact of the matter is that, till today, India has not been able to achieve a production of Snow White's quality. That speaks volumes of how far behind India is.
Till the early 1990s, India produced animation content worth only a couple of hours in its entire history. All this changed in the mid-1990s when India started doing contract work for American companies. Today India is estimated to produce about 80-100 hrs. of animation per year.
Complex business
The animation business is a complex and expensive one. Animation creation itself can be cost prohibitive because the infrastructure and manpower requirements are daunting. Animation markets worldwide can be generally divided into two broad categories—outsourcing and original content.
Most Indian companies in the outsourcing business are involved in servicing contracts for the West (akin to the Infosys, Wipro and others in the IT industry). Outsourcing allows companies to scale up their size (typical size of a company involved in the outsourcing business is 100 plus people) and ensure a steady stream of money. The downside of this is that the company that usually bids the lowest gets the contract and also that none of the contract companies own the Intellectual property (IP) of their works, which is where the real money is. Moreover, none of the content that is created for outsourcing may be relevant to the Indian market as it is designed to cater to the contractor's need. Eventually all outsourcing companies would need to move over to owning/creating their own IP if they have to survive in the long run.
Original content is creating own indigenously designed stories, characters and owning the IP (Adventures of Chhota Birbal, Tenali Rama, Panchatantra etc. are examples of Indian IP in the animation space). These stories are for the local tastes, sensitivities and appeal. However precisely because of their local flavour, the animation property may not sell overseas, so recoveries on the expensive animation properties may be negligible making them unviable. In due course and with localisation being inevitable in all spheres of business, we shall see more original content creators in the animation industry. These companies are also higher up on the value chain and likely to succeed in the long run.
There are more than 100 big and small animation studios today as opposed to merely two or three about 12 years ago. The entire list of all international and Indian studios can be procured from www.aidb.com. If you want to be a part of animation, there is only one word that can keep you going—Passion. You get into the animation segment for the love and passion and not the just the promise that it holds out for the future. Despite the Herculean task involved in becoming an animator, once you are one you wouldn't want to swap your job with anyone else. Animation is exciting and fun to create.
Tales well told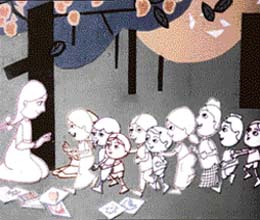 The biggest challenge in recent times for Indian animation (not outsourcing model but indigenous animation creation) has not been as much as getting requisite skill sets but a powerful concept, storytelling, great character designs and pre-production in place. This is the area where we lack most. While most of our animators are groomed for skills there are not many who are being upgraded as animation film-makers or storytellers. One great example of Indian storytelling is the indelible Ek Anek Ekta with its popular Ek Chidiya Anek Chidiya song .
Although it might seem like a give in, because we have such a vast talent pool in Bollywood, surely some of them could transit to animation storytelling. This is much more difficult than it actually seems:because animation storytelling is vastly different from live-action films' storytelling. The basic rule of thumb being if your so called "animation concept" can be depicted with live action characters it's probably a bad animation concept. Animation offers absolutely a new realm of possibilities - imaginative exaggeration and fantasy being a cornerstone of it. The fundamentals are the same—premise, plot, climax, resolution, characterisation and integrity etc. Where it differs vastly is the treatment. If an animated film comes close to mimicking live action, be it the 1940s feature— Gulliver's Travels, (where Gulliver was rotoscoped—traced on drawings from a live-action reference) or the more recent 3D feature Final Fantasy, its usually not accepted well by the audiences.
Adaptation is an art by itself. Disney mastered the art of adapting a folk tale into animated movies with successes right from the 1936 masterpiece—Snow white and seven Dwarfs right down to recent movies like The Little Mermaid and The Hunchback of Notre Dame.
Adaptation is the art of telling an old story and making it contemporary. No one has done this better than Disney - retaining the essence, the fabric of the story and yet telling it a lot more powerfully and convincingly. This is an area where we will need to focus. It's known that a lot of studios are working on Indian folk tales. There are a lot more that are waiting to be dug out, ideas that lend themselves beautifully to animation. But all of them need to be adapted to suit the contemporary tastes and aesthetics. Telling the story as it is would have a limited impact with the aware audience, which is now exposed to the best in the world.
Although the time is coming soon for Indian animation storytelling to rise up to the occasion, paradoxically, time is running out for it too. If the initial attempts at telling Indian stories fail, then our young audiences, which are already being given an overdose of foreign content, will never get to see Indian animated stories or get exposure to our culture and heritage. Yet we have to move with the times and adapt ourselves to the rapidly changing environment. And the storyteller holds the key.
Disney once said that it takes 16 years to be an animator. The same is true for a good storyteller—there is a lot to learn and understand, the road is long and we haven't even begun. While, the outsourcing ventures happened, larger studios failed to contribute to the indigenous animation movement. It's a pity that the only studio that actually went ahead and staked themselves to produce Indian stories was run by foreigners (former CEO Bill Dennis and Director Roger Dondis).
Value chain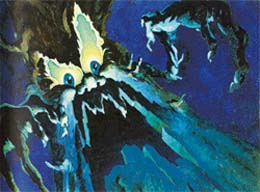 It's about time we move beyond "seats". It's about time we put our monies and our faith in our stories, our artists and our aspirations. And the studios, which succeed in building their own IPs, will also have abundant co-production and outsourcing opportunities, apart from earning respect of its clients. It's about time that studios looking at slowly going up the value chain, building their own IP, expedite the maturing of the Indian market to licensing and merchandising opportunities which is the cornerstone of American successes. How about making an entirely animated Indian animated feature film? Why can't/don't we have our own animated feature films, replicating the success of the West to consistently produce commercially successful features? Why can't we have our own Pixar, Disney?
Ramayana in the early 1990s was another opportunity lost, making it more difficult than ever for the rest of the fraternity. Each animation feature that fails sets a bad precedence and it becomes that much more difficult for a new entrant to pitch for a feature to a prospective producer / distributor. Therefore the torch-bearers or the pioneers have a greater responsibility, because they are directly influencing the defining moments for the rest of us.
Most investors and the heads of large companies are in the business of animation because of the "opportunity" of the industry. It is seen as a sunrise industry despite all the stories of ailing monolithic animation companies. Surprisingly, the interest for animation as a business opportunity doesn't seem to be dying, if anything its just getting stronger but the passion and the soul is missing where more and more people see it as a business opportunity.
Disney cue
Of course, you need a "CEO" to run the company. But look at other companies around— Dreamworks (Spielberg), Pixar (John Lassetter- yeah there is a Steve Jobs also fuelling his creativity), Clasky Csupo, Varga Studio (Czaba Varga specialising in outsourcing European animation content based in Hungary), Film Roman (Phil Roman), Warner Brothers Feature Animation (Don Bluth), Aardman (Chicken Run- Nick Park). The list is endless. We need CEOs who provide the means for the vision of the creative individuals and not the other way around.
— Kireet Khurana has five President's National Awards and two International awards to his credit besides others. He is the creator of award-winning animated series Adventures of Chhota Birbal and Deewana Tiger seen during World Cup cricket.
Pictures courtesy:
Disney, for all Disney images,
CB Media Ventures for Chhota Birbal images , Climb Films for Ek Anek Ekta