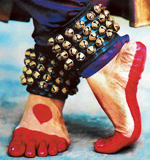 Rhythm divine
The life of a dancer and the way she merges with her art is fascinating. Each dancer forges her unique link with the art. So many journeys, by Bharatanatyam dancer Geeta Chandran, with Rajiv Chandran, weaves together her creative experiences and her impressions over the years.
Call of the desert
Anuradha Thakur on the three-day Desert Festival in Jaisalmer which brings alive the cultural heritage of Rajasthan
Jaisalmer wakes up from its slumber to the melodious voice of folk singers that echoes in the air. Caravans of camel carts and motorcades make a beeline towards this land of golden sands for the grand Desert Festival that begins on February 21.
Action on LOC
Rajeev Mehra, maker of the award-winning serial Office Office, is ready with his next directorial venture LOC. A comedy, this show takes a dig at the hostility between Indians and Pakistanis. Gitanjali Sharma reports
The new serial LOC — to be telecast by Star Plus at primetime — stands for Life out of Control, says Rajeev Mehra, the director of the show as well as the man behind the popular satire Office Office, which bagged 34 awards over the four years that it ran from 2000 to 2003 on Sabe TV.
Idol Worship
Indian Idol is an example of how reality TV can offer viewers much more masala than soaps or tear-jerkers, says Sukhdeep Kaur
Finally, some of the controversy, if not suspense, ended this Friday. The by-now famous house painter from Ludhiana had finally to bow out of the reality talent hunt show – Indian Idol. A desi take on American Idol is earning high TRP ratings but the voting system has been dogged by controversies and keeps springing up surprises.
Cinemascoop
With the buzz created by Page Three, the spotlight is once again on the portrayal of journalists in Bollywood. Vikramdeep Johal on how reporters have fared in Hindi films
They swarm around VVIPs like flies, ask silly questions and are disdainfully shrugged off with retorts like, "Aap presswale kuchh bhi likh dete hain." Unintelligent, unrefined and unimportant — that's how we usually see journalists in Bollywood films, particularly when they are played by nondescript actors.
Beauty of Black
Seema Sachdeva
Sanjay Leela Bhansali's Black is not just about blind and deaf Michelle McNally (Rani Mukherjee) trying to come to terms with her handicap or her trainer Debraj Sahai (Amitabh Bachchan), once on faculty of the Deaf and Blind School, dismissed due to his failing vision but also about living life with dignity and pride.