Cinemascoop
With the buzz created by Page Three, the spotlight is once again on the portrayal of journalists in Bollywood. Vikramdeep Johal on how reporters have fared in Hindi films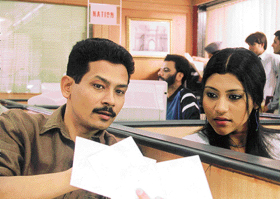 Konkana Sen in Page Three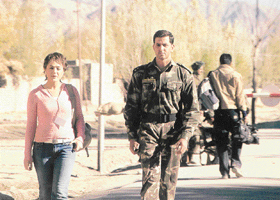 Preity Zinta's role in Lakshya was modelled on Barkha Dutt

They swarm around VVIPs like flies, ask silly questions and are disdainfully shrugged off with retorts like, "Aap presswale kuchh bhi likh dete hain." Unintelligent, unrefined and unimportant — that's how we usually see journalists in Bollywood films, particularly when they are played by nondescript actors.
The journos, however, undergo a sea change when their roles are essayed by stars or noted character actors. There is the crusading type, who finds out the truth but often loses his life. Shekhar Suman was poisoned in Tridev for too much snooping; truth seeker Madan Jain was killed in the backseat of a car in Pratibandh; "Kalam wali bai" Dimple Kapadia was raped by Danny Dengzongpa for opposing his goondaraj in Krantiveer.
Then there is the star reporter, with oodles of panache and wit, who produces scoops as easily as an ice-cream vendor. He or she falls in love, sings and dances, fights the baddies — all in a day's work.
Aamir Khan was at his charming best as the smart-alec journalist in Dil Hai Ki Maanta Nahin. Initially, Pooja Bhatt is for him just the subject of a 'sansanikhez khabar'. Later, she becomes his sweetheart. The reporter ends up as the hero of a sensational love story.
Aamir's role was earlier played by Raj Kapoor in Chori Chori back in the 1950s. Incidentally, both films were inspired by the Frank Capra classic comedy It Happened One Night (1934).
Male reporters in mainstream Hindi films are the exception rather than the rule. According to Bollywood, heroines make better (read glamorous) scribes. Preity Zinta in Lakshya (with the Barkha Dutt hairdo), Hawa Hawaii Sri Devi in Mr India, Madhuri Dixit in Wajood and Meenakshi Sheshadri in Sache Ka Bol Bala preferred breaking into a song and dance to breaking a story.
If the reporters are shown as smart, the editors are projected as dumb and incompetent, if not total buffoons. Tiku Talsania in Dil Hai Ki... and Anu Kapoor in Mr India are the prime examples. Not to forget Dev Anand in Sache Ka Bol Bala, who was ridiculous, albeit unintentionally, as the boss who flirts with his protege.
Only a few offbeat films have shown journalists as they are — corruptible, vulnerable or partisan. In Jaane Bhi Do Yaaro, a tabloid editor (Bhakti Bharve) uses two struggling photographers (Naseeruddin Shah and Ravi Baswani) to get evidence against corrupt officials. However, much to the shock of the two upright men, she starts blackmailing the criminals instead of making the truth public.
Shashi Kapoor won the National Award for portraying a principled editor in New Delhi Times (1985). The external and internal pressures faced by him while exposing a criminal-politician nexus were depicted quite authentically.
In Kamala (1984), Marc Zuber played a journalist who poses as a customer to unearth a flesh trade racket. Sadly, his aim of bringing to light a social evil gradually gives way to his vested interest.
Shabana Azmi was flawless in Main Azaad Hoon as the opportunistic columnist who creates a 'man of the masses' to increase the circulation of her newspaper. The sincerity of Azaad (Amitabh Bachchan), however, makes her suffer pangs of conscience, leading to a clash with the bosses. The film was a remake of another Capra gem, Meet John Doe.
Madhur Bhandarkar's Page 3 charts the troubled journey of a reporter covering the metro party culture. Sickened by the glitteratti, she wants to bare their crimes and misdemeanours. Her earnest efforts go in vain, making her realise painfully that there is no place for a crusader in the world of crassly commercial journalism.
Jeetendra starrer New Delhi (1987) borrowed its far-fetched plot from the Irving Wallace novel The Almighty. Jeetu played an editor who hires a band of killers to bump off the top shots who raped his beloved. His newspaper surges ahead of rival publications as it exclusively reports in graphic detail how the murder took place. In the climax, he brings out the next day's edition with an assassination story as the lead, unaware that his men have failed to carry out their task.
Perhaps the most ambitious (and quite disappointing) media movie was Phir Bhi Dil Hai Hindustani. Shah Rukh Khan and Juhi Chawla (over)played two star journos working for rival TV channels. Both exclaimed "I'm the best" while hunting frantically for scoops, but ultimately joined hands (and hearts) to save an innocent man from the gallows. Hard to swallow? Yeh hai Bollywood meri jaan.