Television
Singing sizzler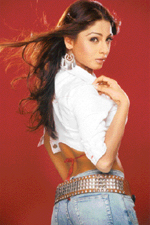 Samita Bangargi is the new sensation on music channels

Sheíd love to emulate Jennifer Aniston and do both films and sitcoms, but Samita Bangargi says it is still a pipe dream in the Indian context. "Itís like trying to create a balance between two boats. You are bound to sink."
Samita, who counts rock legend Mick Jagger among her best friends, says it was he who inspired her to do the sizzling music video. Jadoo Teri Nazar in which she transforms from an innocent schoolgirl to a hot, sizzling babe.
"The video is becoming very popular," she says and hastens to add, "It has got nothing to do with my skimpy clothes and come-hither looks."
Samita who was last seen in Shaadi Ka Ladoo and is now all gung ho about her next release Ramji Londonwale in which sheís paired opposite Madhavan.
Sheís been flooded with TV offers after Jadoo Teri Nazar. But sheís declining them all. "In Hollywood, you can do both films and TV, but here you have to make a choice. Iíd love to do TV some day."
Her fatherís daughter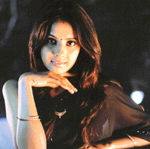 Tumhari Disha is topping the charts
Back in the early 1990s Basu Chatterjee made waves on television with Rajni starring the indomitable Priya Tendulkar. Years later daughter Rupali Guha is creating her own space with Tumhari Disha, a tele-story with a female protagonist.
The serial revolves around a young girl Disha whose life is a paradox ó she spreads happiness wherever she goes but her own life is submerged in sorrow. She is deserted by her biological father but succeeds in winning her foster familyís heart.
Tumhari Disha has emerged the top programme on Zee TV. While that is no easy feat, Rupali has set her sights on the show reinforcing the position of channel leader.
Says Rupali, "I worked on the intricacies, twists and turns of the script and was getting regular viewer feedback. I knew Tumhari Disha would be the top draw one day. I now have to work to retain the top position."
Trump card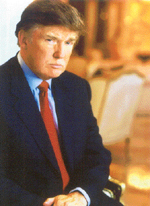 Donald Trump is triggering channel wars

Apparently supermodels are not the only ones who fight to get a piece of billionaire Donald Trump. After the hugely popular show The Apprentice on NBC, rival network, ABC is trying to cash in on the popularity of the real estate tycoon and his show by producing a TV biography on the man himself.
The film, based on Gwenda Blairís book Three Generations That Built An Empire which will cover the last 25 years of Trumpís personal and professional life, however does not have the cooperation of the man himself who is under a contractual obligation with NBC.
Trump, who recently got a trademark for his famous line "Youíre Fired" from The Apprentice, is about to become a celebrity all over again once the two-hour movie is aired. But NBC is crying blue murder over ABCís attempt to steal its limelight.
Not VJing anymore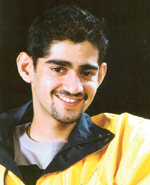 Gaurav Kapoor is all set to get into the big picture

Gaurav Kapoor is finally planning to bid adieu to music shows. "Channel V made a huge mistake by hiring me but now their suffering will end as I am moving on," jokes the VJ.
Presently hosting The Great Indian Comedy Show on Star One, Get Gorgeous II and Super Singer on Channel V as well as rehearsing for a play Lies, Gauravís hands are full.
But despite being so much in demand on the small screen like most TV stars, he too feels his future lies in Bollywood. After acting in a couple of completely forgettable movies, Gaurav now wants to push his luck on the silver screen.
Says he, "The roles I was offered after Darna Mana Hai and Shhh were rubbishy. But Kudiyon Ka Hai Zamana and Saturday Night, the two comedies that I am doing are just my type." Hope they donít typecast him as a comedian.