PUNJAB

HARYANA

JAMMU & KASHMIR

HIMACHAL

REGIONAL BRIEFS

NATION

OPINIONS

MAILBAG

BUSINESS

SPORTS

WORLD
Tuesday, February 22, 2005, Chandigarh, India
Updated at 3:00 am (IST)
Avalanches kill 82 more
300 ITBP men trapped in J&K; IAF mounts rescue sorties
Jammu/Srinagar, February 21
More than 82 persons were killed when snowfall-triggered avalanches swept away their "kothars" in Qazigund and Dooru areas of Anantnag district in South Kashmir early this morning as the death toll due to snowfall and avalanches crossed the 150 mark.

BREAKING NEWS
Haryana vote count on Feb 27: SC
New Delhi, February 22
The Supreme Court on Tuesday directed that counting of votes in Haryana should be done on February 27 as scheduled earlier and not on February 23.
CAST YOUR VOTE
Should ethical approval be necessary for stem cell research?


FORUM

EDUCATION

JOBS & CAREERS

HEALTH & FITNESS

SCIENCE & TECHNOLOGY

SPORTS

SOCIETY

TRIBUNE CLASSIFIEDS

BRIDES WANTED

GROOMS WANTED

OTHERS

HOW TO PLACE ADVTS
2-yr extension granted to AVM Masand
New Delhi, February 21
Finding itself on a sticky wicket regarding evaluating the promotions of four officers to the rank of Air Vice Marshals in 2003, the Defence Ministry today told the Supreme Court it had decided to give two-year extension to retired Air Marshal Harish Masand, who was allegedly rated down during the promotion process.
INLD candidate moves SC over counting date
New Delhi, February 21
The dispute between the ruling INLD and the Election Commission (EC) over advancing the date for counting of votes today reached the Supreme Court as a candidate of the party moved a petition challenging the poll panel's decision to this effect.

In Education Tribune today
QUOTE OF THE DAY
These elections are being held in Bihar; why should it have any effect on the Central Government for whose installation we have worked hard?
— Laloo Prasad Yadav, Railway Minister

THE TRIBUNE MAGAZINES
On Sundays

On Saturdays

Nepal cops feel safer in India
Jhulaghat Nepal/India, February 21
With stepped- up chances of Maoist insurgents crossing over to escape crackdown by the Royal Nepal Army, the Indo-Nepal border looks quite like the Kali river that marks it, deceptively sleepy.
Nationwide bandh against VAT
New Delhi, February 21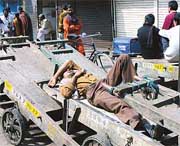 The nationwide bandh against the proposed VAT paralysed trade and commerce in several parts of the country today.


In video (28k, 56k)

A labourer sleeps in front of closed shops in New Delhi on Monday during a bandh in protest against the imposition of VAT. — AFP photo



Editorial: Striking at VAT


More stories on Himachal, Ludhiana, Haryana, Punjab page

Submit details of assets, SC tells Zahira
New Delhi, February 21


The Supreme Court today directed Best Bakery case key witness Zahira Sheikh to furnish records of her bank accounts and properties following allegations that she had been won over by the Gujarat Government.



Bilkis narrates rape incident in court


Money bags, distilleries open in Ajnala
Bhindi Saidan (Ajnala), February 21
The money bags have been opened. On the pretext of distributing 'old age' pension, cash is publicly being distributed to woo voters.


40 die as avalanches bury houses in J&K
February 21, 2005
Kashmir cut off and in darkness
February 20, 2005
Snow, avalanches in Kashmir
February 19, 2005
HC stays own order on appointments
February 18, 2005
Bus to Muzaffarabad from April 7
February 17, 2005
Kidnapped student killed
February 16, 2005

Restore democracy, India tells Nepal
February 15, 2005
EC lodges FIR on Gujarat riots CDs
February 14, 2005
Military aid to Nepal suspended
February 13, 2005
N. Korea goes nuclear
February 12, 2005