PUNJAB

HARYANA

JAMMU & KASHMIR

HIMACHAL

REGIONAL BRIEFS

NATION

OPINIONS

MAILBAG

BUSINESS

SPORTS

WORLD
Thursday, February 24, 2005, Chandigarh, India
Updated at 3:00 am (IST)
Violence mars Ajnala bypoll
Over 100 injured; complaints of booth
capturing, rigging
Ajnala, February 23
Large-scale violence, clashes, firing incidents and attempts of rigging/booth capturing today left more than 100 persons of both the Shiromani Akali Dal and the Congress injured, some of them seriously, in the Ajnala byelection.
FREE-FOR-ALL:
Activists of the SAD and the Congress clash at Chakk Bala village, 2 km from the Pakistan border, during the Ajnala byelection.
— Photo by Rajiv Sharma
CAST YOUR VOTE
Are the state governments to blame for the high dropout rate among schoolchildren?



FORUM

EDUCATION

JOBS & CAREERS

HEALTH & FITNESS

SCIENCE & TECHNOLOGY

SPORTS

SOCIETY

TRIBUNE CLASSIFIEDS

BRIDES WANTED

GROOMS WANTED

OTHERS

HOW TO PLACE ADVTS
10 killed in Bihar, Jharkhand elections
Patna/Ranchi, February 23
Incidents of violence marred the third and final phase of elections in Bihar and Jharkhand. At least 10 persons were killed, said reports.


In video (28k, 56k)



Exit polls show split verdict in Bihar


Nation page: BJP lauds EC for 'clean poll'


Haryana page: Repolling passes off peacefully
Daring Air Force men with flying machines
Srinagar/Jammu, February 23
From evacuating stranded troops and civilians from snow-bound areas in Kashmir to maintaining the lifeline to the world's highest battlefield, Siachen, it is the call of the Air Force's helicopter pilots and the Army's aviators.



Sonia calls for speedy relief and rescue operations


Sonia's chopper fails to land

(28k, 56k)


Fresh avalanche in Rajouri, two killed


9 more rescued from Banihal
In Amritsar Plus today
QUOTE OF THE DAY
Standards of the Bar and the Bench in the country have gone down. Both sides must adopt a code of ethics to restore people's confidence in the judiciary.
— H.R.Bhardwaj, Law Minister

THE TRIBUNE MAGAZINES
On Sundays

On Saturdays

More stories on J&k page

Ms Sonia Gandhi (far left) walks through snow towards a waiting helicopter in Srinagar on Wednesday.
— Tribune photo by Manoj Mahajan
SC refuses to refer Badal, Bhattal cases to Bench
New Delhi, February 23
The Supreme Court has declined to refer a batch of petitions by some important politicians, including Punjab Deputy Chief Minister Rajinder Kaur Bhattal and former Chief Minister Parkash Singh Badal, to the Constitution Bench to examine the issue of prior sanction from a "competent authority" for their prosecution in corruption cases.
Karzai for trade corridor through Pak
New Delhi, February 23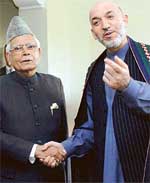 Visiting Afghan President Hamid Karzai today told External Affairs Minister K. Natwar Singh that he had taken up with Pakistan the possibility of a trade corridor for Indian exports to Afghanistan through Pakistan and "would push this further".


In video (28k, 56k)

Afghan President Hamid Karzai (right) shakes hands with External Affairs Minister Natwar Singh before a meeting in New Delhi on Wednesday. — AFP photo



Blow to business along Indo-Nepal border
Jhulaghat (Nepal/India), February 23
Traders at the once busy trade post of Jhulaghat on the Indo-Nepal border look jaded. On the nippy February morning no one shows the spirit of enterprise the businessmen at the traditional trade posts along the Indo-Nepal border are known for.

175 bodies found in Banihal
February 23, 2005

Avalanches kill 82 more
February 22, 2005

40 die as avalanches bury houses in J&K
February 21, 2005
Kashmir cut off and in darkness
February 20, 2005
Snow, avalanches in Kashmir
February 19, 2005
HC stays own order on appointments
February 18, 2005
Bus to Muzaffarabad from April 7
February 17, 2005
Kidnapped student killed
February 16, 2005

Restore democracy, India tells Nepal
February 15, 2005
EC lodges FIR on Gujarat riots CDs
February 14, 2005