PUNJAB

HARYANA

JAMMU & KASHMIR

HIMACHAL

REGIONAL BRIEFS

NATION

OPINIONS

MAILBAG

BUSINESS

SPORTS

WORLD
Wednesday, March 2, 2005, Chandigarh, India
Updated at 3:00 am (IST)

Paswan meets Sonia
Bihar heading for Presidentís rule
New Delhi, March 1
Congress President Sonia Gandhi today failed to bring about a rapproachment between the Rashtriya Janata Dal (RJD) and the Lok Janshakti Party (LJP) as the warring UPA allies hardened their positions and refused to support each other in the formation of the next government in Bihar.


CAST YOUR VOTE
Will the proposed Rs 10 tax on every cash withdrawal of Rs 10,000 reduce black money?


FORUM

EDUCATION

JOBS & CAREERS

HEALTH & FITNESS

SCIENCE & TECHNOLOGY

SPORTS

SOCIETY

TRIBUNE CLASSIFIEDS

BRIDES WANTED

GROOMS WANTED

OTHERS

HOW TO PLACE ADVTS
NDA stakes claim in Jharkhand
Ranchi, March 1
The BJP-led NDA today formally staked claim to form government in Jharkhand by submitting a list of 41 MLAs, 36 elected on alliance ticket and five Independents, to Governor Syed Sibtey Razi.


In video (28k, 56k)
Haryana CLP authorises Sonia to select CM
Chandigarh, March 1
The Haryana Congress Legislature Party (CLP) today unanimously authorised the AICC President, Mrs Sonia Gandhi, to choose its leader who would become the next Chief Minister of the state.



Haryana page: Groupism rules CLP meeting


Women MLAs eyeing ministerial berths

FORUM
Our feature, Forum, provides our readers with an opportunity to express their views on some of the vital issues facing the country. The new question being posed is:
What should state governments do to promote school education?
Readers are invited to send their letters, not more than 150 words, to:
The Editor-in-Chief, The Tribune, Sector 29-C, Chandigarh, with 'Forum' superscribed on the envelope.
The answers can also be e-mailed to:
[email protected]
H.K. Dua (Editor-in-Chief)

QUOTE OF THE DAY
The RJD is against Governor's rule so we should stake claim.
ó Laloo Prasad Yadav

THE TRIBUNE MAGAZINES
On Sundays

On Saturdays

Major-General found guilty in Tehelka case
Chandigarh, March 1
A military court today found a Major-General allegedly involved in the infamous Tehelka scandal guilty of accepting illegal gratification and profession impropriety. The sentence is expected to be announced tomorrow.
Pervez orders release of 200 Indian prisoners
Islamabad, March 1
Pakistan President Pervez Musharraf today ordered the release of 200 Indian civilians languishing in Pak jails.
Sania upsets Kuznetsova
Dubai, March 1
Sania Mirza pulled off the biggest win of her fledgling career when she upset world number four and US Open Champion Svetlana Kuznetsova in the Dubai Open women tennis championship here today. (Details on Sports page)

FM hints at rollback of tax on cash withdrawal


New Delhi, March 1
With mounting pressure from within UPA and outside, Finance Minister P. Chidambaram may partially roll back the proposed banking transaction tax of Rs 10 on withdrawal of Rs 10,000 cash and the Fringe Benefit Tax on perks. (Details on Business page)



Editorials: The human factor

PC for FM


Business page: Experts upbeat on new savings proposals


Jawahar Tunnel thrown open to traffic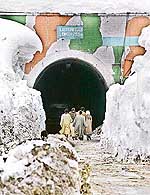 Jammu, March 1
The nearly 25-km stretch of the Jammu-Srinagar highway between Banihal and Qazigund through Jawahar Tunnel was reopened today after having been blocked with avalanches for the past about a fortnight.


People walk towards the snow-covered northern portal of Jawahar Tunnel, 90 km south of Srinagar, on Tuesday.
ó Reuters photo



J&K page: Rescue teams not fully equipped


Police adopts three children orphaned by snow tragedy


Search for 3 missing Finnish tourists launched


In Jobs & Careers today
In Health Tribune today
IT relief of Rs 1 lakh for all
March 1, 2005

Cong sweeps Haryana
February 28, 2005
Laloo tables populist Rly Budget
February 27, 2005
Pak must end terror for better ties: Kalam
February 26, 2005
Militants storm DCís office complex, 8 dead
February 25, 2005
Violence mars Ajnala bypoll
February 24, 2005
175 bodies found in Banihal
February 23, 2005

Avalanches kill 82 more
February 22, 2005

40 die as avalanches bury houses in J&K
February 21, 2005