PUNJAB

HARYANA

JAMMU & KASHMIR

HIMACHAL

REGIONAL BRIEFS

NATION

OPINIONS

MAILBAG

BUSINESS

SPORTS

WORLD
Saturday, March 5, 2005, Chandigarh, India
Updated at 3:00 am (IST)
Hooda to be Haryana CM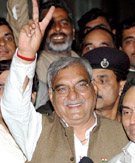 Bhajan camp stays away from CLP meeting
New Delhi, March 4
The "giant-killer" from Rohtak, Bhupinder Singh Hooda, will be the new Chief Minister of Haryana. A meeting of the Congress Legislature Party here today, which was attended by 47 of the party's 67 MLAs, "unanimously" elected Mr Hooda as its leader.

Mr Bhupinder Singh Hooda shows the victory sign after coming out from a meeting at Parliament Annexe in New Delhi on Friday.
— Tribune photo by Mukesh Aggarwal



Editorial: Hooda for Haryana


Haryana page: The 'Ganga Putra' from Rohtak


Hooda's supporters jubilant, Bhajan's protest



Bhajan Lal quits as PCC chief
New Delhi, March 4
Haryana PCC chief Bhajan Lal today resigned from the post in protest against the elevation of Mr Bhupinder Singh Hooda as Chief Minister.
CAST YOUR VOTE
Shouldn't authorities expedite prosecution of the civilians involved in the Tehelka case?


FORUM

EDUCATION

JOBS & CAREERS

HEALTH & FITNESS

SCIENCE & TECHNOLOGY

SPORTS

SOCIETY

TRIBUNE CLASSIFIEDS

BRIDES WANTED

GROOMS WANTED

OTHERS

HOW TO PLACE ADVTS
FORUM
New question: What should state governments do to promote school education?
Write to: The Editor-in-Chief, The Tribune, Sector 29-C, Chandigarh;
or e-mail at
[email protected]
Filming couples with hidden cameras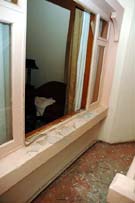 Alert groom exposes racket at Park Plaza; 2 held
Ludhiana, March 4
An alert newlywed couple today exposed a shocking racket in a five star hotel, Park Plaza, involving filming by hotel staff of intimate moments of unsuspecting couples staying in different rooms for the past several months.


4 employees suspended


CM promises stern action


Ludhiana page: A wave of indignation, disgust grips residents

The window of a room in Park Plaza Hotel, Ludhiana, from where the couple was being filmed on Friday. — Photo by Sayeed Ahmed

President's rule in Goa after Rane wins trust vote
New Delhi, March 4
Even as President's rule was imposed in Goa and the Assembly kept in suspended animation, controversial Jharkhand Governor Syed Sibtey Razi sought to make amends by declaring his intent to prepone the three-week period accorded to UPA Chief Minister Shibu Soren to prove his majority in the Assembly.


In video: Jharkhand Governor prepones confidence vote in Assembly. (28k, 56k)


QUOTE OF THE DAY
Congress is like a family where differences are normal.

— Bhupinder Singh Hooda, Chief Minister-designate, Haryana
THE TRIBUNE MAGAZINES
On Sundays

On Saturdays

Goa Governor's report led to Central rule
GOA Governor S.C. Jamir's report to the Union Home Ministry on the vote of confidence in Goa swayed the Central Government's decision to impose President's rule in the state.
Parliament adjourned over Governor issue
New Delhi, March 4
Bowing to the onslaught of the BJP-led Opposition over the Jharkhand Governor issue, the speaker today considered the adjournment of both Houses of Parliament as a safe option.
Trainee pilot dies in crash
Hyderabad, March 4
An Indian Air Force academy trainer HPT-32 crashed today in Medak district on the outskirts of the city killing its trainee pilot. The aircraft might have crashed due to technical failure as the pilot, flying cadet Sparsh Rana, was only undertaking the second solo flight of his career, IAF sources said. — PTI


Mass copying in border districts
Tarn Taran, March 4
Mass copying was reported from several areas of border districts today during the examinations being conducted by Punjab School Education Board.
| | |
| --- | --- |
| | 'Helpers' outside Government Secondary School, Gharyala, near Tarn Taran, on Friday. Mass copying was reported during the matriculation examinations of the Punjab School Education Board in border villages of the area. — Photo by Rajiv Sharma |

Punjab page: Exam cancelled, suspension of 11 recommended


SDMs to check exam centres


School board teams to visit sensitive centres
Kalam summons Jharkhand Governor
March 4, 2005


Soren is Jharkhand CM
March 3, 2005
Paswan meets Sonia
March 2, 2005
IT relief of Rs 1 lakh for all
March 1, 2005
Cong sweeps Haryana
February 28, 2005
Laloo tables populist Rly Budget
February 27, 2005
Pak must end terror for better ties: Kalam
February 26, 2005
Militants storm DC's office complex, 8 dead
February 25, 2005
Violence mars Ajnala bypoll
February 24, 2005
175 bodies found in Banihal
February 23, 2005
Avalanches kill 82 more
February 22, 2005
40 die as avalanches bury houses in J&K
February 21, 2005