THIS ABOVE ALL
One man's belief is another's shackle
Khushwant Singh
For the last few months despite being a non-believer, I have been religiously tuning into Quran TV every evening to listen to Dr Zahir Naik answering questions and his lengthy debate with a Dr William Campbell on the Bible vs the Koran on scientific matters. There can be little doubt that Dr Naik has a phenomenal memory.
He quotes chapter, page, verse and line of every religious text of Hindus, Buddhists, Jains, Christians and Muslims. He draws large audiences, predominantly Muslim. They listen to him with rapt attention and often explode in enthusiastic applause when he rubbishes other religious texts to extol the Koran, the Hadith and the Sunna.
A recent one was an open debate between him and Campbell on the comparative merits of the Bible and the Koran on scientific phenomenon like conception and growth of the foetus (embryology), cycles of rain, astronomy, mathematics, geology etc. It was more a confrontation than a debate with the invincible Naik scoring brownie points over his half-baked adversary and getting fervent adulatory approval from his listeners. Having read both the Bible and the Koran many times as books of ethics with literary merit, I was unaware that they also dealt with science or mathematics till I heard this pointless debate. I also wondered if this was the best way of bridging the gulf of misunderstanding between the world's two major religions.
As one emotionally involved with Muslims, I found other things Naik said which can harm his community. He goes on and on about the right of human beings to eat animal flesh using the quaint Indianism veg vs non-veg diet. More serious are his views on the status of women. He thinks Muslim women should observe hijaab, that is they must cover themselves from head to foot, baring only their faces and hands upto their wrists. He is against co-education and thinks if boys and girls sit together in schools and colleges their minds will not be in their studies but each other. He thinks Muslim women should not be Heads of States because besides having to veil themselves they will have to shake hands with visiting Heads of States and, they are periodically out of action due to menstruation or pregnancy.
Also, the Head of State is expected to act as Imam to lead men at prayer on important occasions. If it happens, the worshippers' minds will be distracted from the divine to the backside of the lady in front of them.
So, out go Benazir Bhutto, Shaikh Haseena Wajid and the present Prime Minister of Bangladesh Khaleda Zia. He is against Muslim girls becoming air-hostesses: besides having to be veiled, they have to serve liquor which is haraam. And horror of horrors, some male passengers may ask them to tighten their seat belts, following his advice, Muslim girls should keep out of the film industry as, very often, they have to be scantily clad. If Sania Mirza heeded Naik's teachings, she would put away her tennis racquet and India would be deprived of its present heart-throb and the hope to come up with its first woman tennis champion. Following his sermon, Muslim girls should keep out of diplomatic service, police and the army.
EARLIER COLUMNS

The good, the bad & the ugly
February 26, 2005


The light of other days
February 19, 2005


The fiction of Tagore
February 12, 2005


Gossip is what gossip does
February 5, 2005


Kingdom of God
January 29, 2005


Abandoned innocents
January 22, 2005


Gem of a man
January 15, 2005


Osho calling
January 8, 2005


All that passed by
January 1, 2005


Tomorrow yet to come
December 25, 2004


The truth about lies
December 18, 2004


From Aryana to Afghanistan
December 11, 2004

Such inane observations flew unchecked from Naik's lips. What age does he live in — 2005 or medieval times? Muslims have been left behind because large numbers of the semi-educated lot agree with what he says. Can't Indian Muslims find another orator who can persuade them to discard backward ideas and take on the challenges of the modern world? If Hijab is to be obligatory then Muslim women will never gain equality with men. What they need is a forward-looking leader like Ata Turk Kemal Pasha and not the likes of Naik who are no better than an English-speaking Maulana.
Poet, novelist, singer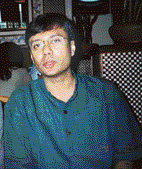 Amit Chaudhuri cannot make up his mind whether he should concentrate on fiction or poetry. So, he does both with equal panache and has won acclaim in the English literary world as a poet as well as a novelist. He is also into Hindustani ........ I am sure if he took to painting, he would do equally well because in all his writings he portrays his scenes like a skilled painter of landscapes.
A Bengali, he lived for some years in Mumbai and has now made his name in Kolkata. His latest offering is a collection of poems published earlier in English and American journals: St Cyril Road & Other Poems (Penguin-Viking).
When he showed his first poems to Nissim Ezekiel, he was snubbed. Ezekiel described them as 'derived'. So dismissed, poor Amit drowned his disappointment in cups of coffee in an Udipi restaurant. Nissim was wrong: There is nothing derivative in Amit's writing. I have space only for two of his short pieces to prove my point. The last few lines from the title poem read:
Woken up at six 'o' clock in the morning,
by half-wit birds who are excited in the knowledge
that day is dawning
on the sleeping lane — that's what I want. The new day
enters my head
like a new fragrance. I rise, dignified, like
Lazarus from the dead
and
Dusk in the Veranda
The curtains parted to let in dusk
in the veranda; outside, the cloud's ceiling
over the city. Inside, a kitchen door,
teaspoons. From a window, birds seen wheeling.
Three empty tea-cups on a tray, and the trickling
sound of tea being poured. Light
contained in a glass of water; silence beyond
the veranda rhyming with the hall's quiet
The servants folded in rest, like clothes.
Smoke from a factory. The first firefly.
The singing of insects; the banyan tree
in its shade, and the last light's simplicity.
Sample sought
A mother was trying to arrange a marriage between her young daughter and a well-to-do businessman. But the man, just as if he were shrewdly transacting a business deal, said he wanted a sample. The mother was confused, not wanting to turn him down and not quite sure how her daughter would react. However, she told the girls, "I've found you a fine fellow with lots of money but he's strictly a businessman. He won't buy blind. He says that he must have a sample."
"Listen mummy," replied the wise daughter, "You tell him I am also a strictly businesswoman. He's not getting samples from me. But I'd be happy to give him plenty of references."
(Contributed by Reeten Ganguly, Tezpur)