Television
Swetta at the crossroads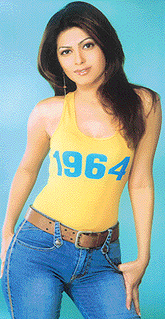 Swetta Keswani

Many would say she's reached a t-junction in life and doesn't know which road to take. Perhaps that's why Swetta Keswani has added an extra "t" to her name hoping it would help her decide whether to go for films or stay back on TV.
As of now Swetta is doing both. But it is films that are luring her. That despite the fact that her first two films Love In Nepal and Tauba Tauba set new lows at the box office.
Undaunted, she is busy shooting in the royal palaces of Gondal and Hindolgadh in Gujarat for an international film called The Memsahib where she plays a Kathiawadi princess. The film is set in 1850 and then moves into the present.
No, she says, she hasn't quit TV. "I'm waiting for an interesting role." And what is her idea of an interesting role? "Oh, the kind I am doing in The Memsahib — something non-glamorous." Item number Swetta seeking a non-glamorous role? Tauba Tauba.
KBC take two
Lock kar diya jaye? Star Plus gears itself up for another innings of Kaun Banega Crorepati. The new show, which had got delayed because of Amitabh Bachchan's hectic schedule, is now all set to take off.
The show will restart airing from July with the same superstar host, the same sets and the same format. What will not be the same would be the prize money. It is likely to be doubled to Rs 2 crore pushing the stakes to stratospheric heights.
Back in the millennium year, KBC re-defined viewing habits by spinning dreams for ordinary Indians and fuelling middleclass greed. Amitabh's own flagging career got a much-needed boost and once again
he began riding the crest of superstardom
However, by the time the show went off the air, ennui had set in and its TRPs were plummeting. Which is why Star Plus will have to do much more than just make double crorepatis out of ordinary people.
Cook's corner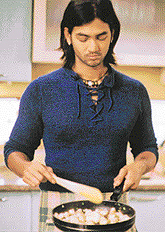 Shayan Munshi: It's 'chowtime' for bachelors

Now that Shayan Munshi has replaced Upen Patel in Cook Na Kaho, the Sunday brunch show on Star One, viewers are hoping he will be able whip up more edible stuff than what was coming out of Patel's kitchen.
And that perhaps is the reason why Star One did not renew Patel's contract. His unspeakably grim recipes were just not working and the viewership was plummeting.
With Munshi, the channel is making it doubly sure that there's a lot more variety stuff like Hindi Chini Bhai Bhai, Chocoholic and Sandwich Specials. "It's simple cooking for smart men. What Patel was dishing out was recipes for dummies," say viewers.
Munshi confesses, "I am not into cooking and I wasn't into TV either. When the Star offer came, I was taken in by the concept of whipping up a typically bachelor meal."
Considering his Bollywood stint is coming to a premature end, and his TV career is going nowhere after he declined an Ekta Kapoor offer, Cook Na Kaho sure was a smart move. At least now Munshi has something on his plate
Dial for luck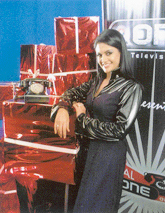 Mandira Bedi
Hosted by Mandira Bedi and Aman Verma, Dial One Aur Jeeto on Sahara-One invites viewers to ring the studio to answer the questions posed by the anchors. The questions range from general knowledge, current issues, Indian cinema to pop trivia and myths.
If these questions are answered correctly, then the person can win prizes — from household appliances to information or entertainment devices like music systems and computers.
The person who dials the number is asked three questions. The questions progressively become more difficult. The value of prizes for these questions also increases with the level. The viewer can consult his family for the answer. They can refer books and computers or they can also call their friends and family for help.