Placement pulse
India Inc homes in on Class of 2005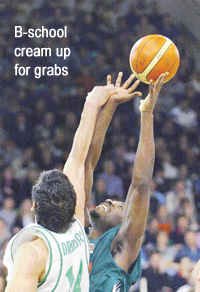 Placements 2005 at IIM-Indore were distinguished by the participation of companies from a wide range of industry sectors, a 66 per cent increase in the number of recruiters, veritable downpour of lateral offers and a 20 per cent increase in the average salary. The average accepted CTC salary was 8.16 lakh. The corresponding figure for the lateral offers stood at 8.60 lakh.
The lateral factor
The Class of 2005 was rich on experience with almost 80 per cent of them vying for lucrative lateral placement offers. Most of the candidates possessed relevant experience in sectors of their choice, culminating in 93 lateral offers, of which 67 were finally accepted, according to a Press release.
Around 10 per cent of the batch had pre-placement offers from top-notch organisations like HLL, Standard Chartered Bank, GE, Wipro Technologies, Patni Computer Systems and Asian Paints. Five per cent of the batch also had prior international exposure, which provided a definite fillip to their final placement efforts.
Recruiters galore
The list of recruiters this year resembled a virtual Who's Who of India Inc. Apart from the regular recruiters like Standard Chartered Bank, PepsiCo, ICICI Bank, Asian Paints, IBM, Wipro and Infosys Technologies, this season also saw relationships developing with ITC, Deutsche Bank, JP Morgan, Covansys, GSK, Accenture, Satyam, Citi Financial, Mahindra British Telecom, EXL Services, Kotak Group and Sony Entertainment Television.
Moolah matters
A total of 202 offers were made in all to the batch of 112 students. The average accepted salary was the highest in the ITES sector at Rs 9.19 lakh.
Some of the highest paymasters were Gecis, Progeon, EXL Services, GSK, ITC, Kotak Group, Sony Entertainment Television and JP Morgan.
The effects of a booming economy were fully evident in the final salary scores as majority of the students walked out with substantially higher pay packages compared to previous years.
With an international student exchange programme set to take off this year and prized offers flowing in from corporate bigwigs, this is a fruitful season for IIM-Indore .