PUNJAB

HARYANA

JAMMU & KASHMIR

HIMACHAL

REGIONAL BRIEFS

NATION

OPINIONS

MAILBAG

BUSINESS

SPORTS

WORLD
Friday, March 11, 2005, Chandigarh, India
Updated at 6:30 pm (IST)
BREAKING NEWS AND SPORTS UPDATE


Trust vote stalled, Soren gets breather till Tuesday


India on the threshold of victory


Chess champ Gary Kasparov announces retirement

---
Speaker to seek Kalam's view on SC order
Jharkhand floor test
New Delhi, March 10
An all-party meeting minus the BJP convened by Lok Sabha Speaker Somnath Chatterjee today decided to seek a Presidential reference on yesterday's Supreme Court order on the Jharkhand trust vote as the legislature had taken it as encroaching upon its jurisdiction.



BJP boycotts all-party meeting


Furore in RS over court ruling in Jharkhand


'Missing' MLAs give Soren a headache


CPI (ML) to back UPA in Jharkhand


Editorial: Snub for Governor
CAST YOUR VOTE
Should there be more trade between India and Pakistan?



FORUM

EDUCATION

JOBS & CAREERS

HEALTH & FITNESS

SCIENCE & TECHNOLOGY

SPORTS

SOCIETY

TRIBUNE CLASSIFIEDS

BRIDES WANTED

GROOMS WANTED

OTHERS

HOW TO PLACE ADVTS
Ten join Hooda Cabinet
Chandigarh, March 10
Ten Haryana MLAs took oath as Cabinet Ministers in the Bhupinder Singh Hooda-led Council of Ministers at a crowded ceremony held on the lawns of Raj Bhavan here today.



Oped: Agenda for new Haryana govt


More stories on Haryana page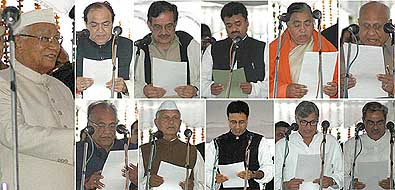 Haryana Governor A.R. Kidwai administers oath to new Cabinet Ministers of Haryana, (left to right) top: Ajay Singh Yadav, Barinder Singh, Chander Mohan, Kartar Devi and Lachman Dass; bottom: O.P. Jindal, Phul Chand Mullana, Randeep Surjewala, Surinder Singh and Venod Sharma at Raj Bhavan in Chandigarh on Thursday.
— Tribune photo by Pradeep Tewari
Full coverage: India vs Pak

2005
In Science & Technology today
QUOTE OF THE DAY
Be it watching a cricket match, be it to do some shopping or be it to meet friends and families, India is proud to be an open society and an open economy.
— Dr Manmohan Singh

THE TRIBUNE MAGAZINES
On Sundays

On Saturdays

Sachin falls near peak
Chandigarh, March 10
Little master Sachin Tendulkar failed to scale cricket's Mount Everest at the PCA Stadium at Mohali today, the third day of the opening match of the three-Test series against Pakistan.


More stories on Chandigarh and Sports page

SO NEAR, YET SO FAR: A dejected Sachin Tendulkar walks back to the pavilion after being dismissed for 94 runs on the third day of the first Test in Mohali on Thursday.
— Tribune photo by Pankaj Sharma


He keeps an eagle eye on cricketers
Mohali, March 10
A smartly dressed Sardar paces a long room at the Punjab Cricket Association stadium at Mohali. Entry to this room is allowed only if the visitor is a VVIP like a Governor or a Chief Minister. Like an eagle, he quietly observes everything in the room.



Niranjan Singh Virk
D.K. Jain appointed new Chief Justice


New Delhi, March 10
President A.P.J. Abdul Kalam has appointed one of the seniormost judges of Delhi High Court, Justice Devinder Kumar Jain, as Chief Justice of Punjab and Haryana High Court.

Devinder Kumar Jain



Invite to Pervez handed over to Pakistan
Musharraf's family not in India


New Delhi, March 10
The Government of India's invitation to Pakistan President Pervez Musharraf has reached Pakistan's Foreign Office. Almost simulatneously as Prime Minister Manmohan Singh told both Houses of Parliament today that he had decided to invite General Musharraf to watch a cricket match in the ongoing India-Pakistan series. Pervez Musharraf


Jharkhand floor test on March 11
March 10, 2005

Bihar's turf war shifts to Union Cabinet
March 9, 2005

President's rule imposed on Bihar
March 8, 2005

President's rule likely in Bihar
March 7, 2005

Hooda takes oath as Haryana CM
March 6, 2005

Hooda to be Haryana CM
March 5, 2005

Kalam summons Jharkhand Governor
March 4, 2005

Soren is Jharkhand CM
March 3, 2005
Paswan meets Sonia
March 2, 2005
IT relief of Rs 1 lakh for all
March 1, 2005
Cong sweeps Haryana
February 28, 2005