Wednesday, March 16, 2005
Packed with possibilities
Science students not keen on taking the traditional career routes can dig into a carton full of opportunities in packaging technology. Packaging technologists are employed by the production, marketing, and R & D wings of companies producing packaging material, or the packaging departments of manufacturing firms, writes Usha Albuquerque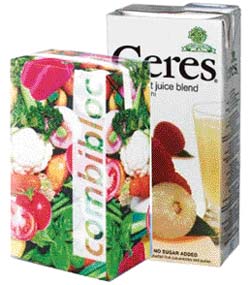 ARE you a science student but not madly interested in engineering? Are you technically inclined and have a strong imagination? If so and still wondering if there's life beyond IIT-JEE and AIEEE – a career in packaging is one option you can think about.
When you go to buy a new product, it is often the attractive package that catches your eye. A noodle packet or a colourful tetrapack of fruit juice is certainly very inviting. Over the last couple of years, the importance of packaging for the marketing of products has been realised, redefining the concept of packaging. No longer are products just put into a mere container for sale. In recent years, the field of packaging of drugs and pharmaceuticals, and processed foods has, in fact, witnessed a revolution.
Packaging broadly covers wrapping, boxing or bottling of a product. The increasing demand for quality packaging has not only resulted in higher standards in packaging design and materials, but also in the development of newer materials, and speciality packages.
Material aspect
Today, the variety of packaging materials range from the traditional wood, paper, tinplate and glass to all kinds of boards, plastic and flexible packaging, thermocole, bio-degradable materials and the use of laminates and polyvinyl chlorides. It is because of this quantum development in the industry that packaging has surged beyond the boundaries of technology to be considered as an industry on its own — with great potential for those who join it.
The work in the packaging industry is generally classified according to the materials used.
Flexible packaging is possibly the most widely used, particularly plastic and polyvinyl chlorides, as flexible materials lend themselves to many shape and size possibilities. It is, therefore, replacing many other traditional packaging materials and is used for a variety of products from foodstuffs to household items and toilet preparations.
Rigid packaging, which would include wood, tin, metal and glass, is still widely used. Glass for the liquor, soft drinks and cosmetic industries, tin and aluminium for bulk packaging, and some foodstuffs and toiletries. Rigid plastic is used for some household products such as oil and ghee, while wood is still being used for items like fresh fruits. But with increasing awareness regarding the effects of deforestation, it is slowly being replaced by cardboard.
Paper, board and corrugated boxes are among the oldest forms of packaging and used for a variety of products, particularly bulk goods - but it is also slowly being replaced by plastic and flexible packaging. However, there are now various kinds of board, waxed or polycoated from inside or multicoloured and printed which find application in products like tea, baby foods, frozen foods, edible oils, and a number of toilet preparations.
Cotton cloth, jute and ancillary materials have also been used as packaging material for decades, particularly for coal, grains seeds, chemicals and other bulk items.
Packaging encompasses numerous disciplines from engineering and science to marketing and design. It, therefore, offers opportunities for professionals from all these areas. Basically the work in packaging covers manufacture and marketing.
Shelf life
Those handling manufacture are normally engineers or science graduates who are knowledgeable about the different properties of materials used, and can handle the different processes of manufacture, supervise production, handle quality control and durability of the packaging material. Packaging technologists may also be called upon to handle development — adapting various materials for different uses in packaging.
Marketing professionals in packaging have to sell packaging materials, or machinery for manufacturing the packaging materials, or packing the product. They would therefore need to know the properties of the product, how the product is being used, and the technology of the material to be used for packaging. They work with designers who need aesthetic skills for making the package attractive to the buyer. Designers are responsible for making it look attractive, easy to handle, easy to dispose and at the same time be economically priced.
Placement prospects
If you have a background in science, especially physics and chemistry, an analytical mind, or an innovative skill in designing, packaging could be an interesting field to explore. Graduates with a qualification in packaging technology can look forward to opportunities in the production, marketing, and research and development area of any company producing packaging material, or with the packaging department of any manufacturing organisation. Students who complete the two-year postgraduate programme are normally absorbed through campus placements in the package design and development departments or purchase, production or packaging departments by user industries. In addition, they can also join the quality control or production dept of packaging material converting industries, or the marketing department of packaging material manufacturers for the selling and marketing of packaging materials. Starting salaries for many of these jobs would be around Rs 10,000- 12,000 per month.
The writer is a noted career expert

THERE are now post-graduate diploma / certificate courses in packaging technology, although there are only a few institutions offering these courses. Often, young engineers and science graduates are taken on by organisations and given on the job training.
The Indian Institute of Packaging (IIP) established by the Ministry of Commerce in Mumbai and with branches in Kolkata, New Delhi, and Chennai, offers a two-year post-graduate course in packaging technology for graduates of engineering or science. Although any fresh graduate can take admission to this course, science graduates are preferred.
There are also certificate courses in packaging for graduates in any discipline. The institute also conducts a two-year distance education programme in packaging technology for graduates with a minimum of two years of working experience in packaging or related field. The distance education programme is accredited by the Asian Packaging Federation, and awards the student certification as a packaging technologist.
Due to the growing rise in imports and exports, food products, and pharmaceuticals, there is an increasing demand for packaging technologists. There is also a need for development of newer and more economical materials for packaging. Moreover, over the last 10 years, there has been a tremendous growth in the consumption of packaging materials, which indicates bright prospects for anyone who joins this industry.