Wednesday, March 16, 2005
No boundaries for growth in export management
With the growth in foreign trade, new frontiers are opening for those specialising in international business, writes Manish Kumar Singal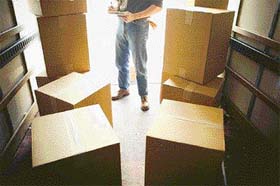 WITH the globalisation of the economy, more and more
export- related jobs are available in the market. Of these, the most in demand are the professionals who specialise in export documentation, export procedures, foreign policies, exim policy and other related subjects. They are generally hired by export houses, trading companies, warehouses, star trading houses, super star trading houses, export-oriented units, export promotion councils and the like.
The others who hire export management experts include cargo clearing and handling agents, marine insurance companies and packaging industries.
According to K.L Bhatia, Director, Foreign Trade Development Centre, Delhi, "International trade is increasing at a very fast pace and this has opened a number of job avenues for youngsters. This is a highly rewarding field that opens the door for overseas trips and dealing with big clients in other countries."
He further says, "It is better for aspirants to know one foreign language other than English as it improves the chances of getting good jobs, at home and abroad."
Bhatia elaborates that there are a number of big trading and super trading houses that employ youth for their offices situated overseas. But they all demand an knowledge of a foreign language other than English, depending on the country where their office is situated."
Work profile
Says S.K. Bose, another professional in international trade, "The job of an export management professional is highly responsible as a minor mistake could lead to a loss of lakhs to the company. This job includes marketing of the products that a company exports, documentation related to foreign trade, followed by shipping and packaging. In big export houses and trading houses, the companies hire professionals who are able to manage all the transactions overseas."
Eligibility
"Export managers are sent overseas as the company's representatives. Their other responsibilities include handling the customs declarations, transportation and licensing agreements, trade contracts, expediting payments etc," he adds.
The minimum qualification for doing a course in export management and international trade is graduation. To do an MBA in international trade, the students have to undergo a combined admission test. There are some private institutes like the Foreign Trade Development Centre that offer a PG Diploma in Export Management and International Trade. For that, the institute conducts an entrance test, on the basis of which admissions are done.
Money matters
The emoluments vary from person to person and company to company. After doing a degree in export management, a professional can earn anything from Rs. 60,000 to Rs. 96,000 per annum. Those who have a degree from a reputed institution, knowledge of more than one foreign language and detailed knowledge of export and import procedures have an edge over others.
Training talk
Many universities are nowadays offering courses in export management or international trade. A number of institutes being run directly under the AICTE are offering MBA programmes in international trade.

Course chat
"Rising exports pushing up demand for foreign trade experts"


Prof K. Kannan
Professionals trained in international business are sought for postings in foreign countries like the USA, England, Australia and other, where many big companies have their corporate offices. Prof K. Kannan of the Guru Govind Singh Indra Prastha University, New Delhi, outlines the scope of international trade.
"International trade is a sought-after field these days. Its scope is not confined to the country. Owing to government measures to boost international trade, exports in most fields, be it gems and jewellery, garments, steel, cosmetics, software or chemicals (Cipla, Ranbaxy, etc.), are increasing day by day. This is opening up more and more job avenues for youngsters specialising in international trade," he says.
On the qualities needed to succeed in this line, he adds: "A candidate must be aware about the laws, rules and regulations related to the international trade. To have an edge, one should know one foreign language other than English as many leading export and trading houses have their offices in other countries also". — MKS