New products & discoveries
Tsunami shifted seven islands
THREE popular beach resorts were among seven islands on India's Andamans archipelago that shifted southwestwards when a giant earthquake hit on December 26, geologists said.
The state-run Centre for Earth Science Studies (CESS) found six inhabited islands and one that boasts a volcano moved "a few metres" after the undersea quake that measured 9.3 on the Richter Scale triggered deadly tsunamis.
"Preliminary estimates from the GPS (global positioning satellite systems) survey around Andaman and Nicobar suggest the islands have shifted southwestward by a few metres," CESS seismologist C. P. Rajendran told reporters on Wednesday. — AFP
For better motor oils
Motor oil's protection against the wear and tear of steel engine parts takes effect only at high pressures, according to a new study.
The analysis reveals the molecular behaviour of a common lubricant additive, whose mode of action had remained mysterious since the additive's introduction in the late 1930s. Understanding the additive's action may lead automotive engineers to design more environmentally friendly lubricants for steel as well as products especially suited for lighter, more efficient aluminum engines.
Zinc phosphates have long been the most common lubricant additives for protecting steel parts, such as pistons and cylinders in car engines, against wear when they contact each other. Through trial and error, researchers have looked for new additives, but none has outshined the zinc phosphates.
Brutal bubbles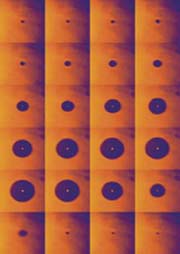 In each column of microsecond snapshots, a gas bubble swells, then collapses to about the size of a blood cell.
In each column of microsecond snapshots, a gas bubble swells, then collapses to about the size of a blood cell. Fill a flask with liquid, rattle it with ultrasonic waves, and hellish microcosms can form within the fluid. Tiny gas bubbles swell and then implode with a fury now revealed to be extreme enough to strip electrons from atoms trapped in the collapse.
The Illinois chemists who have detected that atomic destruction for the first time have also directly measured temperatures of the imploding bubbles. Some of these register at least 15,000 kelvins, a temperature about three times as hot as the Sun's surface.
Researchers have long known that the collapse of ultrasonically generated bubbles emits flashes of light-a phenomenon called sonoluminescence Some scientists even claim that thermonuclear fusion can occur in the implosions.
Venetian grinds
While sifting through 15th- and 16th-century documents at the state archives in Venice, Louisa Matthew came across an ancient inventory from a Venetian seller of artist's pigments. The dusty sheet of paper, dated 1534, was buried in a volume of inventories of deceased persons' estates.
As Matthew, an art historian at Union College in Schenectady, N.Y., scanned the more-than-100 items on the list, she realised that it was exactly what she had dreamed of finding. "I remember thinking, 'Did someone plant this here?'" she says. "And why hadn't anyone noticed this before?"
This inventory of artists' materials could hold the answer to a question that had long vexed conservation scientists:
How did Venetian Renaissance painters create the strong, clear, and bright colours that make objects and figures in their paintings appear to glow?