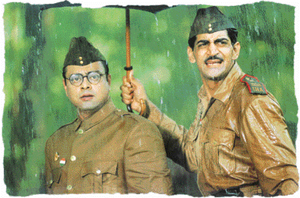 Shyam Benegalís making of Bose
Netaji Subhas Chandra Bose: The Forgotten Hero is a valiant attempt to capture the freedom fighterís life and charisma on screen. Deepa Gahlot catches up with the veteran director.
The biographical picture is not a popular genre in Hindi cinema, while three of this yearís Oscar-nominated films were based on the lives of real heroes.
Havelis of Jaisalmer
Anuradha Thakur
Among the various tourist delights that Jaisalmer offers, the carved havelis stand apart. The stone carvers of Jaisalmer have transformed these huge mansions into exquisite works of art.
Marvel of time
Shirish Joshi
The Chichen Itza pyramid, or El Castillo, besides being one of the greatest monuments, also indicates the occurrence of a spring equinox. At the exact time of the spring equinox (vernal equinox in astronomerís language), the rays of the sun highlight a plumed serpent, which seems to slither down the steps towards the well of sacrifice.
Delights of Vizag
D.B.N. Murthy
Nestling in the foothills of the Eastern Ghats, with a natural harbour formed in the Bay of Bengal and beaches, Vishakhapatnam has lots to offer. One can begin exploring the city by going up the Simhachalam temple nestling on the top of a hill, 26 km from the city.
Bollywood tests the West
Negar Khanís deportation due to lack of papers has brought other foreign artistes under the scanner, writes Sukhdeep Kaur
Until recently, the script ran the other way round. The promise of big bucks and international fame had always been an overwhelming allurement for Indian actors to taste foreign shores. But all that seems to be changing now.
Straight from the heart
Rani Balbir Kaurís tribute to Kaifi Azmi revives the power of his poetry and personality. Aditi Tandon reports
Kaifi Azmi was essentially a poet of the world. Much ahead of his times, he could step into the future and talk of a world that had lost the capacity to foresee and forestall. Tormented by sectarianism, Kaifi did everything in his power to arrest the trend. Most of all, he wrote with a heart that cared and wrote not of rosy fictions of life but of its painful realities.