Shyam Benegal's making of Bose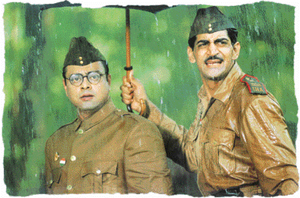 Netaji Subhas Chandra Bose: The Forgotten Hero is a valiant attempt to capture the freedom fighter's life and charisma on screen. Deepa Gahlot catches up with the veteran director.
The biographical picture is not a popular genre in Hindi cinema, while three of this year's Oscar-nominated films were based on the lives of real heroes. In recent times, there have been films on Vallabhbhai Patel (Sardar by Ketan Mehta), Ambedkar (by Jabbar Patel), Gandhi (Making of the Mahatma by Shyam Benegal) and three Bhagat Singh films officially released. But considering that there are thousands of people whose lives could be filmed, the genre has never really taken off.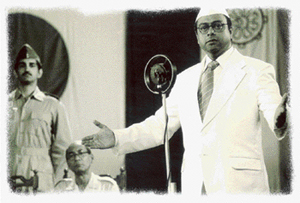 He is probably the only director who has returned to the genre more than once (Bhumika was about actress Hansa Wadkar, Antarnaad was on social reformer Pandurang Shastri Athavale). His latest epic Netaji Subhas Chandra Bose: The Forgotten Hero (produced by Sahara) is a complete 222-minute film attempting to encompass a few years in the life of Netaji. Not an easy task, considering the adventure-packed life Netaji led, and the emotional attachment of his followers (particularly in West Bengal) towards him. Like the controversy Benagal already had to face when he cast the Maharashtrian Sachin Khedekar as Netaji. And then there is the eternal enigma over his death, which Benegal wisely circumvented by simply reproducing the news broadcast of the plane crash.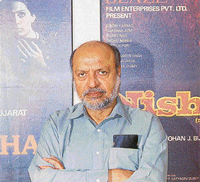 "In India there are no trained people to deal with period films. You have to look into everything yourself. That is the most exhausting part of making a period film. In the West you could just buy the support, here you spend a lot of time putting things together."
Bose is one of the pillars of the Freedom Movement, but hardly anybody would remember that he was the one who came up with the slogan Jai Hind. He chose Rabindranath Tagore's Jana Gana Mana as his preferred national anthem for the free India he was fighting for, and wanted Hindustani to be the national language.
So even while paying ritual obeisance to the national hero, people have forgotten all about his real contribution, hence the 'Forgotten Hero' in the title seems apt. "Nobody remembers what he did, except that he was a great big hero," says Benegal. "That he challenged Gandhi… about his transnational activities, nobody knows anything. People don't even know that he was married."
Benegal's film begins with the differences Bose had with Gandhi over the non-violent approach to the freedom struggle and the compromises with the British. It is structured in three parts, named Itmad, Ittefaq and Qurbani after the motto of the Indian National Army. In the first, Bose escapes house arrest and tries to enter Russia through Afghanistan, the second shows his days in Germany (including a meeting with Hitler, and marriage to Emilie Schenkl), the formation of the Azad Hind Fauj made up of Indian prisoners of war in Germany and his journey to Japan in a submarine; the last shows his leadership of the Indian National Army, the battles and that fateful plane trip out of Saigon.
In all the three parts writers Shama Zaidi and Atul Tiwari have packed a wealth of excitement, adventure and information. Art director Samir Chanda, costume designer Pia Benegal and make-up man expert Vikram Gaikwad then worked to give the places and characters a look of authenticity and worked out the minutest details. Cinematographer Rajan Kothari had the tough job of shooting the film with such a vast canvas.
"It was difficult in terms of logistics," says Benegal, "Such a production in India has no infrastructural support. There are no trained people to deal with period films, and you have to look into everything yourself and that is the most exhausting part of making a period film. In the West, you could just buy the support, here you spend a lot of time putting things together."
So what inspired Benegal to make a film on Bose? "That he (Bose) was chasing an impossible dream," he replies. "If you look at it logically, he hadn't a hope in succeeding at what he set out to do, but look at the incredible journey he undertook, he actually got together a fighting force, fought the British and even succeeded in winning some territory. He came so close to actually succeeding—would India have got Independence when it did were it not for the INA? In spite of the eventual destruction around him, his spirit never failed him."
Also, making a film on the Indian National Army had been an ambition, an uncle, Ramesh Benegal, had been with Netaji's army. "As a child, he had been left behind in Rangoon in the mad scramble to leave Burma. When Netaji came there, he volunteered to join the INA. Netaji selected him and 34 other young Indian boys and sent them to the Imperial Military Academy in Tokyo to train to be fighter pilots. All that came to naught when the War ended. He was a POW, and eventually released after the 1946 INA trials.
"My older brother and I were sent to Bombay to fetch him. To me he was an incredible hero figure. He was perhaps the only INA person taken for defence services in India. He joined the Air Force became fighter pilot, and won two Maha Vir Chakras and retired as a highly decorated officer.
"Unfortunately for a lot of us, it is very difficult to think big in cinema, when none of our films have been big. The kind of money you can draw on your name is so little. These ideas become far too ambitious, but you keep them on the backburner and hope that at some stage you will be able to make them," he candidly says.
The dream came close to being fulfilled when Sahara planned a series on national heroes and Benegal was asked to work on the mini-series on Netaji. "So I thought of making a series on Netaji from the time he escaped from India. Before that his story is fairly well known. From 1941 to 1945 very little known, much of it is myth."
That plan was shelved, but when it came up again, Benegal suggested a feature film and it was approved by Sahara chief Subroto Roy. "We found that it was not possible to shoot everything in India, had to revise the budget and make it on the scale which was the right for the film."
It took a year and a half of research, wading through available material, meeting people like Netaji's Japanese interpreter, who was healthy and articulate though in his late eighties. When people heard that Benegal was making the film, he started getting letters, papers and information material from strangers.
Benegal managed to shoot in the one U-Boat left in the world out of the 10000 Hitler produced. "It is a museum now and not at all sea worthy. For underwater sequences we got a model in Sussex in England. The model of U-boat happened to be the same as the one in which he had travelled, all of which was very fortuitous."
Shooting in Afghanistan was not possible for various logistical reasons, so Uzbekistan was the chosen location. Luck intervened again when it was time to shoot in Burma (now Myanmar). Relations between India and Myanmar improved and he was allowed to shoot everything but the battle sequences.
"We shot a lot of our work there and in all the places where he was. Ziawadi estate covers 80000 acres; there are 80- 90 villages consisting only of Indians, who have been there for more than 100 years. His mean cantonment was in Ziawadi estate, and those people remember him like it all happened yesterday. We wanted 500 people, there were 10000 people—they were so excited. Old people came with their pay books, showing their Rs 5 INA salaries.
"Making of the Mahatma was shot entirely in South Africa. Everything was done there except the music. For the South African people of Indian descent, Gandhi is the only figure they are proud to associate with, because his laboratory was South Africa. So there is a strong connection there. People of Indian origin there would come in droves to be part of the film. The same thing happened in Myanmar."
The difference, of course, is that Mahatma was made on a tiny budget and for Netaji, he admits, it was the first time he did not have to worry about money. "I have a natural fiscal discipline only because it is my training. But here, it never happened that when faced with a particular situation, I had to change my mind and set it up differently because I didn't have the money. The only thing I had to worry about was things I couldn't get for love or for money. Like old vehicles, old tanks, weapons, helmets... I had to use what was available and serviceable with the Indian Army."
The film, he says, still cost a small fraction of a Hollywood film of the same scale, "but when you see the film, you will not see it like this, because Indians have a way of improvising a great deal."
The only thing he didn't have was stars. Television, stage and film actor Sachin Khedekar plays Netaji and looks remarkably like him. "Stars would have come in the way. Besides, I didn't know a single star who looks like Netaji or can be made to look like Netaji. I auditioned so many people, including two nephews of Netaji, who offered to play the part, but none fitted. I wanted the actor completely captive to me for the whole length of the shooting, which would not have been possible with a star."
Khedekar worked for months with Shernaz Patel (English theatre actress, who recently played Rani Mukherji's mother in Black) to get rid of his Marathi accent and improve his English, listened to tapes of Bose's speeches ("he spoke without a trace of a Bengali accent") and worked on his posture ("Bose carried himself with dignity, never slouched around").
The other actors were cast carefully, and many Benegal regulars like Rajeshwari Sachdev, Rajit Kapur, Kulbhushan Kharbanda, Ila Arun, Divya Dutta, Lalit Tiwari, Shri Vallabh Vyas, Ravi Jhankal, Ahmed Khan find themselves playing important roles in the film along with Rajpal Yadav, Sonu Sood, Tom Alter and Kelly Dorji among other familiar faces. Om Puri does a voiceover at the end. The late Amrish Puri also played a small part which had to be edited out for reasons of length-the first cut was five and a half hours long.
Then there is AR Rahman's splendid music (and Javed Akhtar's lyrics) which works beautifully for the film and a wonderful Dervish dance number. The film will be released as a 3 hour-40 minute version and, later, a longer, six-hour mini series will be shown on television.
How much did the film cost? The jaw-dropping reply, "Well, I can pat myself on the back for probably being the only director in the country who could have done such a big film for just Rs 21 crore!"
Films like Bewaffa and Black cost as much. "I don't know where the money goes," Benegal smiles and shrugs.