Television
Speed thrillers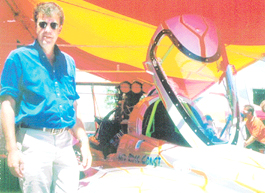 Jeremy Clarkson delves into the physical and psychological effects of speed

In this season of Narain Karthikeyan and Formula 1 take an adrenalin-pumping ride with Jeremy Clarkson who defines the skills and thrills of speed on the BBC World. The six part series every Thursdays at 7 p.m. explores people's obsession with speed.
Clarkson takes cerebral programming a step further by delving into the physical and psychological effects of speed as he takes viewers from one hurtling episode to another in heart-stopping roller coasters, freefalling bungee jumps and some of the fastest supersonic planes.
Meet the fastest F-I driver in the world Michael Schumacher, and Richard Noble, the man who created the supersonic car. Meet also psychiatrists and biomechanics to find out what it takes to be a speed demon to feel the rush of a free fall through the sky or careering in a plane at three times the speed of sound.
Smoke screen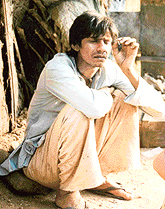 Vijay Raaz was recently held in Dubai for possessing drugs

The seven-day incarceration of actor Vijay Raaz in Dubai has blown the lid off Bollywood's best kept secret: Whatever be the image projected on screen, every other Hindi film star is a closet junkie. What drives them to the addiction is, however, anybody's guess.
Raaz was caught at Abu Dhabi airport, reportedly with 25 gm of marijuana in his personal baggage. According to legal experts, the quantity found was too small to merit severe punishment as it could always be argued that it was meant for personal consumption.
"Internationally, a violation of drug laws carries penalties," Amit Khemka, a Supreme Court lawyer pointed out. "However, the sentence varies according to the quantity found on the accused. Much also, depends on interpretation of the law and the language used in courts."
The incident overlaps with the news that Aftab Shivdasani was doing drugs at a night club in Pune and when accosted, has used his "political connections" to get the club's licence suspended for a fortnight.
Like Raaz, Shivdasani went into denial: "I don't even smoke since I am asthmatic and here they are accusing me of doing drugs. I admit I was in the pub that day to celebrate a friend's birthday. I was there with my family and friends. We left that place without any incident."
Similarly some years ago Fardeen Khan was apprehended in Mumbai with 10 gm of heroin, bought from a local drug dealer. The actor pleaded guilty and within a couple of days was granted bail.
The fact is actors doing drugs is an open secret only that nobody talks about it. The police also know about them, but do not make a fuss till such time they are caught red-handed. In Fardeen's case, the cops were hot on the heels of a playback singer, but landed a different catch. — MF
The music bait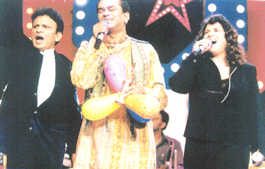 Cosmetic changes are being introduced in Antakshri

What does one do to keep viewers tuned in to one of the longest-running shows on television? That's a tough ask that keeps cropping up even as Zee TV tries to check the TRPs of Antakshri from going into a free fall.
The song-and-music show that was launched in 1993 is now coming in for some changes. But if you thought there was going to be a variation in format or in anchors, perish the thought. What you'll get instead are cosmetic changes like a new set created by Nitin Desai and anchors wearing creations of designer Vikram Phadnis.
And there's another "change" as well. In the Holi episode, Pakistani singers like Hassan Jahangir and Nayeem Abbas Rufie will match their musical wits with their Indian counterparts that include Usha Uthup and Sophie.
Will the changes lift the show's fortunes? Not likely. Director Gajendra Singh will have to innovate more before viewers start singing "Killing me softly with a song".
Fab four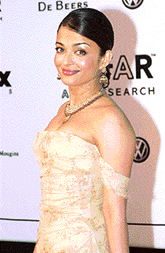 Aishwarya's sophisticated look makes her most suitable for lifestyle products

After Amitabh Bachchan and Shah Rukh Khan, Indian advertisers have turned their attention to Bollywood heroines for brand endorsements. And leading the lot in terms of asking rates and visibility are the "fabulous four". Aishwarya Rai, Preity Zinta, Rani Mukherji and Kareena Kapoor.
Preity, of course, has the largest number of brands to her name. From cars to wafers, she is said to bring "a young but sophisticated appeal" to the product she endorses, much as on the professional front, she has no major film on hand. "She represents the spirit of living," says ad guru Piyush Pandey.
Rani follows close behind, especially after two recent successes, Veer-Zaara and Black. With her typical girl-next door image, she is said to represent middle-class aspirations for the chocolates, hair oil and cold drinks she endorses. Her asking rate is the same as Preity's: between Rs 8.5 and Rs 10 million.
On a notch higher at Rs 10 million-plus is Aishwarya, known for endorsing diamonds, a Swiss watch, hair colour, luxury soap, photo film and cold drinks. She has not had a film hit in a long time, but it is her "classical beauty" that is taking her places.
"Ash is just as selective about brands as she is towards signing films." informs Sunil Doshi, who heads a company handling celebrity endorsements. "The reason she's clicked is her sophisticated looks. As the world turns into a global village, she's become most suitable for lifestyle and aspirational products."
Finally, there's Kareena who's fast getting into the big league with recent endorsements of some cold drinks, shampoo and cell-phone brands. Her last hits were Aitraaz and Hulchul — films which have reinforced her bold and brassy appeal.
"All these actresses have cut down on their film assignments," observes trade analyst Taran Adarsh. "Earlier there used to be overseas stage shows which compensated them for their earnings. But now, with advertisers paying them as much, they have found a comfortable niche for themselves." — MF
Reality shows take the cake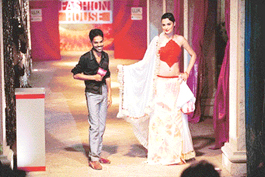 Cosmetic changes are being introduced in Antakshri

Which are the most popular shows on television — the saas-bahu sagas or the new-gen serials or primetime cookery or comedies like LOC and Batliwallas House No. 43? Not sure? Don't worry, the answer would stump anyone.
According to new research, the popularity award goes to glam-reality shows like the Indian Idol, Cine Star Ki Khoj, Fashion House and Get Gorgeous. Loaded with high energy and glamour, viewers just love the highs and lows, the ecstasy and the angst of wannabe singers, actors, models and designers who come to try their luck in thousands.
Currently Star One is raking in the moolah with Lakme Fashion House where 16 contestants selected from across the country are vying for the title of India's top young designer. Viewers witness their creativity, competitiveness and ambitions as also the emotions that well up when designers are eliminated every week.
"The most appealing part of the show is the thrill of selecting young people and transforming them into stars," says VJ Archana of Get Gorgeous-2, perhaps remembering her own heady transformation into a glamorous model and VJ. — NF